Dental school, U.S. Army next steps in FHSU student's life journey from Ethiopia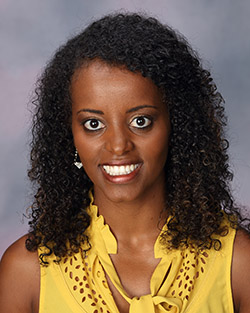 05/22/18
NOTE TO EDITORS, NEWS DIRECTORS: A photo of Ball is available by emailing dgobrien@fhsu.edu.
By Diane Gasper-O'Brien
University Relations and Marketing
HAYS, Kan. – Loyalty runs deep for Selam Ball.
Inspired by a dentist who helped her as an orphan in a faraway land when she was just 10 years old, Ball vowed to become a dentist when she grew up so she could help others in much the same way.
That dream will come true in four years when Ball graduates from the University of Nebraska Medical Center College of Dentistry in Lincoln.
But, first things first.
Even before attending her first class in dental school in August, Ball will complete her time at Fort Hays State University with a busy summer schedule. She will serve as the director of camps for the Kansas Academy of Mathematics and Science before heading to Lincoln to begin a new venture.
Juggling busy schedules is nothing new for Ball. During a nine-day stretch in May, she set the school record in women's pole vault, got engaged to her college sweetheart, Elliott Carlson; and graduated magna cum laude with a degree in modern languages and minors in biology and chemistry.
Oh, and two weeks before that, Ball was commissioned as a second lieutenant in the U.S. Army after receiving a full-ride scholarship from the Armed Forces Health Professions Scholarship Program (HPSP).
After graduating debt-free as a doctor of dental surgery (DDS) in 2022, Ball will serve for at least four years practicing dentistry in the Army.
All this might sound like life has been somewhat easy for Ball, but nothing could be further from the truth.
Prior to her adoption by Mark and Krista Ball of Great Bend when she was 14, Ball faced many a challenge in making her way from an orphanage in Ethiopia to America. After arriving in Kansas, Ball – whose only language was Amharic, the native language of Ethiopia – tested at the third-grade reading level.
After working with tutor Pat Hood, a retired reading specialist, for about five months, Ball had improved so rapidly she was able to start school with her eighth-grade class that fall.
While she read at the eighth-grade level at the time, she continued to improve and was an honor student all through high school and college. She now fluently speaks both English and Amharic and has taken numerous courses in Spanish.
"I was very amazed at how fast she progressed," Hood said. "She had a motivation and a determination and a desire to learn. She was a very rapid learner and a very eager learner."
Ball carried that determination into high school, where she excelled both academically and athletically.
The 5-foot, 2-inch, 108-pound Ball set the Great Bend High School record of 11 feet, 6 inches in girls' pole vault, then decided to pursue her education at Fort Hays State, just an hour away from her family.
"My dad and my grandpa both went to Fort Hays State, so they were always talking it up," Ball said.
Nonetheless, independent woman that she is, Ball said she "wasn't going to decide anything until I saw it myself."
"I visited the Chemistry Department, and I felt really confident about the education level," she said. "Then I visited with the track coaches. I didn't go visit another school after that. I knew Fort Hays State was the place for me. It has turned out to be the best decision of my life."
Well, one of the best anyway.
Another major decision for Ball back in those early teen years made her think she would be living in an underdeveloped country the rest of her life. She had been placed in an orphanage at age 6 after her father died when she was 2, and her mother and other relatives were not able to care for Ball and her sister.
When she was 12, good grades in school helped earn Ball a spot with a group of students traveling to America for an adoption youth camp sponsored by the Gladney Center for Adoption.
The students were paired with prospective adoptive parents, and Ball was placed with a single woman who lived in a rural area. Ball said she was "so lonely" while experiencing a drastically different lifestyle from the orphanage.
"There were always people around at the orphanage," she explained. "Even if it was noisy sometimes, there was always someone to talk to."
Ball declined the offer of adoption, well aware that it might be her only chance to escape poverty.
"I thought I would never get another chance to come back to America," she said. "But at the same time, I had peace of mind."
Ball was pleasantly surprised two weeks later when the agency contacted her again.
"They said they had found me a family," she said, a smile spreading across her face. "You will not be lonely, they told me, because this family has seven kids."
The Balls, who have four biological children of their own, had adopted three others before Selam. The rest, as they say, is history.
A major part of her history is the reason Ball decided to pursue a medical career in dentistry.
When she was 10, she got a pomegranate seed stuck between two of her molars and couldn't get it out. One of her teeth began to rot, causing a lot of pain.
Ball said she heard through the grapevine about a dental ministry in a nearby town. So she walked 4 miles to stand in line at 2 a.m., and the dentist removed her rotted tooth.
"I remember wondering why he would want to help people like that," she said. "It made a big impact on me, and I'll never forget it."
Last summer, Ball went on a mission trip with a friend to Honduras with dentists and hygienists.
"That solidified what I wanted to do with my life," Ball said.
As she neared the end of her college career at FHSU, Ball began seeking ways to pay for dental school.
"I didn't want to be dependent on my family anymore," she said. "They have done so much for me, and I wanted to do it on my own."
So calling on the determination those close to her have to come to know so well, Ball began the rigorous application process for the U.S. Army scholarship.
"If she gets her mind set on something, that's what she's going to do," said Randy Stanley, assistant FHSU track coach in charge of pole vaulters.
Ball's mother agreed.
"She's the most driven child I've ever seen," Krista Ball said. "At home, we would have to go into her room late at night and say, 'You have to stop studying and get some sleep.' What parents have to say that to their children?"
Only 64 students around the U.S. received the Army scholarship, including Ball – the lone Kansas recipient.
That did not surprise anyone who knows Ball, including Maggie Denning, coordinator of academic success programs at the Kelly Center at Fort Hays State. Ball worked as a tutor at the Kelly Center for three years while on campus.
"She is so focused, a hard worker, a self-starter," Denning said. "She's a brilliant student and a hard, hard worker. I like to say I hire the best of the best, and I like to hire athletes. They have the best time management skills – having to balance school with practice and competing – so they make awesome, awesome tutors."
Ball said working as a tutor was a perfect fit for her.
"I loved it at the Kelly Center," she said. "I loved it when people walk out saying, 'I understand it so much better now.' It's such a sense of accomplishment."
That's a feeling the future Dr. Selam Ball surely will never get tired of, either.
Ball hopes for that same sense of accomplishment this week.
Her school-record pole vault height of 3.87 meters (12 feet, 8.25 inches) at the MIAA meet in Kearney, Mo., on May 4 earned her a qualifying spot in the NCAA Division II National Championships Thursday through Saturday in Charlotte, N.C. Ball is scheduled to compete Thursday afternoon.
After three years of trying to qualify for nationals, Ball made it this year with her school-record performance.
She is ranked 17th among the qualifiers but is just 0.10 meters out of eighth place. The top eight finishers at nationals earn All-America honors.
"I think if she can clear 3.93 meters, she could get in the top eight," Stanley said. "I really think she can do it."
He didn't say it, but you get the feeling Stanley was implying, "Don't bet against Selam Ball."