FHSU professor and graduate publish in prestigious journal Nature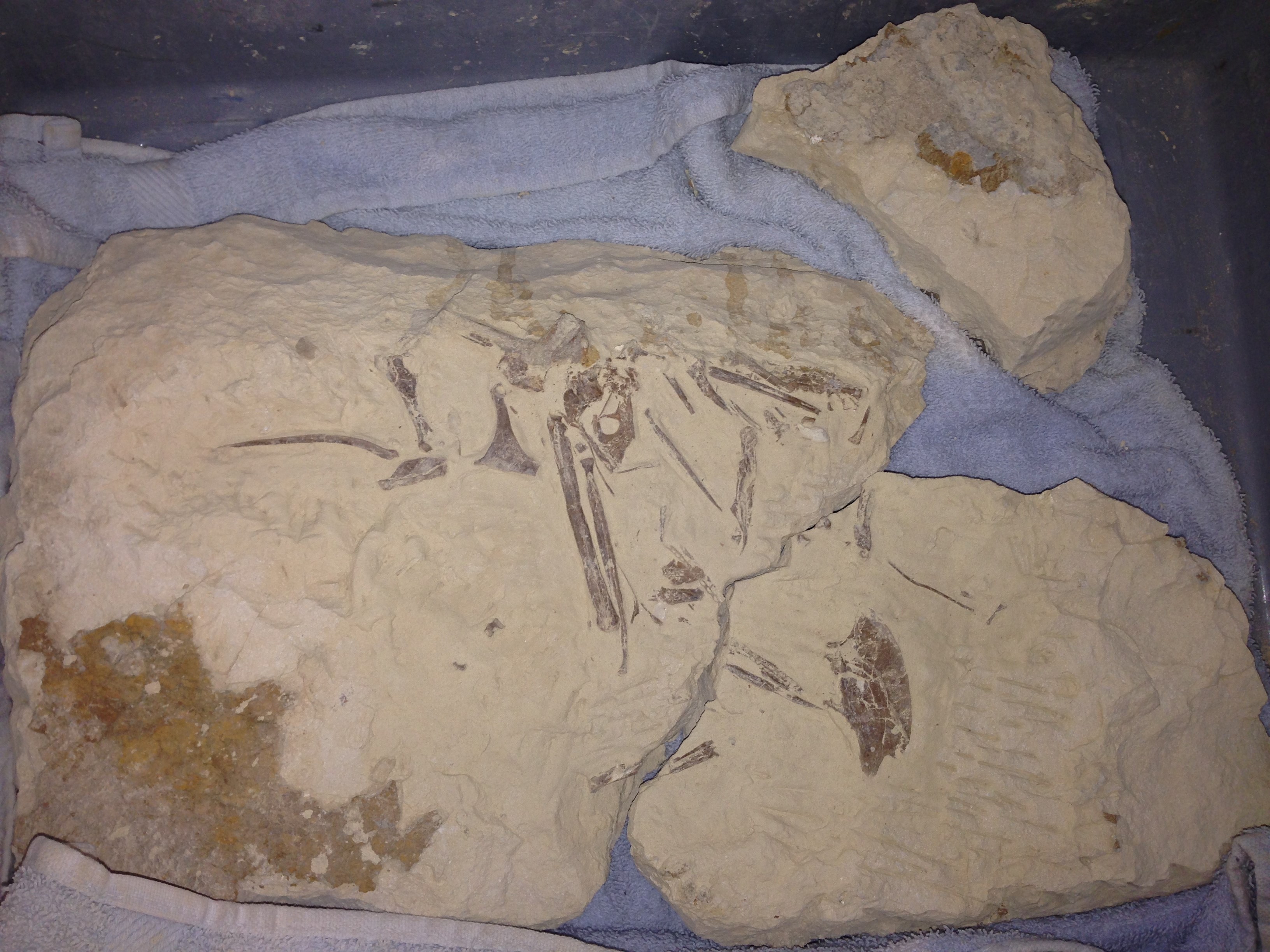 05/30/18
HAYS, Kan. – Dr. Laura Wilson, associate professor of geosciences and chief curator of the Sternberg Museum of Natural History, and Kristopher Super, an alumnus of Fort Hays State University who is now a graduate student at the University of Kansas, have coauthored a research article published in the journal Nature. 
"This is a rare accomplishment for most universities, but it is especially noteworthy for a teaching-focused institution like FHSU," said Dr. Grady Dixon, chair of the Department of Geosciences at FHSU.
In late summer of 2014, just a day before classes began, Super found a fossil of a bird (Ichthyornis dispar) skeleton surrounded by chalk in Gove County, Kansas. He was about to start his freshman year at Fort Hays State.
Super said he didn't think too much about it when he first found the fossil, mainly noticing how the bone had weathered. Fish bones, for instance, erode differently than, say, pterosaur or mosasaur bones when exposed to the elements.
"I had an early suspicion they could be bird bones, so I removed a medium sized slab of rock so I could prepare the bones back in my dorm room under better conditions and with better tools," he said. "There were only a few very small bones actually exposed at the surface. It was only when the coracoid and the sternum – two very distinct bird bones – appeared back at the dorm that I knew I had something very special."
Super began cleaning the bones with small amounts of water but stopped once he began to find skull bones.
Wilson, his advisor, knew immediately that this specimen was significant.
"Birds in general are rare in the fossil record, and this specimen was beautifully preserved," said Wilson. "Multiple bones were exposed on the surface of the chalk block, and it was clear that more bones were preserved under the surface. We could even see pieces of the skull exposed. We knew it was special."
The next step was to learn more about what the rock may have been hiding. Exposing fragile fossils from rocks can be tricky, so CT scans can be helpful. Fort Hays State does not have the necessary equipment, but Wilson and Super enlisted the help of HaysMed.
"I had worked with the HaysMed Imaging Center before," said Wilson. "They have been very supportive when we've had special imaging needs for studying and caring for fossils at the museum."
The initial CT-scans and X-rays, said Wilson, enabled the researchers and their collaborators to understand more about the size and placement of bones in the rock. This information was used to carefully expose the bones from their earthen case so they could be studied.
Over the next few years, Wilson and Super, who earned his Bachelor of Science in geosciences from FHSU in 2017, joined a team of experts from Yale University, the University of Kansas, the Alabama Museum of Natural History, Tuscaloosa, and the McWane Science Center, Birmingham, Ala., all keen on better understanding bird evolution.
The team eventually used the fossil, in conjunction with other previously known specimens, to reveal the significant role of Ichthyornis dispar in understanding the transition from dinosaurs to modern birds. Specifically, I. dispar possesses a mix of dinosaur-like and bird-like characters that illuminates that transition.
"This fossil turned out to be even more spectacular than Kris and I initially thought," said Wilson. "It has helped us not only understand more about Ichthyornis specifically, but about how the modern bird evolved."
Super has been collecting specimens in the Kansas chalk since he was about 10 and has donated multiple fossils to Fort Hays State's Sternberg Museum and to the University of Kansas.
"I also have a field journal that records the localities for my fossils going all the way back to 2009. Keeping detailed records is very important," he said.
These findings are so significant that the team recently published their work in Nature, which is one of the most prestigious science journals in the world.
"We believe that this is the first FHSU-affiliated publication in Nature in at least 17 years, and it is the first time for an FHSU student to be involved in research accepted by Nature," said Dixon.
"Many researchers at research-intensive universities spend their entire careers trying to get a paper into either Nature or Science, which are widely considered to be the two most prestigious journals for scientists," he said.
"In true western-Kansas fashion," he said, "this success story involved unbridled enthusiasm, community support, and international partnerships. The combination of precious natural resources, a strong history of paleontology, and a spirit of collaboration led to scientific findings that have forever changed the understanding of our natural history."