Largest KAMS class ever at Fort Hays State honored in completion ceremony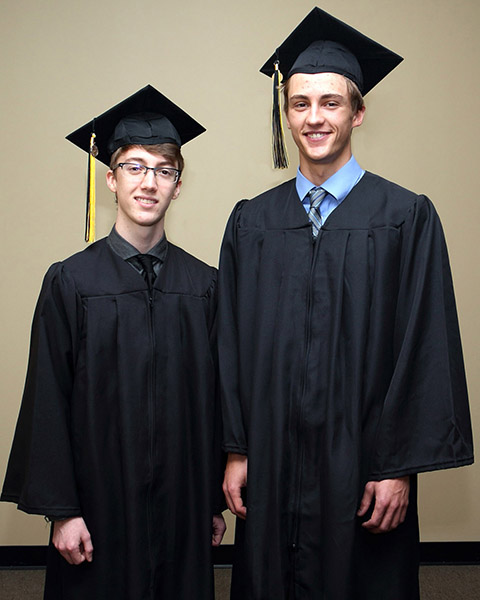 05/07/18
By Diane Gasper-O'Brien
University Relations and Marketing
HAYS, Kan. – Thirty-two students were recognized in a high school commencement ceremony Saturday at Fort Hays State University.
They didn't act like high school seniors who had just been handed a diploma and told to move the tassels on their caps. They didn't toss their caps in the air and shout phrases like "We're done!"
That's because these high school seniors still have finals to take this week – as in college finals.
This marked the largest class to complete requirements for the Kansas Academy of Mathematics and Science, a premier high school residential program at FHSU for juniors and seniors.
The eighth annual completion ceremony for KAMS was a going-away affair for the academy's director, too.
Roger Schieferecke – who has worked for KAMS for eight years, including the last four as its director – is moving on to take a position at Kansas State University.
"It's tough to leave," Schieferecke said. "I've known every student who has come through here. I'm going to miss the great staff and getting work with these brilliant high school kids. But it's always good to get new blood in here, too."
While Schieferecke was honored at the ceremony as "the face of KAMS," he insisted on focusing the attention on the students.
He told them to enjoy this next week, the last on campus for the majority of the students.
Schieferecke noted that this year's class had garnered nearly $1.5 million in possible scholarships over four years.
"Be proud of what you've accomplished," he told the students, "and be excited for what is to come."
FHSU President Tisa Mason called it "a special privilege and honor" that the Kansas Board of Regents selected FHSU to host KAMS, one of only seven of its kind in the country.
"We understand the positive impact these young people have had in becoming actively involved in a myriad of activities around campus. We feel we have 32 students who are our best and our brightest," Mason said. "We are pleased that six will remain at Fort Hays State to further their education."
One of those "best and brightest" is Patrick Cook from Derby, who holds a perfect 4.0 grade point average at Fort Hays State. He is set to graduate in 2020 with dual degrees in mathematics and physics.
After completing his FHSU finals this week, Cook will graduate with his classmates from Derby High in two weeks, then move to San Antonio for the summer for an internship with Agility, a government contractor for the U.S. Department of Defense for safety standards.
Cook said he decided to attend KAMS after exhausting the list of physics and math classes at his high school.
He fit in well in both departments at FHSU, where he works as a tutor for both. He also manages another tutoring program that he started himself last semester.
He said he thinks it will be an easy transition into full-time college life after attending classes on campus the past two years.
Meanwhile, Jed Werner from Plainville will make another adjustment when he heads to Manhattan to pursue a degree in mechanical engineering at Kansas State.
However, he said he wouldn't be where he is today without KAMS.
"In high school I didn't have great study habits because I'd get bored," he said. "I liked the challenge here."
He said he thinks the responsibility he learned while having a little more independence will serve him well as he takes off for college.
"You have to be able to handle the freedom that comes with living on a college campus," he said. "You have to be pretty mature to be successful in KAMS, make the right choices to study and put the time in."
Werner has been looking forward to attending KAMS since he was in fourth grade at Plainville Elementary School.
"I found out about KAMS then, and it became a goal of mine, something I was shooting for all through junior high and my first two years of high school," Werner said.
Werner is the first Plainville student to attend KAMS. He might also be the first race car driver to complete the KAMS curriculum.
He started racing when he was 6 years old, following in the footsteps of his dad, who raced motorcycles when he was younger.
"Mom wouldn't have let me on a motorcycle, so I got in Go-Kart instead," Werner said, "and when I was 14, I started racing sprint cars."
While Werner has experienced success in racing, he said he hasn't made a lot of profit because of the expense of sprint car racing.
He can continue enjoying racing as a hobby, however, after earning one of the top awards from this year's Dane G. Hansen Scholarship competition. Werner was one of 10 seniors in a 26-county area in northwest and north central Kansas who received the "Leaders of Tomorrow" scholarship for $10,000, renewable for three additional years.
Plainville High School's 2018 graduation is set for Saturday, May 19, when Werner will be honored with 42 other PHS seniors.
Werner said he is looking forward to seeing his former classmates again and having a graduation party with family and friends.
But that will have to wait. Semester finals in his FHSU classes will occupy his attention this week.
Members of the KAMS Class of 2018 are listed alphabetically by hometown with their sending high schools and their parents.
HAYS (67601): Xinchen Cai, Hays High School, Jianxin Qi and Rui Cai, Beijing, China.
Yunseo "Leo" Choi, Hays High School, Eun Mee Goh and Jong Ho Choi, Daejeon, South Korea.
Oohyung Jang, Hays High School, Young Soon Lee and Myeong-Wuk Jang, Gyeonggi-do, South Korea.
Runsi Jia, Hays High School, Baeyuen Jia and Dongdong Ren, Beijing, China.
Dana Kang, Hays High School, Kyoung Hwa Kwon and Incheol Kang, Pyeongtaek, Korea.
Geon Kim, Hays High School, Mi-sun Yu and Hyung-Whon Kim, Seoul, South Korea.
Gyuree Kim, Hays High School, Youngjuo Shin and Kyungseok Kim, Daegu, Korea.
Minkyu "Matthew" Kim, Hays High School, Juo Youn Kang and Byung Jae Kim, Seoul, South Korea
Junghwan "Jacob" Lee, Hays High School, Hyungsoon Lee and Sunkyu Lee, Daejeon, South Korea.
Jinseo "Jason" Park, Hays High School, Youngwha Jo and Seunggon Park, Seongnam-si, South Korea.
Jinwoo "Harry" Park, Hays High School, Namju Park and Minjeong Kim, Gwangju, South Korea.
Hoyoon Woo, Hays High School, Shin Ju Hyeon and Sang Kyun Woo, Daejeon, South Korea.
Runfan Yang, Hays High School, Juan Lin and Yonghua Yang, Wuhan, China.
Katherine Weisenborn, Hays High School, Gregory Weisenborn and Charlene Nichols, Hays.
Yanzhe "Jenny" Zhang, Hays High School, Huan Xu and Xiaohui Zhang, Beijing, China.
CODELL (67663): Jerad "Jed" Werner, Plainville High School, Russell and Marianne Werner.
DERBY (67037): Patrick Cook, Derby High School, Dennis and Kelly Cook.
DODGE CITY (67801): Amelia Richter, Dodge City High School, Matthew and Sheri Richter.
HOISINGTON (67544): Seth Colson, Hoisington High School, Curt and Liana Colson.
HOLTON (66436): Nathan Smith, Holton High School, Porter and Terri Smith.
KINGMAN (67068): Danica Kostner, Kingman High School, Adrian and Shondra Kostner.
KINSLEY (67547): Bruce Davies, Kinsley High School, Robert and Melody Davies.
LAWRENCE (66049): Emily Thornton, Free State High School, Joseph Thornton and Brenda Thornton.
LIBERAL (67901): Christian Ermann, Liberal High School, William and Dayna Ermann.
NEWTON (67114): Brennan Wald, Newton High School, Aaron and Brie Wald.
OVERBOOK (66524): Emily Linder, Baldwin High School, Stephen and Laura Linder.
PRAIRIE VILLAGE (66208): Juliana Ames, Shawnee Mission East High School, Kenneth and Carmen Clark and Alan Ames.
TOPEKA (66606): Jada Gardner, Topeka High School, William and Gloria Horn.
TOPEKA (66614): Grant Nichol, Topeka High School, Eric and Shannon Nichol.
WaKEENEY (67672): Jacob Schneider, Trego Community High School, Rebecca Hillman and Rick Schneider.
WICHITA (67212): Alexandra Depew, Wichita Northwest High School, James and Rachelle Depew.
WICHITA (67209): Annie Hinds, Goddard High School, Donald and Misty Hinds and Ron and Jennifer Walker.­
PHOTO CUTLINE: Patrick Cook, Derby, and Jed Werner, Plainville.