Fort Hays State's Encore Series announces 38th season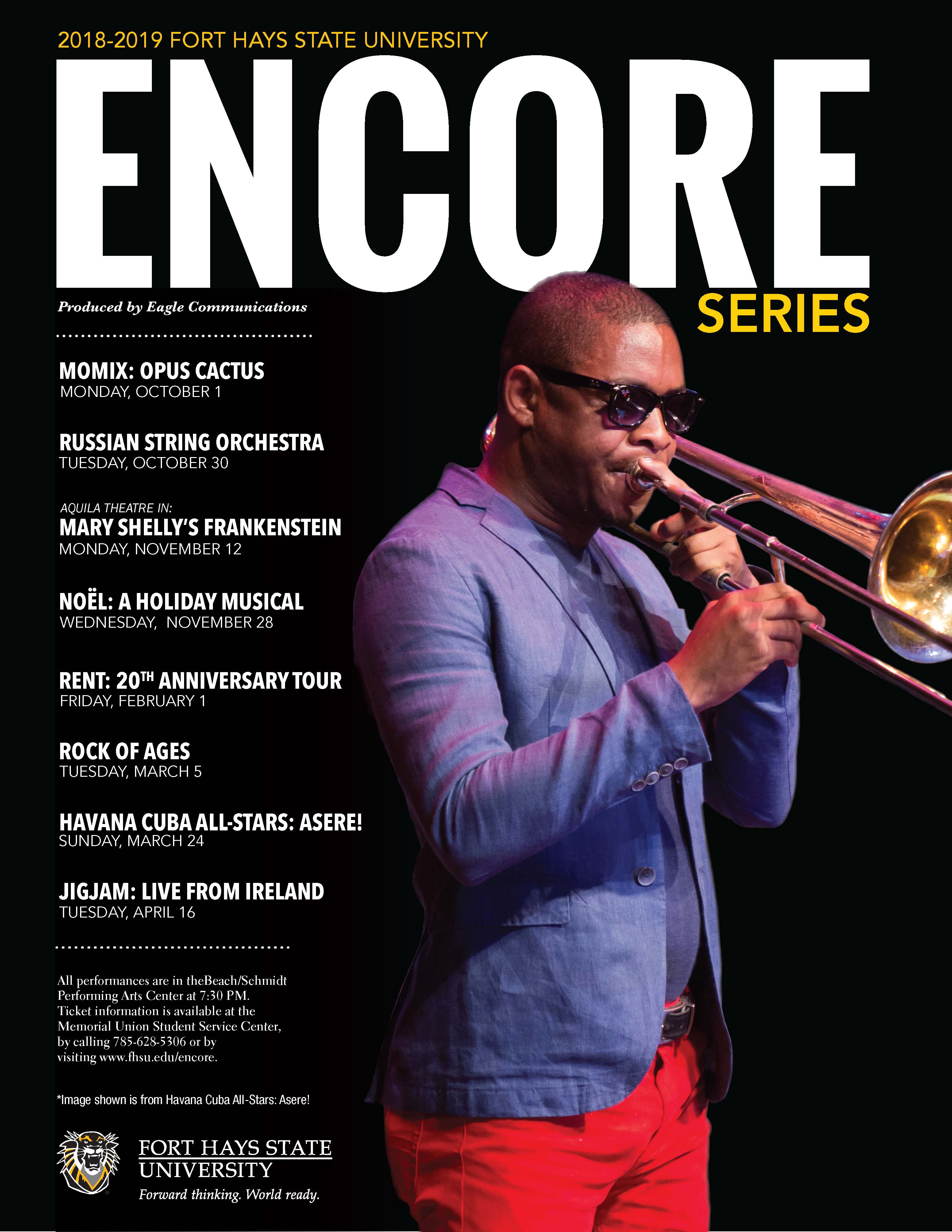 08/10/18
HAYS, Kan. – A wonderful variety of musicals, plays, dance and instrumental music make up the 2018-2019 season of the Encore Performing Arts Series at Fort Hays State University. 
"For 38 years, the Encore Series has been a cultural gem of Western Kansas," said Jacob Ternes, chair of the Special Events Committee. "This season will to continue to bring national and international performances right here to the Beach/Schmidt Performing Arts Center stage. I hope our patrons consider purchasing season tickets, because we expect several individual shows to sell out!"
Ternes promises there is a show for all audiences on this year's series. The season will open with Momix: "Cactus Opus." Momix is a company of dancer-illusionists known internationally for presenting work of exceptional inventiveness and physical beauty.  Additional shows include "Rent": 20th Anniversary Tour; "Rock of Ages"; the Russian String Orchestra, and "JigJam: Live from Ireland." This season will also include a special holiday event: "Noël," a breathtaking new holiday musical from the best-selling author of "Artemis Fowl."
Season tickets for the 2018-2019 Encore Performing Arts Series are now on sale. Fort Hays State University students, faculty and staff all receive discounts, along with senior citizens and youths. For more information, call the Memorial Union Student Service Center at 785-628-5306 or visit www.fhsu.edu/encore. Previous season ticket holders will receive the series booklet in the mail within the next few weeks.
All performances for the 2018-2019 season start at 7:30 p.m. and are in the Beach/Schmidt Performing Arts Center in Sheridan Hall on the FHSU campus.
Performances include:
Momix: "Opus Cactus"
Monday, Oct. 1
"Opus Cactus" is a dynamic journey into the hidden landscape of the American Southwest. If Salvador Dali and Leonardo da Vinci were inspired by National Geographic you would get "Opus Cactus," Moses Pendleton's amazing, evening-length work about the desert world. With their signature dance illusion style, Momix explores the mysterious creatures and cacti of the desert. Surreal, wondrous and massively creative, there's nothing like the Momix performance experience.
Russian String Orchestra
Tuesday, Oct. 30
Founded in 1991, the orchestra, comprised of some of Russia's finest young string players, has carved a niche for itself under the creative baton of its founder and music director Misha Rachlevsky. Whether it is the highly-acclaimed CDs or its concerts, Russian String Orchestra's warmth and high energy create addictive performances that stay with listeners long after the last note has been played.
Aquila Theatre in Mary Shelly's "Frankenstein"
Monday, Nov. 12
Written two centuries ago by Mary Shelley, "Frankenstein" is the first true science fiction novel. The story has since become the inspiration for countless film and stage adaptations. Victor Frankenstein is a scientist with a mission to create an artificial human and he succeeds with terrifying results. Two hundred years later, Frankenstein still poses a myriad of critical ethical questions. Aquila Theatre's production of this classic will be bold and thrilling – while paying homage to the original, frightening writing of Mary Shelley.
"Noël: A Holiday Musical"
Wednesday, Nov. 28
Noël, a brand new holiday family musical, is the touching story of a young girl preparing for her role in a school Christmas performance, when her mother disappears. As the little girl tries to find her mother, she encounters a group of homeless folk who have lost their way in life.  One particular man, Nick has lost his faith in humanity and the joy of Christmas. We learn that Nick is actually St. Nicholas and has turned his back on his old "job". He found that the world had forgotten the meaning of Christmas so he walked away to help the people who really needed it. In their adventure to find Noël's mom they all learn to find hope, in themselves, and in the world.
"RENT": 20th Anniversary Tour
Friday, Feb. 1
In 1996, an original rock musical by a little-known composer opened on Broadway and forever changed the landscape of American theatre. Two decades later, Jonathan Larson's "RENT" continues to speak loudly and defiantly to audiences across generations and all over the world. And now, this Pulitzer Prize and Tony Award®-winning masterpiece returns to the stage in a vibrant 20th anniversary tour. A re-imagining of Puccini's "La Bohème," "RENT" follows a year in the lives of seven artists struggling to follow their dreams without selling out. With its inspiring message of joy and hope in the face of fear, this timeless celebration of friendship and creativity reminds us to measure our lives with the only thing that truly matters – love.  
"Rock of Ages"
Tuesday, March 5
Nominated for five Tony Awards®, including Best Musical, "Rock of Ages" captures the iconic era that was 1980s Hollywood. "Know What Love Is," "Feel the Noise," and "Take Your Best Shot" at one of the Sunset Strip's last epic venues, a place where the legendary Stacee Jaxx returns to the stage and rock-n-roll dreamers line up to turn their fantasies into reality. Featuring the music of hit bands such as Styx, Poison, Twisted Sister, and Whitesnake among many others, this 10th anniversary production features a new cast revisiting the larger than life characters and exhilarating story that turned "Rock of Ages" into a global phenomenon.
The Havana Cuba All-Stars: "Asere!"
Sunday, March 24
The Havana Cuba All-Stars are some of Cuba's greatest musicians. With rhythms and melodies from the cha cha to the rumba, from "Son Cubano" style to the salsa, they showcase a wide variety of Cuban beats. The group is inspired by and dedicated to promoting the entire tapestry of Cuban music through a fresh, contemporary lens. In their "Asere" – or "Friendship" – tour, the All-Stars will be backed by three of Cuba's finest dancing couples. With the greatest dancers and musicians of Cuba working in tandem, the American encore of the Havana Cuba All-Stars' tour will be a spirited spectacle of song and dance, exemplifying Cuba's greatest musical traditions.
"JigJam: Live from Ireland"
Tuesday, April 16
JigJam is a multi-award winning quartet from the heart of the midlands in Ireland. Blending the best of traditional Irish music with bluegrass and Americana in a new genre which has been branded as "CeltGrass," their onstage energy along with their virtuous musical ability has captivated audiences throughout the world. "Here's an Irish band that's going to impact the world as hard as Clancy Brothers or U2 if they get only half a chance." – Midwest Records
About the Special Events Committee
Through the presentation of varied forms of performing arts, the Special Events Committee strives to educate, inspire, evoke thought and entertain. The goal is to promote artistic expression, cultural understanding and social awareness at Fort Hays State University and throughout western Kansas through the presentation of diverse, high-caliber performing arts programs. Many special events, such as Encore Series and the Sebelius Lecture Series, are large in scale and have associated costs. Information can be found at www.fhsu.edu/encore.
For more information, contact Jacob Ternes, jaternes@fhsu.edu, 785-628-4664.