Darci Cain joins FHSU Foundation as vice-president of development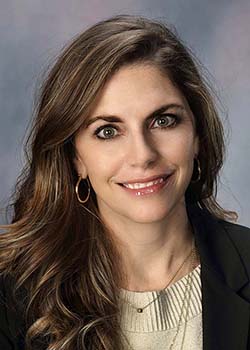 03/01/19
HAYS, Kan. – The Fort Hays State University Foundation has welcomed Darci Cain to its staff as associate vice president of development.
"Growing up in western Kansas, Fort Hays State University was instrumental in shaping my vision of higher education and its opportunities," said Cain. "I am excited to be a part of the university and enhance the visibility of the achievements accomplished while aligning passions for the future."
As a member of the FHSU Foundation team, Cain will be responsible for raising endowment, capital, and other financial support to meet the funding needs of the university. Fort Hays State is in the midst of the largest fundraising campaign in school history – the Journey campaign – with a goal of raising $100 million in support of scholarships, academics, student life and athletics.
Cain will also lead planned giving efforts for the Foundation. Whether a donor chooses to provide student scholarships, fund a program or enhance an initiative that meets their interests, through the generous donation of land to Fort Hays State, appreciated securities, or charitable IRA rollover, Cain will be on hand to assist in the process.
Cain has been in the financial services industry for over 20 years and was most recently employed as a financial advisor at Werth Wealth Management of Hays. She worked in the banking industry as a vice president and trust officer. In addition, she spent almost eight years dedicated to higher education and charitable philanthropy at the Kansas State University Foundation with a significant amount of her time spent within their gift planning department.
Cain is a graduate of Tabor College with two bachelor's degrees in business administration, one with an emphasis in economics and the other in office administration. She has also obtained certification to be designated as a Certified Trust and Financial Officer.
Established in 1945, the FHSU Foundation is committed to cultivating lasting relationships with alumni, friends, corporations and other organizations who have a passion for Fort Hays State and who want to continue its legacy of excellence. As an independent, non-profit organization, the Foundation's donors have an impact on all facets of university life, and their support continues to translate into success for students and the FHSU learning environment.
To learn more about the FHSU Foundation and the Journey Campaign, visit https://foundation.fhsu.edu, call 785-628-5620 or email foundation@fhsu.edu.