Blackmon building his future on Tiger family tradition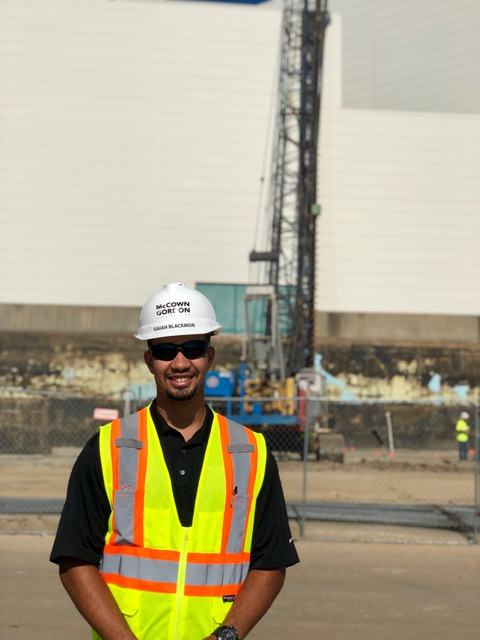 08/07/19
By Diane Gasper-O'Brien
University Relations and Marketing
HAYS, Kan. – Attending Fort Hays State University is a family tradition for Isaiah Blackmon. So even when contemplating a change in majors, he knew he would continue his education at his hometown university.
Experience from summer construction jobs during high school led him down a different path than he had intended when he started college in 2016. Now a year and a half from graduation, Blackmon says that switching his major to construction management was life changing.
After just one year in the applied technology program, the Hays native landed a summer internship with McCownGordon Construction out of Kansas City, Mo. He had never even heard of the company before it participated in a career fair at FHSU's Center for Applied Technology last fall.
He didn't know much about the Department of Applied Technology at FHSU, either, before checking it out his sophomore year. While considering whether or not his current major (athletic training) was for him, Blackmon called on his experience in the construction field while looking at his options.
He spoke to professors in the Applied Technology Department, enrolled in some construction classes, and "after one semester, I was hooked," he said.
Students taking classes in the applied technology building this past year witnessed firsthand the success of Fort Hays State graduates.
The general contractor for the art and design building across the street from the Center for Applied Technology is Paul-Wertenberger, a local construction company owned by two FHSU alumni, Steve Paul and Bob Wertenberger. Fort Hays State's newest academic building – scheduled to open this fall – is the latest of several campus buildings that Paul-Wertenberger has either built or remodeled.
Paul and Wertenberger graduated in the late 1970s and started their own company soon afterward. The applied technology program has changed a lot from the days of industrial arts, and it has seen a significant growth in recent years – from 117 majors in 2012 to 190 last year.
A couple of reasons for that growth was the addition of the construction management emphasis in 2012 and the addition of the 58,000-square-foot, two story CAT facility, which opened in 2017.
The degree has several areas of study: construction technology, construction management, engineering design technology, manufacturing technology, and technology and engineering education.
"We give them the foundational skills, and they are the ones who go out and find their niche," said Kris Munsch, assistant professor of applied technology.
The variety of curriculum and options for job opportunities was attractive to Blackmon.
After a summer of working as a project engineer intern for McCownGordon on a job in Topeka, Blackmon will return to campus with a lot of enthusiasm.
He is a member of the Tiger football team that has won back-to-back MIAA conference titles, and he will have a much better understanding about commercial construction.
"I had always done residential construction, so I didn't know what commercial was like until this internship," Blackmon said. "I like the big projects and the idea of being able to put a lot into something and watch it progress. Seeing what goes into estimating and scheduling really opened my eyes."
Blackmon also will continue promoting Fort Hays State, much like his family before him. Numerous members of his family are FHSU alumni, dating back two generations.
"The environment at FHSU was just right for me, not too big, not too small," he said. "Now that I found what I want to do, there are so many great opportunities here."
Blackmon earned the internship after impressing McCownGordon representatives at the 2018 campus career fair. He interviewed with several companies at the fair and got the internship offer from McCownGordon just a few days later.
That came as no surprise to Munsch, Blackmon's advisor.
Each semester, Munsch awards one of his students the "Hustle Award." Blackmon won the award last spring.
"That's the only verb you need to know when describing that award," Munsch said, "and Isaiah fits that so well. He never wants to know what the minimum is of an assignment. He's a hard worker, and he will apply that no matter where he goes."