Welcome to Hays, Fort Hays State students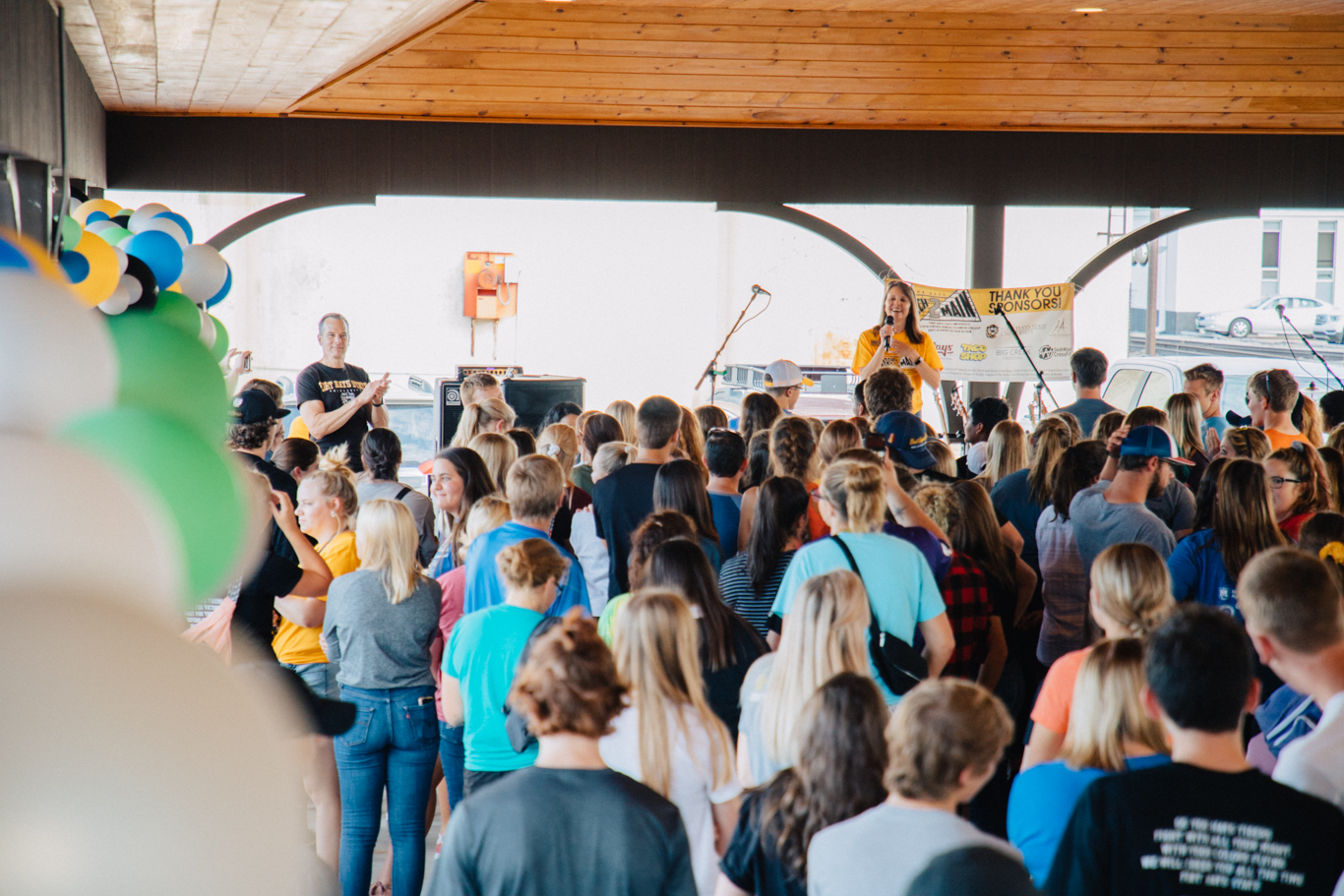 08/28/19
By Diane Gasper-O'Brien
University Relations and Marketing
HAYS, Kan. – In somewhat of a surprising scene Tuesday night, only a handful of 300-plus college students gathered in the Downtown Pavilion were on their cell phones. And the majority of those were either snapping selfies with their friends or video recording the band.
That's the kind of captivation Sara Bloom wants Hays businesses to continue to provide for post-secondary students, including those attending Fort Hays State University.
Bloom, executive director of the Downtown Hays Development Corporation, held the students' attention as she called out ticket numbers for $4,000 worth of prizes. It was all part of the annual March 2 Main welcoming event to get college students familiar with what downtown has to offer them.
After marching to Union Pacific Park from the FHSU campus, students from Fort Hays State, the Hays campus of North Central Kansas Technical College, and Hays Academy of Hair Design were treated to boxed dinners and swag bags.
While waiting for the band to begin playing and a drawing for prizes, students played outdoor board games provided by the Center for Student Involvement and hung out around and in the pavilion. The Hays Police Department handed out ice cream sandwiches. Girl Scouts of Kansas Heartland gave out free boxes of Girl Scout cookies.
A whiteboard with the winning ticket numbers sat on an easel near the stage, and the intent was for all to feel like winners on the pleasant late-summer evening.
"My job is taking care of visitors to Hays," said Melissa Dixon, executive director of the Hays Convention and Visitors Bureau. "Tonight, you are our special visitors."
If Bloom has anything to say about it, college students will be frequent visitors to downtown Hays.
Inside each of the student's bags were discount or gift incentives to visit downtown businesses through Sept. 12. They will then be entered in a drawing for additional prizes the next day.
Sarah Cearley, owner of Simply Charmed on Main Street, said she always looks forward to students returning to town after the summer months. This year, she added more FHSU clothing and jewelry to her selection of women's and baby clothing, accessories and gifts. And student traffic has picked up because of it.
"We touched on Tiger gear before, but we have a lot more assortment this year," she said. "Even the weekend prior to students moving in, we noticed a pick-up in business."
Bloom told the newcomers to town just how vital the college students are to the Hays community, using the history of the pavilion to stress that point.
The pavilion with a cathedral ceiling and clay tile roof was designed and built by FHSU students from the Department of Applied Technology. An electrical technology class from NCK Tech installed the electrical wiring and lighting.
It was finished in the spring of 2018 and is used weekly for numerous events.
FHSU freshmen Jason Pineda and Emily Maldonado from Emporia are glad they participated in March 2 Main as well as other activities with Forty Days at the Fort, a welcoming program with a variety of events to help students get connected to organizations.
 "What a great start to the school year," Maldonado said. "We've met a lot of great people already."
They were part of a group that stayed to the very end Tuesday, waiting for the drawing for several larger prizes.
Pineda shouted and hurried to the front when his number was called for a 32-inch television. He smiled as he maneuvered the large box into the back of his car, saying it might go to Maldonado, his girlfriend, who gave him a TV she won in a drawing a couple of years ago.
Pineda lives in McMindes Hall, and Maldonado lives in Victor E. Village as a member of the All Rise!
Learning Community. All Rise! is geared toward students intrigued by legal issues and is considering a career in law.
Whoever lays claim to the new TV set, Pineda and Maldonado are here to stay.
Maldonado first heard about Fort Hays State when she received an acceptance letter from the Kansas Academy of Math and Science, the state's premier early college program for high school juniors and seniors.
She decided not to attend KAMS but kept Fort Hays State in the back of her mind as a destination for college.
Maldonado liked FHSU's political science program, and Pineda was just as impressed with the psychology department, his program of choice.
"I did research," Pineda said, "and Fort Hays State looked like the place to be. Very affordable."
"It just felt right," Maldonado agreed.