2 FHSU students to travel to West Africa through IRES grant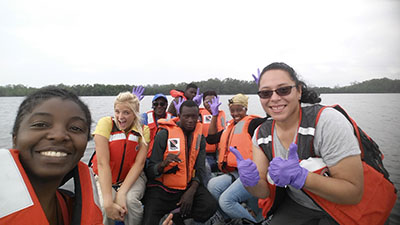 09/06/2019
HAYS, Kan. – Two Fort Hays State University students traveled to Douala, Cameroon, on the west coast of Africa to conduct geoscience research through an International Research Experience for Students grant funded by the National Science Foundation.
The three-year NSF IRES grant was awarded to FHSU's Dr. Hendratta Ali, associate professor of geosciences, and her collaborator, Dr. Eliot Atekwana at the University of Delaware.
"The NSF-International Research Experience for Students is aimed at providing U.S. students an international experience participating in applicable and beneficial research conducted in a different country, providing experiences in culture, community, and international research," said Ali.
FHSU Students Kalyn Compton, a junior majoring in biology (health professions) from Wichita, and Nicholas Counts, a junior majoring in geosciences (geology) from Colorado Springs, Colo., were in the Douala Estuary in June and July. This is the first time both FHSU students traveled outside of the United States.
Compton and Counts were two of only four students in the United States to be selected for this grant and research opportunity. They traveled to Cameroon with a student from California, a student from Delaware, and faculty research mentors Ali and Atekwana.
"This diverse group of four students from the U.S. partnered with Cameroonian peers from the local universities to conduct significant research on the estuary," said Ali. "The students participated in water and sediment sampling and measurements in the estuary, water quality analysis, carbon cycling, and sediment chemistry to investigate processes that affect major river tributaries that released water into the ocean, from metamorphic, igneous and sedimentary terrain.".
"The International Research Experience is the most exciting, challenging, and rewarding thing I have done in my entire life," said Counts. "I learned so much about not only the field I plan to work in, but also the research process, and the culture of the people I came to know on the other side of the world."
"From riding in a boat to collect samples while the driving rain lashed my skin, to licking my fingers after a eating delicious grilled fish prepared by the Cameroonian cooks, I have so many unforgettable experiences that I will value and utilize for the rest of my life," he said.
"This year was a great experience for our participating students. I am pleased with the research conducted this year. Students will be involved in new research objectives each year of the grant and I look forward to next summer's travel and continuing to work on this research with FHSU students," said Ali.