FHSU Foundation appoints eight new members to board of trustees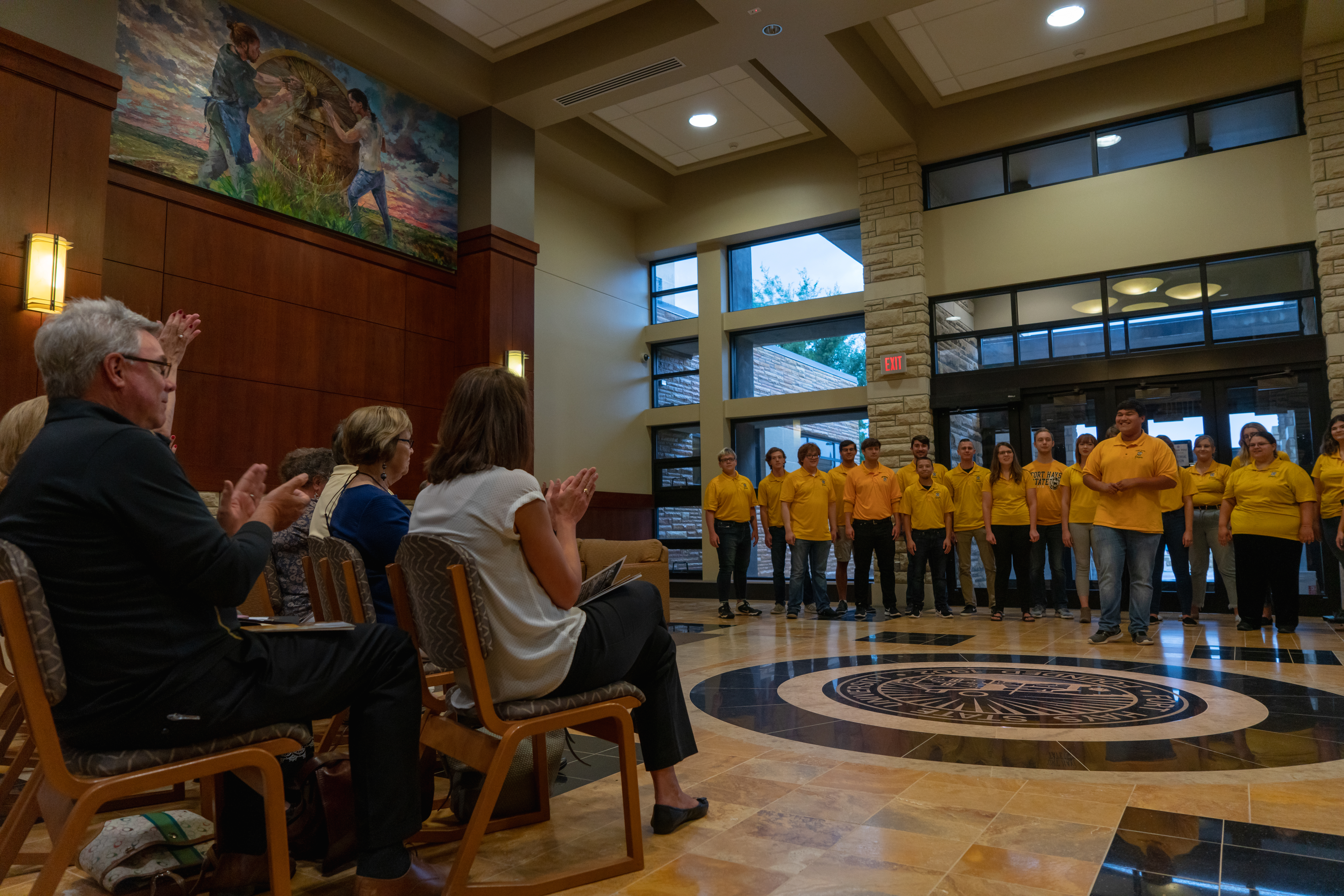 9/06/19
HAYS, Kan. – The Fort Hays State University Foundation recently appointed eight new members to its Board of Trustees: Joe Bain, Paul Kitzke, Jamie Kuehl, Don Reif Jr., Steve Shields, Peter Werth, David Younger, and Katie Zogleman.
Joe Bain earned his undergraduate degree in political science from Fort Hays State University in 2002 and his Juris Doctorate from the University of Kansas School of Law in 2005. In 2017, he was featured in Ingram's magazine's "50 Kansans You Should Know" list. A former member of the Kansas Board of Regents, trial lawyer and litigator – Bain is also the new general counsel of FHSU. Bain, his wife, Shaudel, and their three children, recently moved to Hays.
Paul Kitzke is a member/attorney with Tate and Kitzke, LLC, in Hugoton. He is a 2002 FHSU political science grad and a 2005 Washburn Law School graduate. Kitzke is involved with Knights of Columbus and serves on the Stevens County Fair Board and the Equity Bank Board of Trustees. He and his wife, Sarah, and three children, reside in Hugoton.
Jamie Kuehl is a 2007 graduate of Fort Hays State University with a degree in organizational leadership. He previously served as the FHSU head men's golf coach and now owns and operates multiple McDonald's locations. Kuehl has several corporate and professional affiliations including Big Brothers Big Sisters and the Dodge City Chamber of Commerce. Kuehl resides with his wife, Kelsey, and two children in Dodge City.
Don Reif Jr. is the owner of Donald E. Reif Jr. Attorney at Law in Hoisington. He previously served as city attorney of Hoisington and as a municipal court Judge. Reif is a 1982 history and political science graduate from FHSU and received his Juris Doctorate from Washburn University in 1988. He is also a former FHSU student government association president. Reif has been involved with Kansas CASA, Hoisington USD 431 Board of Education, the Kansas Chamber of Commerce, and several other corporate and professional affiliations. Reif recently established a scholarship at Fort Hays State University in support of students studying political science with an emphasis in pre-law.
Steve Shields attended Fort Hays State University from 1974 to 1976 and received a degree in social work and gerontology from Kansas State University in 1994. He serves as chairman and CEO of Action Pact Holdings, Inc., and is an internationally recognized specialist in the world of senior living. Shields is a co-chair for FHSU's $100 million Journey campaign, was a recipient of FHSU's Distinguished Service Award, has numerous professional affiliations and honors and is a longtime supporter of FHSU.
Peter Werth is a 1959 alumnus of FHSU with degrees in chemistry and math, and was a 2013 recipient of the Alumni Achievement Award at Fort Hays State. Werth earned a master's degree in organic chemistry from Stanford University and founded ChemWerth, Inc. in Woodbridge, Conn., to develop active pharmaceutical ingredients to produce generic drugs. Werth has received numerous awards and honors for his philanthropy and professional accomplishments. He is the namesake of FHSU's Peter Werth College of Science, Technology and Mathematics.
David Younger received his elementary education degree from Fort Hays State in 1987. He then went on to receive his master's in education and supervision from Wichita State University and a master in district level leadership from Friends University. Younger is a member of Rotary, the Kansas/Missouri Superintendent Leadership Forum, and the Kansas Council for Superintendents. He resides in Ulysses with his wife, Kelly, where he serves as superintendent of Ulysses USD 214.
Katie Zogleman serves as shareholder and executive committee member for Seigfreid Bingham, PC, in Kansas City, Mo. She is a 2000 psychology graduate of FHSU and a 2003 graduate from the University of Kansas School of Law. Zogleman has received the Missouri and Kansas Rising Star award in business and corporate law and is a member of the American, Missouri, Kansas and Kansas City Metropolitan Bar Associations. She and her husband, Chad, reside in Belton, Mo., with their two children.
The current Foundation board is composed of 58 alumni and friends of the university with each trustee serving a four-year term. Each trustee actively participates in a variety of activities contributing to the educational and financial success of the university and the FHSU Foundation.
Foundation trustees come from a variety of education and industry backgrounds representing all five colleges at Fort Hays State University. Current trustees reside in a variety of states including Kansas, Missouri, Texas, California, Colorado, Connecticut, Illinois and Indiana. For a full list of trustees, visit http://foundation.fhsu.edu/about/board.php.
More than 50 board members recently met for a weekend on FHSU's campus for their annual board meeting.
"It's such an honor to be a member of the FHSU Foundation Board of Trustees," said Coleen Ellis, a 1987 graduate of Fort Hays State University. "Our weekend back on campus is always off-the-charts moving and inspiring for me!"
In addition to their annual business meeting, board members toured the Department of Allied Health, received a presentation from student affairs on the new Fischli-Wills Center for Student Success, were entertained by the Department of Music and Theatre, and saw the new simulation lab within the Department of Nursing.
Their day of campus tours ended with a reception among students presenting their original research formerly shown at FHSU's John Heinrichs Scholarly and Creative Activities Day.
"Fort Hays State University is, and always has been, such an energized campus – truly my happy place," said Ellis. "It's the heartbeat of our students, and a reminder of why the work we do as Foundation trustees is so important."
The Foundation is the fundraising arm of FHSU. It raises and manages all funds that are entrusted to it for the benefit of various needs in support of the university, and works closely with FHSU to support the university's initiatives.
To learn more about the Fort Hays State Foundation, visit http://foundation.fhsu.edu or contact the office at 785-628-5620 or foundation@fhsu.edu.