New music series at FHSU to honor influential music couple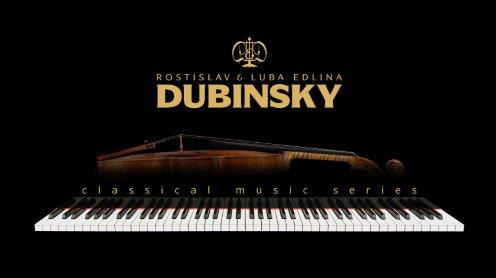 09/18/19
HAYS, Kan. – Twenty-five years after she defected from the Soviet Union, Luba Edlina Dubinsky met and mentored a doctoral piano student who is now an associate professor of music at Fort Hays State University.
This year, a year after the death of Luba Edlina, Dr. Irena Ravitskaya and the Department of Music and Theatre at Fort Hays State University are beginning a classical music series in memory of Luba Edlina and her husband, Rostislav Dubinsky, who died in 1997.
"The Rostislav and Luba Edlina Dubinsky Classical Music Series is designed to play a distinctive role in the lives of our students and the community by cultivating classical music appreciation," said Ravitskaya.
The series will feature musicians from around the world and across the United States, many of whom studied under the Dubinsky's. While on campus, guest musicians will offer presentations and master classes.
The first concert of the series, 7:30 p.m. Friday, Sept. 27, in the Beach/Schmidt Performing Arts Center, will feature Ravitskaya, piano, Ben Cline, chair of the Department of Music and Theatre, cello, and a guest artist Sharon Stanis, violin. The concert is free.
Stanis is a founding member of the world famous Lafayette String Quartet. She studied violin and chamber music with Dubinsky at Indiana University. Currently Stanis teaches violin and coaches chamber music at the University of Victoria, Canada.
While attending Indiana University for her doctoral degree, Ravitskaya studied piano under Luba Dubinsky.
"She became a dear friend and mentor," said Ravitskaya. "I would visit her once a year until her death, observing her lessons, going to concerts, listening to recordings, talking about music and life, and just enjoying every day spent with her."
Born in the Soviet Union, Luba Edlina and Rostislav Dubinsky studied music at the Moscow State Tchaikovsky Conservatory. In the 1980s, they immigrated to the United States to teach at the Indiana University school of music.
The Dubinskys were founding members of the Dubinsky Duo and the Borodin Trio demonstrating chamber music at the highest international level.
"The Dubinskys brought a wealth of knowledge to their teaching, not only from their vast performing experience, but also because of their training by the foremost masters of the Russian school of violin and piano playing," said Ravitskaya.  
Other performances in the inaugural year of the Dubinsky Classical Music Series are:
Saturday, Nov. 9: Mei-Hsuan Huang, originally from Taiwan, will play piano with Borivoj Martinic-Jercic, from Croatia, on violin. Both now teach at Iowa State University.
Sunday, Nov. 17: Kristin Jonina Taylor is an Icelandic-American pianist who teaches at the University of Nebraska–Omaha.
Sunday, April 5: Zsuzsa Kollar, is a piano teacher at the Liszt Ferenc Academy of Music in Budapest.
All concerts are free.
To help sponsor the Rostislav and Luba Edlina Dubinsky Classical Music Series contact Irena Ravitskaya at
iaravitskaya@fhsu.edu
.