New York musician to perform at FHSU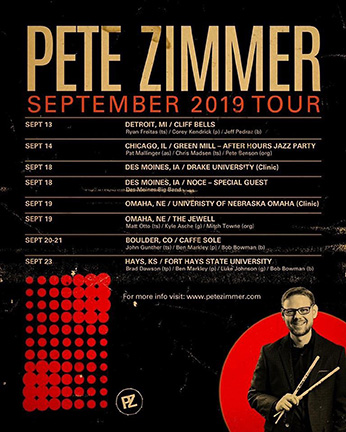 9/13/19
HAYS, Kan. – Pete Zimmer, a New York based jazz drummer, will perform at Fort Hays State University's Beach/Schmidt Performing Arts Center at 8 p.m. Monday, Sept. 23.
Touring through the midwest, Zimmer will stop in Hays to perform as well as work with music students.
This is not Zimmer's first time in Hays. He has stopped to play on campus before and was a guest artist for the music camp four years ago.
Zimmer will perform with Dr. Ben Markley, an FHSU alum who teaches at the University of Wyoming, on piano, Bob Bowman, a freelance musician, on bass, Brad Dawson, assistant professor of music and theatre, and Luke Johnson an instructor of music and theatre.
"This will be a chance to hear great jazz from some great players," said Dawson.
The show will feature two compositions written by Markley that are on his latest CD Slow Play.
The show is free and open to the public. For more information you can email Dawson at bdawson@fhsu.edu.