Phi Delta Theta fraternity starting on campus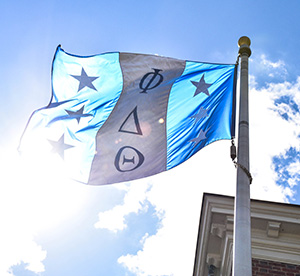 09/19/19
HAYS, Kan. – Phi Delta Theta, an international fraternity, is establishing a new group on Fort Hays State University's campus this semester.
Founded in 1848 at Miami University in Oxford, Ohio, by six men, the fraternity was built on three principles, friendship, sound learning and rectitude.
"We are excited to have Phi Delta Theta join our community," said Stephen Hopson, coordinator of student engagement at FHSU. "They have a good reputation for being an organization that attracts a diverse array of students and helps support them through their college journey. We are excited to have Phi Delta Theta grow and strengthen the fraternity community."
"Helping every individual to meet his true potential is the bedrock of the Phi Delta Theta fraternity," said Austin Dean, a Phi Delta Theta leadership consultant.
"Rather than try to find young men to mold into some ideal, we celebrate the uniqueness of each individual," he said. "Through encouragement, values, example and brotherhood, we empower every brother to exceed his personal expectations."
Since its founding, Phi Delta Theta has initiated over 270,000 men and currently has 191 chapters and colonies in the United States and Canada.
Their national philanthropy of choice is the LiveLikeLou Foundation which is committed to making an impact on ALS research while it supports the children and families affected by ALS.
Lou Gehrig was a member of Phi Delta Theta during his college years at Columbia University. He went on to play for the New York Yankees and was later diagnosed with ALS. In honor and support of their brother, Phi Delta Theta's across the nation raise money every year for research to find a cure for ALS.
Chapters also locate local ALS families and reach out to them to provide help and support in any way they can to the family.
Phi Delta Theta is looking for the opportunity to become a driving force for improvement on the FHSU campus and offer a different fraternity experience from those that currently exist.
"I became a founding father of Phi Delta Theta because I want to help give rise to a new set of leaders at FHSU. Leaders that are held accountable, have a strong sense or right and wrong, and push one another to become the best versions of themselves," said Eiran Saucedo-Rodarte, a Wichita junior majoring in general studies.
"I joined Phi Delta Theta because it had an aspect of leadership to it which was inspiring and it gives you an opportunity to make your mark on campus by creating something different from the ground up," said Jacob Quiggle, a Maize freshman majoring in history.
For more information about Phi Delta Theta please visit FuturePhiDelt.org.