With Honors College and flags, student finds strength to stretch her boundaries at FHSU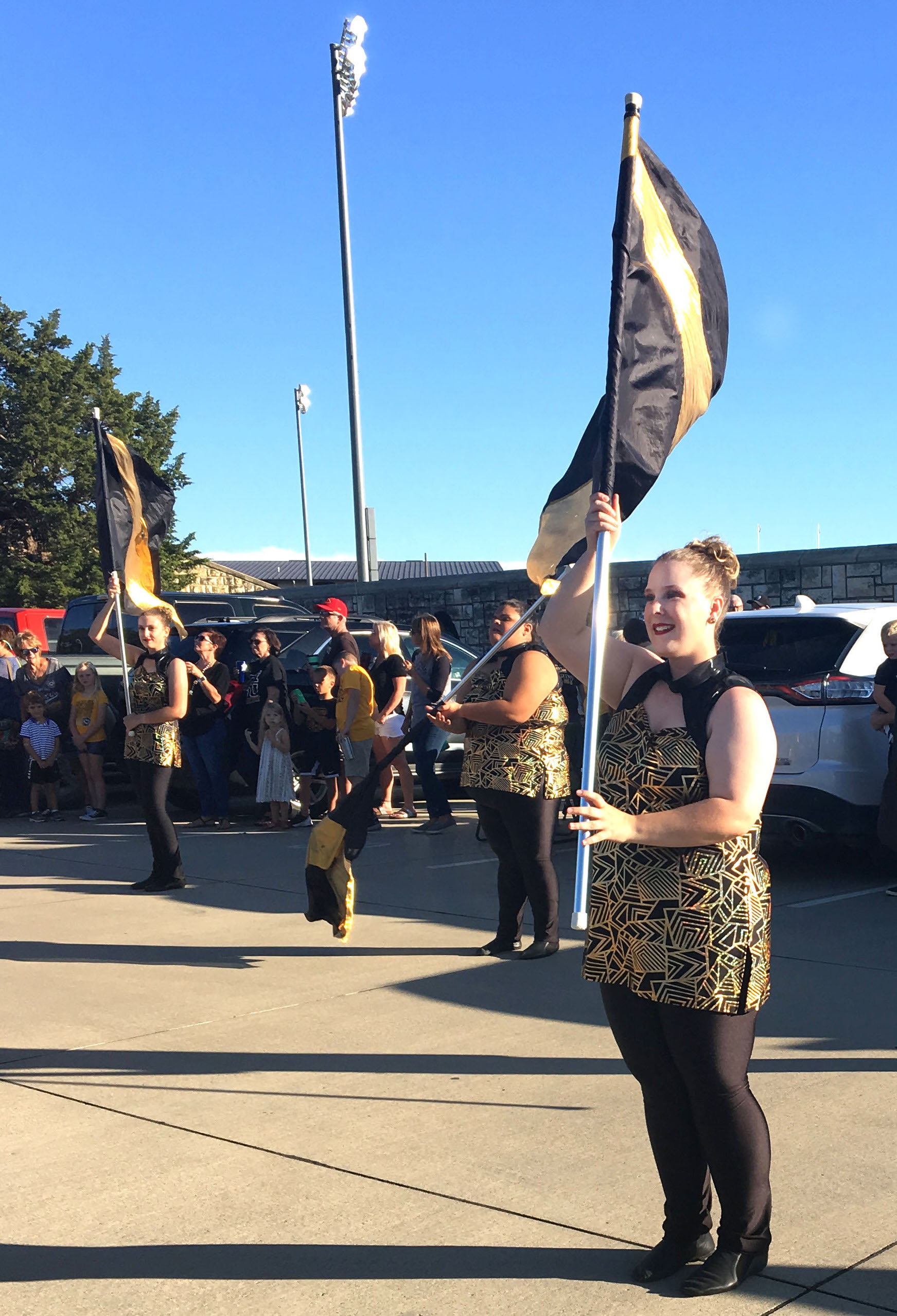 09/18/19
Diane Gasper-O'Brien
University Relations and Marketing
HAYS, Kan. – Lailah Collins didn't think she would have time for one of her favorite extracurricular activities in college.
A 4.0 student and one of the valedictorians of her senior class at Wichita South High School, Collins decided to give up choir when she came to Fort Hays State University in the fall of 2018.
She thought she would be busy enough with her classes and involvement in the Honors College. The HC is a scholarship program that requires students to maintain a high GPA and participate in a certain number of activities on and off campus while focusing on the program's four pillars: academic excellence, engagement, leadership and continuous growth.
On her first day of classes, Collins discovered a new activity that aligns with several of those pillars – one that she calls life-changing.
While walking the quad and checking out various booths during the back-to-school picnic, Collins came across some information about the FHSU color guard, a group of students that does flag routines and performs with the Tiger band during home football games.
Right then and there, Collins decided to accept a new challenge and step out of her comfort zone. She has been a member of the color guard ever since.
Unlike many colleges, Fort Hays State does not hold tryouts for the color guard. So Collins began attending practices and started feeling more comfortable with her new venture.
The color guard and marching band are under the direction of Dr. Peter Lillpopp, assistant professor of music and theatre.
"Dr. Lillpopp believes if anyone has the desire to do something, then they have the right attitude and probably can do it," said Shelby Schumacher, the color guard coach. "I have so many years experience coaching I can get about anyone caught up to speed."
Indeed.
Schumacher, a December 2017 graduate of FHSU, has been teaching baton twirling classes for about 10 years to students ranging from 2 years old to college age. Now, she not only coaches the FHSU color guard but also directs the flag teams at Hays High School and Hays Middle School as well.
Collins hadn't been involved in anything of the sort since she was in dance lessons as a 7-year-old but immediately felt comfortable with Schumacher as her coach.
"She is an amazing instructor," Collins said. "She's patient with us. And Dr. Lillpopp definitely is giving us a chance we wouldn't get at other colleges."
Collins, a double major (math and Spanish), was able to maintain a perfect 4.0 GPA during her freshman year and decided to continue with the color guard again this year.
Schumacher said it's rewarding to watch students of all levels participate.
"It's exciting because Lailah came to college not expecting anything like this," Schumacher said.
"Now, she has  a group of friends to last a lifetime and a new talent, too."
The experience has been eye-opening for Collins.
"I have to do my hair and makeup all the time for the games," Collins said, "and I don't do that – ever."
There also is a time commitment. The color guard rehearses with the band two hours every Monday and Thursday afternoon and at 9 a.m. on game days, then practices with its own group every Wednesday night.
But it's something Collins will never regret trying.
"It's definitely up there with difficulty, coming in with no high school experience," she said. "But it's more fun than I expected. We've bonded a lot this year. We're more than a team, more like a family."
Collins said she will never forget the feeling when she marched with the band from Tomanek Hall to Lewis Field Stadium for her first home game. It's a feeling of exhilaration she gets every time out.
"The streets were filled with cars, you hit the parking lot, and there are people everywhere," she said. "It's different than what I expected tailgating to be. Here, you see people all the way from small kids to college students playing games and laughing, adults having a good time. It's like a big family reunion, and it makes you feel so good to be a part of it."
As the band nears the stadium, it stops to play a couple of songs, and the color guard performs some routines as tailgaters gather round to watch.
"It's so crowded, and you have to really watch your flags not to hit something or someone," Collins said. "It's just a great feeling, all the excitement."
Collins has her sights set on graduating in four years, then pursuing both a master's and a doctorate with the goal of teaching at the college level.
She plans to use life skills learned at FHSU long after she leaves campus.
"When I have to apply for grad school or for a job, I will be more accustomed to doing things I'm not familiar with," she said, "and not be afraid to do something different. That might have never happened if I hadn't decided to try something new in college."