'Above and beyond' is routine for Fort Hays State's Fitzhugh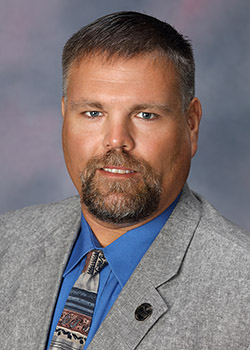 By Diane Gasper-O'Brien
University Relations and Marketing
HAYS, Kan. – Colleagues usually can speak to the qualities of their peers' work as well an anyone. Those who work with Fort Hays State University's Dr. David Fitzhugh say there is none better.
Fitzhugh, associate professor of health and human performance and director of the athletic training program at FHSU, was awarded the Dr. Denis "Izzy" Isrow Above and Beyond the Call of Duty Award by the Mid-America Athletic Trainers' Association (MAATA).
This award recognizes an athletic trainer in the seven-state district of MAATA whose actions and activities go well beyond what is expected or required within the routine call of duty.
The list of compliments by those who nominated Fitzhugh is as long as the name of the award.
"When I read the description of the award, I think of David," Karen Garrison said.
Garrison, clinical education coordinator for the Department of Kinesiology at Washburn University in Topeka, is the president and symposium director of the Kansas Athletic Trainers' Society (KATS). She has worked with Fitzhugh at the state and district levels of the National Athletic Trainers' Association for about 10 years, and she and two others nominated him for the award.
"He has a lot going on, but any time I've ever reached out to him for input on something, he's always more than willing to help out," Garrison said. "He's extremely knowledgeable, so getting his opinion on something is really helpful."
Every year, Fitzhugh – a licensed athletic trainer and certified paramedic – conducts workshops at the Kansas EMS Association conference on managing football injuries.
Garrison said the workshops give KATS a platform on which to build relations with paramedics, EMTs and other emergency management personnel from all over the state.
Another nomination letter cited how Fitzhugh gives back to his community by providing medical coverage as an athletic trainer or paramedic at area high school football games when needed. Additionally, he teaches CPR classes for various campus and community organizations and has been a volunteer with the Wild West Festival Committee.
Fitzhugh got his start in emergency response work as a teenage volunteer firefighter while growing up on the Navajo Reservation in New Mexico. After receiving his bachelor's from New Mexico State, where he took his first EMT course, he chose FHSU to pursue a master's in the late 1990s. After graduating from Fort Hays State, he worked on the clinical side of athletic training and earned his Ph.D. before returning to Hays 13 years ago to teach at his alma mater.
As the director of the athletic training program, Fitzhugh teaches future athletic trainers, and he completed his paramedic training in 2013. He still works some 12- and 24-hour shifts for Ellis County EMS when his schedule allows, and he covers Tiger home football games as a paramedic.
Working as an athletic trainer and a paramedic, Fitzhugh can attest to the overlap of the professions and welcomes the chance to help interdisciplinary healthcare teams learn how to work together.
"What's most important with the philosophies of both those professions is the patient," he said. "I'm fortunate that I'm able to combine my love for both professions."
Fitzhugh will be recognized at the MAATA Hall of Fame and Awards Banquet March 20 in LaVista, Neb. Other individual awards will be given in the categories of educator, young professional, service, most distinguished athletic trainer, and Hall of Fame.
First, though, his mind was on Athletic Training Day at the State Capitol in Topeka on Feb. 11. Fitzhugh and other KATS members advocated for athletic training as part of the organization's Hit the Hill legislative advocacy campaign focused on improving the health and safety of all Kansans. 
Fitzhugh naturally was honored when Garrison asked him for information for the nomination for the service award, but he didn't expect to win.
"I feel we have a lot of individuals, a lot of very active people in our district, who would be worthy of recognition," Fitzhugh said. "I was surprised when I got the email that they had chosen me."
Garrison wasn't surprised at this year's recipient of the service award or Fitzhugh's reaction to winning it.
"He's very selfless," she said. "He just really believes in giving back. He has the knowledge and skills and wants to give back, help other people."