Online FHSU programs among top listings in 2019 U.S. News rankings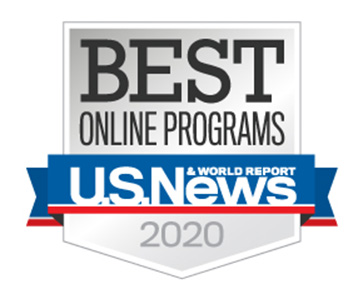 HAYS, Kan. – For a ninth consecutive year, U.S. News & World Report has recognized Fort Hays State University as among the best in the nation in online education.
In its report, released this week, Fort Hays State was once again the top university in Kansas in online graduate nursing programs. The university was also ranked among the best in the nation online bachelor's, master's education, and MBA programs.
FHSU has ranked among the top universities in the country in these categories for all nine years that U.S. News has ranked online college education.
"Online education at Fort Hays State is recognized in the U.S. News and many other rankings because we apply the same standards of quality, cost and access as for on-campus education," said Dr. Jill Arensdorf, provost and vice president for academic affairs.
"We are constantly innovating and creating new programs to meet the needs of our students, those who can come to campus for a traditional educational experience and those who cannot uproot families and careers," she said. "For adult learners who need to advance their educations by studying from their homes, on their schedules, at an affordable cost, we are the online place to be."
FHSU has been recognized the last two years by The Washington Monthly, which focuses its attention on adult education through more than a dozen measures of social mobility, service and research.
Fort Hays State expertise in distance education is the result of more than 100 years of experience that began in 1911 when the university delivered correspondence coursework to rural teachers through the mail. Today, FHSU Online is a national leader in providing high-quality and affordable online education programs to students in Kansas and across the globe.
U.S. News bases its ratings for online bachelor's programs on four general categories of criteria:
Engagement, which attempts to measure opportunities for student engagement in courses and interaction with instructors and classmates.
Services and technologies, which considers diverse technologies available for coursework at a distance as well as the availability of support for learning assistance, career guidance and financial aid "commensurate with quality campus-based programs."
Faculty credentials and training, which is an indication of how closely the academic credentials of online faculty match those of on-campus faculty.
Expert opinion, which is based on a survey of academic officials and employers.
For MBA programs and for master's programs in nursing and education, U.S. News adds a fifth criterion, student excellence.
Fort Hays State offers a total of 143 degree programs through the FHSU Online – 63 undergraduate, 58 master's, one doctorate, four education specialist and 17 associate degrees. Sixty-one certificate programs, graduate and undergraduate, are also available.