Rad Trads to replace Huntertones in Encore March 13 performance at FHSU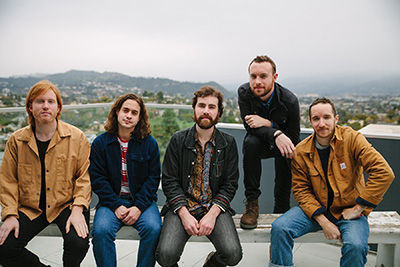 HAYS, Kan. -- The Encore Series presentation of Huntertones, which was set for 7:30 p.m. Friday, March 13, in the Beach/Schmidt Performing Arts Center on the Fort Hays State University campus, has been changed due to band difficulties.
The Encore Series is proud to be able to offer an alternate performance at the same time, date and location. The alternate performance will be a presentation of the band The Rad Trads. The Rad Trads will appear at 7:30 p.m. Friday, March 13, in the Beach/Schmidt Performing Arts Center.
Individual tickets will go on sale at 8:30 a.m. Monday March 2. They are available at the Memorial Union Student Service Center by calling 785-628-5306 or online at www.fhsu.edu/encore.
Encore season ticket holders do not need to take any action to enjoy the performance. The previously issued tickets for the Huntertones will be accepted at the door for admission to the performance. 
About The Rad Trads: The five members of the Brooklyn-based The Rad Trads distinguish themselves in ways few bands can. Already drawing lines around the block at home, the globe-trotting group's singular take on rock n roll mixes punk rock energy, horn-drenched soul and jazz precision, all with a lighthearted but sincere delivery. It's a sound and show that is gaining steam world over.
Meeting at New York University in 2012 as conservatory-trained instrumentalists looking to play with NYC's best musicians, twin brothers John (drums, vocals) and Michael Fatum (trumpet, vocals), Michael Harlen (bass, vocals), Alden Harris-McCoy (guitar, vocals), and Patrick Sargent (keys, saxophone, vocals) were just "a bunch of buds looking to play the bars and drink for free," according to John Fatum.
"The Rad Trads started off with a bastardized jazz repertoire that was modified, on stage, into whatever seemed to get the audience moving," he said. The band quickly developed a loyal connection with its audiences.
With all of that energy flying around, The Rad Trads could have simply been perceived as just a party band, but the band's booking agent realized that with those expert chops, there might also be a niche within the jazz festival scene, and he was right.
Harlen said, "It turns out that every jazz festival in the world needed a fun band, and so we went to Europe for the first time." This initial excursion has turned into nearly 10 trips to Europe for The Rad Trads in addition to performances on four continents, in 15 countries, and 41 states.
The diverse list of artists that the band has performed within that time includes Lake Street Dive, Charles Bradley, Buddy Guy, Taj Mahal, and The Lone Bellow, among others.
"We've loved every second of traveling and seeing the world," said John Fatum.
About the Special Events Committee: Through the presentation of varied forms of performing arts, the Special Events Committee strives to educate, inspire, evoke thought and entertain. The goal is to promote artistic expression, cultural understanding and social awareness at Fort Hays State University and throughout western Kansas through the presentation of diverse, high-caliber performing arts programs. Information can be found at www.fhsu.edu/encore.
For more information, contact Jacob Ternes by email at jaternes@fhsu.edu.