FHSU faculty, students win several awards at international business conference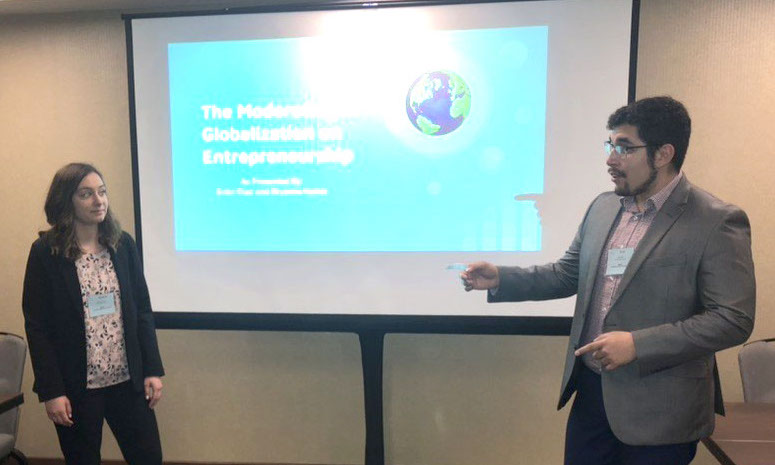 HAYS, Kan. – Dr. Shane Shartz led a list of Fort Hays State University representatives who brought home three of the top awards from a business conference in San Antonio earlier this month.
Seven faculty and four undergraduate students presented research at the conference, a  collection of interdisciplinary conferences that together make up the Federation of Business Disciplines Constituency. 
Shartz, assistant professor of Informatics, brought home the most esteemed prize from the conference ­– the 2020 FBD Outstanding Educator Award. He was recognized not only for his excellence in the classroom but also for his role as an educator in transforming his department to intersect with industry change.
Dr. Robert Lloyd, assistant professor of management, received the 2020 Southwest Academy of Management Best Reviewer Award for his work in reviewing manuscripts submitted to the management track of the conference.
Four FHSU students contributed to a manuscript with Lloyd as part of an Undergraduate Research Experience grant that earned the Best Paper in the Marketing Management Track award.
Seniors Ector Diaz from Hutchinson; Mallory Milstead, Kansas City, Kan.; Bryanna Kohler, Beloit; and Braden Scott, Ulysses; joined Lloyd on the manuscript that was titled "Emerging Nexus Between Self-Brand and Place Branding: City Attributes that Contribute to Strong Self-Brand Connections." In addition, the students presented two other research projects of their original work that focused on entrepreneurship, globalization and public relations management.
The students submitted a total of five co-authored manuscripts, of which three were accepted to the conference. The work the students did to contribute to the best paper award was in competition not against their peers but rather against professional scholars.
"These students revised, they rehearsed their presentations, and they had to deal with the rejection that comes with the peer review process," Lloyd said. "I am proud of their efforts."
Other FHSU faculty who presented their work included Dr. James "Skip" Ward, associate professor of applied business studies; Misty Shartz and Jessica Heronemus, instructors of economics, finance and accounting; and Dr. Hiro Nishi, assistant professor of economics, finance and accounting.