Fort Hays State's Sternberg Museum adds new comparative vertebrate anatomy camp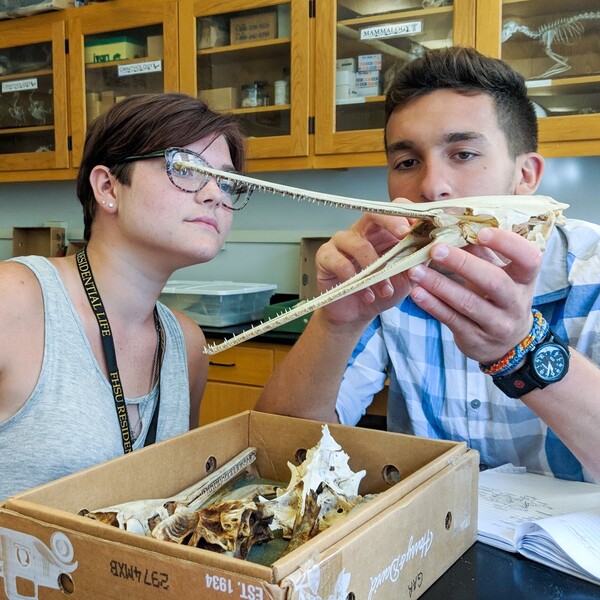 By Diane Gasper-O'Brien
University Relations and Marketing
HAYS, Kan. – Lilly Duncan and Ethan Couture are two of several current college students who have benefitted from participating in field camps through Fort Hays State University's Sternberg Museum of Natural History since 2014.
The renowned museum in Western Kansas this year is adding another step to keep students connected to the earth and life sciences during high school and beyond.
The list of nine Sternberg camps for high school students now includes two sessions on comparative vertebrate anatomy, which is a two-week intensive short course for students interested in biology. The first of two sessions will be held at Sternberg Museum and FHSU beginning June 21, and the other at the University of Oregon, set to begin on July 26.
Sternberg administrators hope this camp draws some students to Fort Hays State as one did for Duncan. She grew up near Wilson State Park and spent a lot of time outdoors as a youngster. She said she was interested in FHSU during high school, but "it sealed the deal" after she attended a Sternberg field camp. A freshman biology major, Duncan works for Sternberg and will be a teaching assistant for the Prairie Natural middle school camps this summer.
Couture also is a freshman biology major, at the University of Maine, near where his family now lives. He attended a variety of Sternberg camps since he was in middle school in Junction City when his father was in the military and stationed at Fort Riley. He will be back in Kansas this summer as a counselor for the comparative vertebrate anatomy camp at the FHSU site and is looking forward to learning right along with the students.
"Sternberg camps make you think and go beyond what's given to you, so what I learned at camp really helped me in high school," Couture said. "It's definitely given me an edge in college, and I'm excited to be a part of this particular camp in its first year."
Couture stressed that students also take away other valuable lessons from Sternberg camps. He was the only person he knew while growing up who was interested in paleontology or science in general. Attending Sternerg camps helped boost his confidence to continue following his interests.
"I no longer felt alone in my passion," he said. "To this day, the friendships I made at the camps are some of my best."
David Levering, camp director, listened to past participants who asked for an anatomy camp. He selected third-year camp instructor Catherine Sartin, a faculty member in biological sciences at FHSU, as the instructor for the comparative vertebrate anatomy camps, which have 10 slots available for each session.
The camp is open to students interested in a variety of life science fields, ranging from paleontology to human and veterinary medicine. Students will learn how to apply natural history concepts to other medical fields, how structures work together in humans as well as animals and how they are similar but different at the same time, and how natural history concepts can inform medical science.
"I'm not limited in scope by sticking to a strict biology box," Sartin said. "Being a paleontologist, I find that the basis for understanding an animal and anything that it does can be found in its skeleton. The sooner we start learning those basic building blocks, the easier it is to build the rest of the knowledge around that."
With a background in medical biology from Johns Hopkins University, Sarti is excited to introduce students to the full extent of vertebrate organs and structures.
Students will learn about the body tissues of the animals, how bone structures evolved and even a little about geology in the fossil record of modern vertebrates.
"Part of our mission is to teach that these areas of science aren't islands," Levering said. "They interface with others. This is a great way to apply natural history concepts to other biomedical fields."
Because of the rigor of anatomy and physiology courses, Levering thinks any prior exposure to that content before college is beneficial. At camp, this prior exposure is also made actively engaging and fun.
"We are creating opportunities for students to explore the field and lab sciences when students still have time to choose what they want to study in college," said Dr. Reese Barrick, director of the museum.
"These camps create opportunities students wouldn't get until well into their college careers," he said. "It's a huge thing to hold their interest in science during that transitional period, and we are able to ground their interest in science through Sternberg programs. 
To enroll or learn more about all Sternberg camps visit sternberg.fhsu.edu online and scroll down to Museum Science Camps. Scholarships are available to help defray the cost of the camp.