Outstanding Undergraduate Scholar Awardees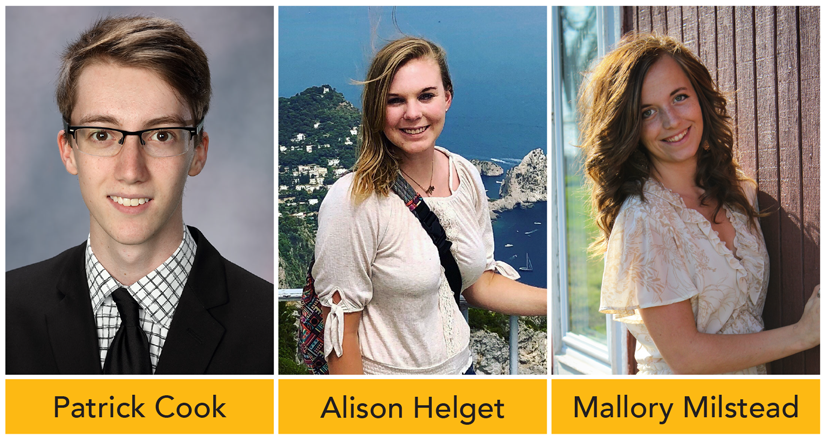 HAYS, Kan. – Three Fort Hays State University undergraduate students were recently recognized as 2020 Outstanding Undergraduate Scholars for their exemplary scholarly activity by the FHSU Undergraduate Research Experience Steering Committee.
Patrick Cook is a Derby senior majoring in physics and mathematics. Alison Helget is a Hays senior majoring in history. Mallory Milstead is a Kansas City senior majoring in accounting and management.
"Qualities that make a student successful in scholarly activities characterize those same qualities FHSU seeks to develop in students," said Misty Koonse, interim director of the Office of Scholarship and Sponsored Projects in the Graduate School.
Those qualities, she said, are original thought, creative ideas, communicating with professional colleagues, critical reasoning, analysis of research, translating evidence into practice, and first-hand knowledge of how work is performed within a professional discipline.
Cook is a 2018 graduate of the Kansas Academy of Mathematics and Science at FHSU. This spring, he graduates with bachelor's degrees in physics and math.
"I have accepted a summer research position at Lawrence Livermore National Laboratory in the Weapons and Complex Integration Directorate in Livermore, California," he said. "After that, I will be attending Michigan State University in the fall to pursue a Ph.D. in condensed matter theory physics."
Cook was awarded the Michigan State University Distinguished Fellowship and the National Science Foundation Graduate Research Fellowship, which will fund the duration of his graduate school. 
Helget is graduating this spring with a bachelor's degree in history. She plans to pursue graduate work at Fort Hays State this fall. Her research paper on Playboy's remasculinization campaign during the 1950s and 1960s, has been accepted for publication by California State University, Fullerton.
"Dr. David Goodlett and Professor Hollie Marquess challenged me to reach my full potential, and this award commemorates the extraordinary faculty and colleagues I've encountered over the past two years," said Helget. Goodlett is the chair of Fort Hays State's Department of History and Marquess is an instructor of history
Milstead, graduating this spring with a bachelor's degree in both accounting and management, plans to enroll this fall in FHSU's Master of Business Administration program with a concentration in accounting. She also plans a career as a college professor.
"I have been given amazing opportunities already as an undergraduate student," she said. Those opportunities include publishing two articles with the assistance of Dr. Robert Lloyd, assistant professor of management.
"I am excited about continuing to contribute more to the scholastic education system through the graduate program come fall of 2020," she said. "As this four-year journey comes to an end, I cannot wait to start the lifelong journey God has planned for me! "

The scholarly success of FHSU students in undergraduate will continue well into their post graduate plans.