Father, son continue family tradition, graduate from Fort Hays State together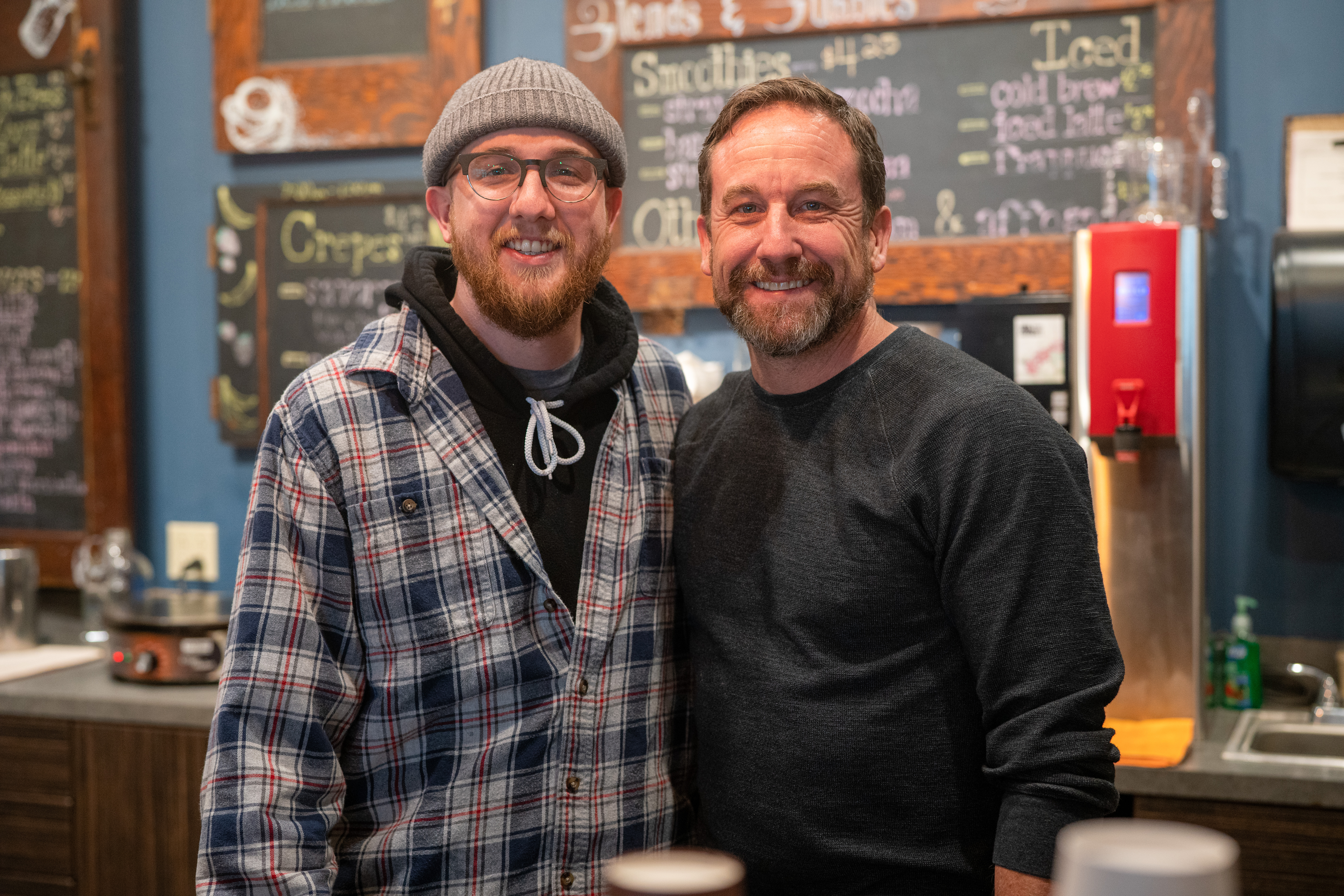 By Diane Gasper-O'Brien
University Relations and Marketing
HAYS, Kan. – To some, Breathe Coffee House might seem like a quiet getaway from the rest of the world, a chance to chat with friends or colleagues while sipping a hot cup of coffee or espresso.
But to Patrick and Andrew McGinnis, the renovated historic brick building in downtown Hays that is home to Breathe is much more. It's part of their family non-profit organization, Dialogue Ministries, and a place for each of them to pursue their passion.
Patrick will graduate from Fort Hays State University this week with a bachelor of social work. His youngest son, Andrew, is earning a bachelor's degree in informatics with an emphasis in digital media production and journalism.
While working on his second bachelor's from FHSU, Patrick has been able to continue his dialogue ministry at Breathe. Andrew, when not serving customers, has earned invaluable experience as a videographer. He has documented live bands at Breathe and producing multiple videos for the ministry's "Can We Just Talk?" program, which focuses on mental health.
It's been a perfect blend for Andrew, Breathe's No. 1 barista.
"Working with family at Breathe is great and working with my dad through all my different college classes was perfect," Andrew said. "He was willing to let me experience what I wanted to practice on. We come from an artistic family, so he understands what it takes to have the creative process and was willing to work with me through those processes."
Sticking with a comfortable choice of attending college in the town where he was born and raised might have seemed like an easy decision to some. Andrew is the third generation of the McGinnis family to earn a degree from FHSU.
Andrew's grandfather, Darrell McGinnis, was a professor of ceramics at FHSU for 30 years and is an FHSU graduate along with his grandmother. Andrew's mom and brother-in-law both are FSHU alumni and work on campus now. Andrew's older sister is a graduate as well, while his older brother attended school there, too.
He admits family ties drew him to Fort Hays State, but it wasn't only his immediate family.
"I just really liked the feel of Fort Hays State and Hays," Andrew said. "My family had a lot of history there. They have a great music program, and music therapy was my inspiration at the time."
Andrew was heavily involved in music at Hays High School, and while he chose to attend FHSU for the renowned music program, Andrew found his true calling while taking a video class.
"We were doing some audio and video production, and I loved it," he said. "I decided to change my major, and the rest just all fell into place."
Connections made through working at Breathe opened up a lot of opportunities for Andrew.
Connections with people has always been what inspired his father, too. A native of Hays, Patrick earned a bachelor's degree in sociology in 1991. He then explored numerous ventures in the service industry and taught sociology at FHSU before taking a leap of faith four years ago and opened the non-profit Breathe Coffee House in May of 2016.
The mission of the coffee house is to generate meaningful dialogue among people in groups, give them an environment where they feel comfortable to ask questions. Patrick especially liked working with college students, and that is why he decided to pursue his degree in social work.
"A lot of the baseline ideas at Breathe are what we do in social work, in counseling," he said. "A coffee house is a demographically diverse environment. It's easy to have conversations in them. We're teaching people how to do that."
Eligibility for full licensure for social work in Kansas requires a master's degree, so Patrick decided to begin work on his master's in June.
"We are so fortunate to have this university here in Hays," Patrick said. "It's definitely been great for our family."
Plans for graduation celebrations for the father-son duo had to be altered because of the COVID-19 pandemic, which forced postponement of FHSU's spring commencement ceremonies.
An FHSU virtual graduation is planned for June 19, and the McGinnis family plans to have some sort of get-together sometime this summer to celebrate. Then it's off to the city for Andrew, who hopes to find employment in the Kansas City area.
"My dream job would be to work as a videographer/social media rep for Sporting Kansas City," Andrew said of KC's professional soccer club. "But there are a lot of careers developed through this major, a lot of opportunities."
He credits FHSU with presenting those opportunities.
"I might never have been introduced to video production somewhere else. I love story telling, and video is one of the best ways to do that," Andrew said. "It was a phenomenal decision to come to Fort Hays State. My experiences here have given me confidence to strike out on my own."