First BSN to DNP graduates at Fort Hays State laud program, instructors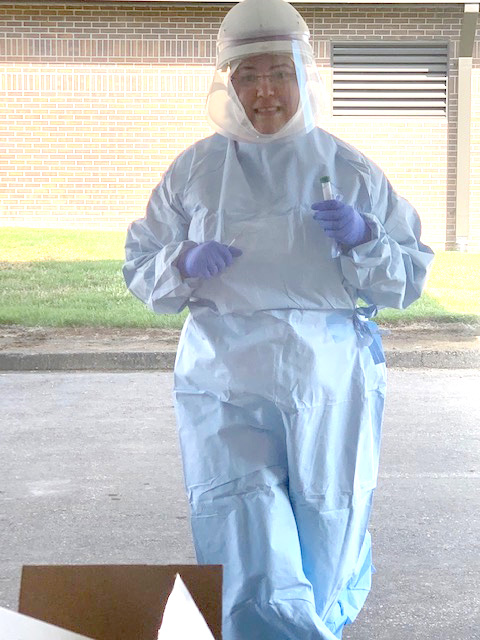 By Diane Gasper-O'Brien
University Relations and Marketing
HAYS, Kan. – Flexibility and problem solving are part of nurses' DNA. So when the BSN to DNP students at Fort Hays State University were forced to deal with the COVID-19 pandemic in their final semester, the program's first group of graduates braced themselves for any forthcoming challenges.
The university's bachelor of science in nursing to doctorate of nursing (BSN to DNP) program began in the summer of 2016, the same time the two-year master of science to DNP was started. This will mark the third group of graduates for the MSN-DNP, but it is the first graduating class for the BSN-DNP cohort.
The modality for both DNP programs is online. But students regularly come to campus for tests, and a highlight  of their career – the defense of their major project on Scholars Day – was scheduled for this spring on campus.
When the COVID-19 pandemic forced Fort Hays State to transition all its classes online, thus changing all on-campus presentations, the nursing staff began improvising and scheduled thes students to present their projects over Zoom.
"The students put a lot of work into those final posters," said Mary Jo Gubitoso, an assistant professor of nursing who teaches classes in the DNP program. "It's their scholarly project."
Kathryn Amrein, the clinical site coordinator for the program, is preparing a flip video of all the posters, and when it is finished, she will share a link on the FHSU website for all to see.
"The presentations online worked out really well, and the video will be a good way for everyone to get a chance to see their project," Amrein said. "This is our first cohort of students, our first graduates in this program, and we want to make this memorable for them."
This spring's FHSU graduation, as well as the annual pinning ceremony for nurses, has been postponed.
Cathryn Preisner from Hays said that if a graduation ceremony isn't possible later this summer, she will participate in the fall commencement in December.
"This is really important to us, and I applaud the faculty for making this happen because they realize how much we put into it," said Preisner, a member of the historic BSN-DNP graduating class.
That caring culture is what convinced Preisner, who grew up in Hays, to stay home and college in her backyard while following both her parents into the medical field,
Preisner said she knew she wanted to pursue some kind of career in healthcare after she grew up in in a household with a cardiologist (her dad, Dr. Jeff Curtis) and a registered nurse (her mom, Connie).
But she wasn't sure what direction to take until she worked as a CNA while during her first semester at Fort Hays State.
"One thing I learned from my dad was his incredible bedside manner," she said. "That's something I've taken from him and tried to apply in my practice. Nurses spend a lot of time with patients and are able to treat patients holistically."
Not surprisingly, Preisner chose to feature a heart failure template for a rural cardiology clinic for her scholarly project.
"We do a lot of research, basically work on it for four years, and I learned so much," she said. "My dad has been a super resource for me to have for sure."
After graduating with a bachelor's in general studies with an emphasis in health promotions in 2011, Preisner worked in her dad's clinic while finishing her bachelor of nursing. She knew FHSU was in the process of starting the BSN to DNP four-year program and applied once the launch date of fall 2016 was announced.
Preisner, mother of two young daughters and expecting her third child in September, admitted there were times she wasn't sure she made the right decision.
She thought about bowing out of the program not long after the birth of her second child, who will turn 3 next month.
But words of encouragement were never farther than a phone call or email message away.
"I about gave up, didn't know if I could do it," Preisner said. "But one of my instructors, Mary Jo Gubitoso, said 'I believe in you; you can do this.' She had a belief in me when I didn't even believe in myself. All the FHSU teachers are like that. They grab you by the hand and aren't going to let you fail."
Now, Preisner is just a few weeks away from graduating and hopes to either land a post-doctoral fellowship through the KU School of Nursing or work locally as a nurse practitioner.
Violet Gomes from Basehor in northeast Kansas had a similar experience as Preisner while working on her degree from across the state.
Gomes, the mother of three children ages 9 to 15, is realizing a dream of earning a doctorate and she plans to continue to work for the Leavenworth County Health Department following graduation.
While working as an RN at Wesley Medical Center in Wichita following her graduation from Wichita State University in 2009, she met Kayla Del Rio, an FHSU graduate.
"A lot of times word of mouth is how you can get an idea about the quality of a program," Gomes said. "Kayla had really good things to say about Fort Hays State, and I really liked the idea of doing a good portion of it online. That gave me the flexibility to still work and have family time, too."
It didn't take long for Gomes to see that she made the right decision.
"The instructors always took the time to figure out what I needed help with," she said. "I feel like they are really invested in the program, that they always available to us students. I think that's important whether it's online or in the classroom."
Now, those instructors are looking forward to watching the first BSN-DNP graduating class, along with the eight MSN-DNP graduates, begin their new careers.
"This is exciting," Gubitoso said. "We're very proud to present these students as the first graduates of the BSN-DNP program."