Fort Hays State College of HBS announces outstanding 2020 students, faculty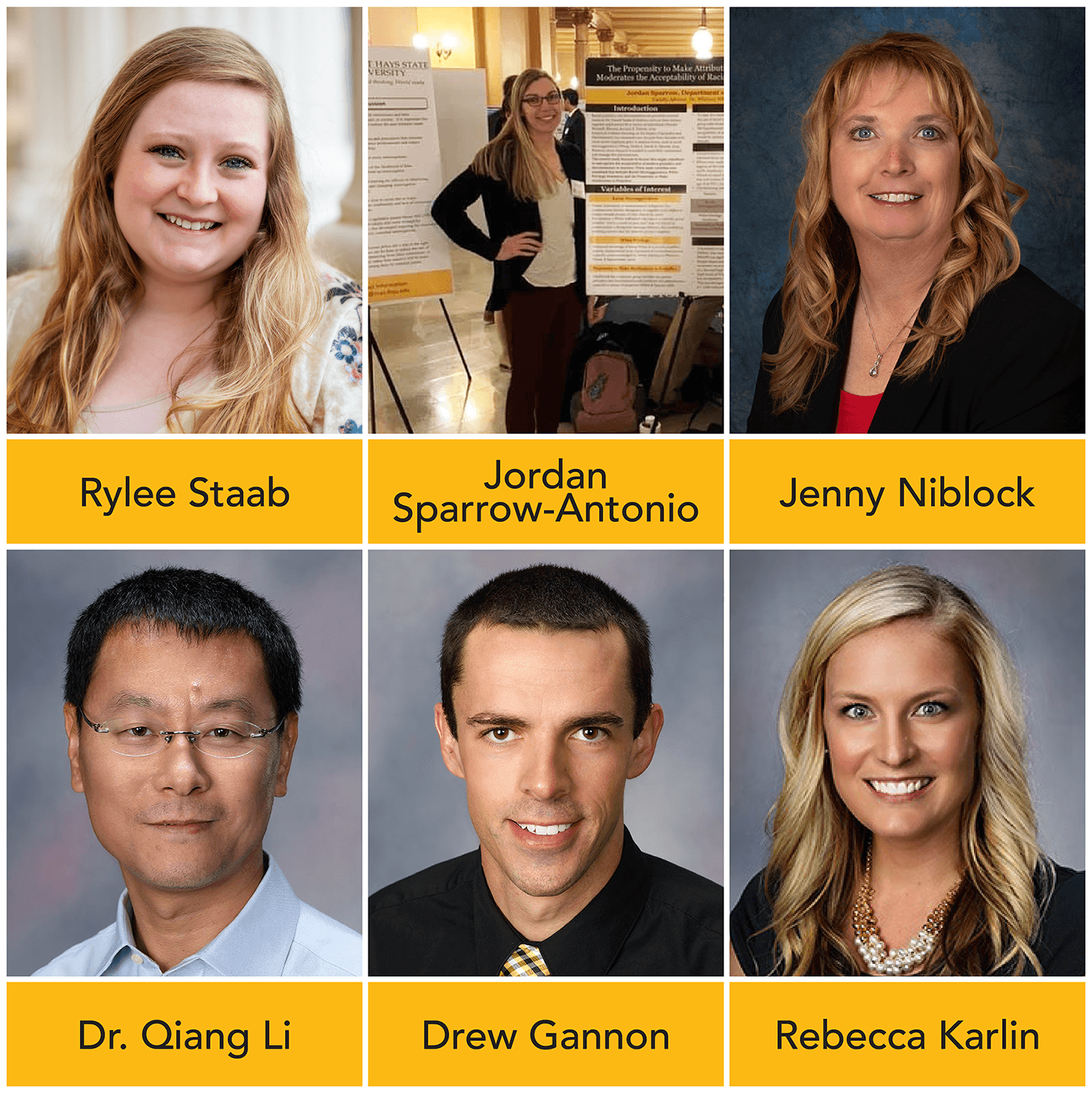 Rylee Staab, Holcomb, Jordan Sparrow-Antonio, Brighton, Colo., and Jenny Niblock, Colby, have been named the outstanding undergraduate and graduate students in the College of Health and Behavioral Sciences at Fort Hays State University for 2020.
Staab, a senior, is a double major in psychology and criminal justice. Sparrow-Antonio is completing a Master of Science in psychology (experimental), and Niblock, chief clinical officer for Citizens Health, Colby, is completing a Doctor of Nursing Practice.
Dr. Qiang Li, assistant professor or communication sciences and disorders, Drew Gannon, instructor of health and human performance, and Rebecca Karlin, instructor of allied health, received the outstanding faculty awards.
The awards were announced in a ceremony via Zoom on May 15.
Staab, named the Outstanding Undergraduate student, "is an exemplar of student excellence," said Dr. Jeff Briggs, dean of the College of Health and Behavioral Sciences, summarizing and quoting from letters of support for the honorees.
"For the past three years, Rylee has been a true force of research productivity within the realm of undergraduate research," said Briggs. "She has conducted numerous studies, has presented at regional conferences at an impressive rate and is in the process of publishing a number of her studies."
Sparrow-Antonio "is not only a strong student academically but is also one of the top-performing graduate students I have had the pleasure of supervising at FHSU," said Briggs, quoting one letter of support.
"She has provided a great deal of leadership for fellow graduate and undergraduate students in research," said Briggs. "She also was elected by the Southwestern Psychological Association to serve as graduate student representative."
Niblock, "a role model in rural health care," said Briggs, as chief clinical officer for Citizens Health, oversees all patient care areas for Citizens Medical Center in Colby. She also works as a nurse practitioner in hospice.
Briggs said hospice care is "truly her passion, as she feels strongly about end-of-life care."
"This passion led to her DNP research project regarding advanced directives," said Briggs. "In addition to multiple professional presentations, most recently, Jenny was selected to be one of the five Fort Hays State University graduate students to present at the Capitol Graduate Research Summit in Topeka."
Briggs also cited Niblock for her service to the community, including service on the Kansas Hospital Association Policy Committee, the Kansas Palliative Care Advisory Council, and the Colby Community College Health Science Advisory Board.
Li received the Dr. Virgil and Virginia Howe Faculty Excellence Award for outstanding research and scholarship award.
Briggs said Li, only in his second year at FHSU, has developed an undergraduate research course, supervised undergraduate research experiences and has his own graduate research team.
"Through these activities, he has demonstrated his contribution to original research, and this is recognized at the national level through the American Speech-Language-Hearing Association," said Briggs.
Gannon, who is director of the university's Tiger Wellness center as well as an instructor, received the Howe Award for outstanding service. Briggs said he is "an exemplar of service" who participates in and coordinates "numerous programs."
A colleague who was quoted by Briggs said, "I have been thoroughly impressed with his professionalism and his work ethic.  In all that he does, including his service, Drew is a role model for our students at FHSU, I believe that he makes a difference in our department, college, and community."
Karlin, in the college's sonography program, was given the Howe Teaching Grant Award for her work in winning a grant to obtain an ergonomic imaging table for general, vascular and cardiac imaging. The table will be used by all students in sonography programs at FHSU.
The table will accommodate individual students and patients with height adjustments and body dispositions.
"As the department strives to offer a laboratory experience to best simulate a true clinical environment, it is also important that we provide the opportunity for correct ergonomic practices to help these behaviors become a habit early in their career," said Briggs.