Fort Hays State's Dr. Janet Stramel named to endowed professor's chair in College of Education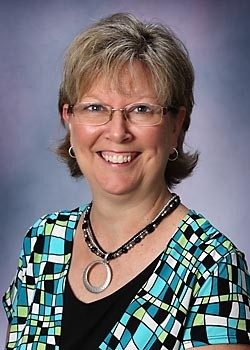 Dr. Janet Stramel was announced today to the Edna Shutts Williams Endowed Chair in the College of Education at Fort Hays State University.
Stramel is an associate professor of teacher education at Fort Hays State. 
As the Shutts Williams endowed professor, she said, "My work will revolve around training elementary teachers with a focus on STEM education."
Education in the STEM subjects – science, technology, engineering and mathematics ­– has been a focus of Stramel's in her work for the 100Kin10 Project, a national initiative to "prepare and support 100,000 excellent STEM teachers in America's classrooms."
"Training for elementary teachers traditionally focuses on reading and literacy skills," Stramel said. "While reading is a critical skill at the elementary level, research shows that early mathematics and science skills are a greater predictor of future school success."
"In the Department of Teacher Education," she continued, "we train amazing elementary teachers who make a huge impact on the students they teach. But I want to expand that training to focus more and include more STEM integration in the coursework."
Stramel began her career at Fort Hays State in 2009 as an instructor of teacher education while completing work on her Ph.D. in curriculum and instruction with an emphasis in mathematics at Kansas State University.
After competing her doctorate in 2010, she was promoted to assistant professor, and in the fall of 2015 she was granted tenure and promoted to associate professor. Her promotion to full professor will take effect this fall.
Dr. Paul Adams, dean of FHSU's College of Education, expressed thanks to the family of Edna Shutts Williams "for having the foresight and vision to support a distinguished professor in the College of Education."
"The resources provided by our alumni, such as this gift, enables the college to provide resources to empower the creative vision of our faculty," Adams said.
"FHSU faculty, such as Dr. Stramel, have at their core an entrepreneurial spirit to make a difference in the world," he said. "The potential impact of her work will go far in preparing graduates to be leaders in STEM teaching."
The Shutts Williams Chair in the College of Education was established in 2006 by Williams' daughter, Betty Akins. Williams attended a one-room school through eighth grade, graduated from Hays High School in 1918 and went on to graduate from Kansas State Teachers College, Hays, now Fort Hays State, in 1926.
Earnings from the Shutts Williams Chair fund provides funding for the endowed chair position, and additional funding for the honor is provided through the university's Faculty Distinction Program, with matching money from the State of Kansas.