Pizza kits and book giveaways set for Monday in downtown Hays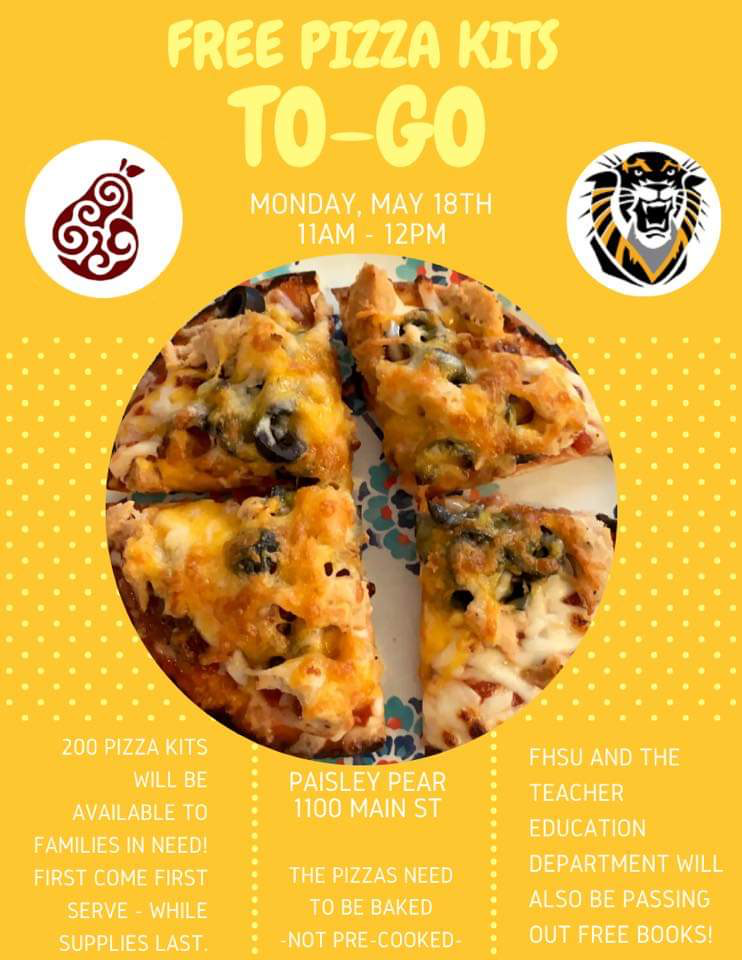 A Hays business owner who also teaches at Fort Hays State University was looking for a way to get free pizzas to local children. One of her FHSU colleagues was looking for a way to distribute an excess supply of books.
Heather Musil and Dr. Valerie Zelenka decided to join forces, and Hays students will reap the benefits.
Musil is co-owner of Paisley Pear Wine Bar, Bistro and Market in downtown Hays with her husband, Shaun. She also is an instructor in the Department of Teacher Education at FHSU, where Dr. Zelenka is an associate professor.
The Musils and Dr. Zelenka will be passing out 200 free pizza kits and several hundred children's books to the first 200 children at the corner of 11th and Main from 11 a.m. to noon on Monday, May 18. Any children 18 years and younger are eligible.
The idea spawned from another community service project earlier this spring. The grab-and-go meals with school district's food service program for students was suspended for a week when an employee tested positive for COVID-19, and several Hays businesses, including the Paisley Pear, stepped up to provide low-cost and free meals for the children.
The Musils received so many donations for the project that they had left-over funds and supplies. They came up with the idea of the pizza giveaway, and Heather Musil contacted the principals of local public and private schools and USD 489 school board members to get the word out. Hays USD 489 school board members Craig Pallister and Allen Park also will be helping hand out the pizza kits.
"This community has been unbelievably supportive of us, so we wanted to give back," Shaun Musil said. "We had a lot of donations left after the first pizza giveaway, and we wanted to make sure it went to a good cause."
The kits will include ingredients to make a personal cheese pizza: a crust, pizza sauce and cheese. It can be refrigerated or frozen and ready to pop in the oven later.
The Musils chose Monday because the Paisley Pear normally is closed on Mondays. It also is the first day for the Hays USD 489 summer lunch program for children ages 18-under. The sites for the summer program this year are Lincoln Elementary School, 1906 Ash St., and Hays High School, 2300 E. 13th. Those drive-through meals are available from 11:30 a.m. to 12:30 p.m.
"Students can get a hot lunch at one of those sites, then stop by here for a to-go pizza, too," Heather Musil said.
This time, students will receive a bonus with their meals.
Dr. Zelenka has several hundred books – for all ages – remaining from various book distribution projects.
When Heather Musil told her about her plans for the pizza giveaway, Zelenka immediately jumped on board.
"With students not in school this spring and with summer beginning, this will give them a chance to read at home," Dr. Zelenka said. "What a great opportunity to get books out to them at this time.  This is going to be a great collaborative project."