FHSU stays in touch with international students through summer virtual camps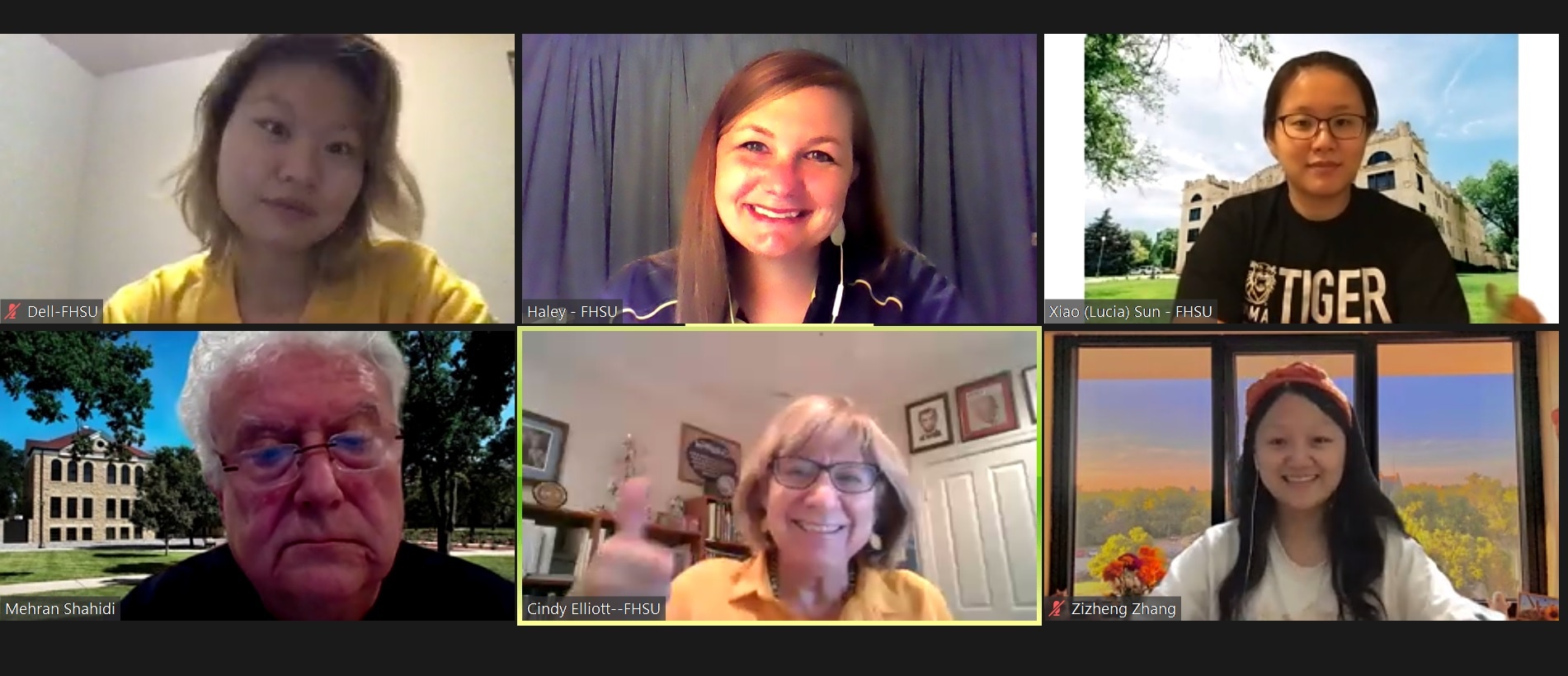 10/15/20
HAYS, Kan. – COVID-19 prevented international students interested in Fort Hays State University from visiting the campus this past summer. But the Office of Global Partnerships (OGP) was diligent about finding a way to still host those students through free virtual camps.
Discovering new ways to connect with international students in their freshman and sophomore years of college was remarkably effective and rewarding during the trying times of the pandemic, said Haley Williams, special projects coordinator for the OGP.
"COVID-19 forced us into a new way of thinking," Williams said. "Now, we have a virtual platform in place, with which we can reach so many more people. We're making a new path for those connections, refining techniques we will be able to use in the future."
Cindy Elliott, assistant vice president for Global Partnerships, came up with the idea of hosting the camps online this summer. By the end of the summer, more than 500 students from four different countries – Cameroon, China, Turkey and the Bahamas – had registered to "tour" the FHSU campus virtually through scheduled Webinars.
Elliott chose five international partners for Special Projects Coordinator Haley Williams to contact and inquire if they were interested in participating. That list included Sias University and Shenyang Normal University, whose partnerships feature FHSU faculty teaching on their campuses as students earn degrees from Fort Hays State.
Williams drafted a proposal of a virtual summer camp to recruit 60 students to participate. However, the OGP was soon faced with keeping up with the overwhelming interest in these virtual experiences when one partner alone recruited 335 participants.
To meet the demand, OGP teamed up with International Student Services to recruit a summer camp team of current FHSU students, both domestic and international. This provided the opportunity for potential students to connect with current FHSU students. This was value added to the virtual camp experience as the participants often felt more comfortable asking questions to the Fort Hays State students.
Ting Zhou, instructional designer for the Department of Teaching Innovation and Learning Technologies, worked closely with Williams to develop content and to format the sessions as a Webinar. With so much interest in the Webinars, the OGP extended the original plan for two sessions to five, culminating in a total of 44 hours of Zoom video/audio conferencing.
"We were blown away with the interest shown," Williams said, "Students would send the link to others they knew, and parents would join, too."
Each session began with a welcome from either FHSU President Dr. Tisa Mason or Provost Dr. Jill Arensdorf. There were presentations about career readiness, campus safety, adapting to American culture and much more. Participants got to meet Hays Mayor Shaun Musil. Melissa Dixon, executive director of the Hays Convention and Visitors Bureau, gave a video presentation of the city of Hays. And Ian Trevethan, education and outreach manager at FHSU's Sternberg Museum of Natural History, gave a live virtual tour of the facility.
"We feel it was a great success because we were able to have a more interactive event to keep the students engaged," Williams said. "I think it was a really good example of the caring spirit of Fort Hays State University, and it was an amazing collaboration of our Hays community and university campus departments."
Because the Webinars included students from four different countries, Williams said it created a cultural exchange for all the participants.
"We learned so much along with the students," Williams said. "The great thing in going online is that we were able to get in the homes of these students and their parents and connect with them in a more personal way. I think we were very successful in using these Webinar sessions as a vehicle to let them know how much we care about them and how much we look forward to one day welcoming them to FHSU."