FHSU extends Giving Day deadline following overwhelming response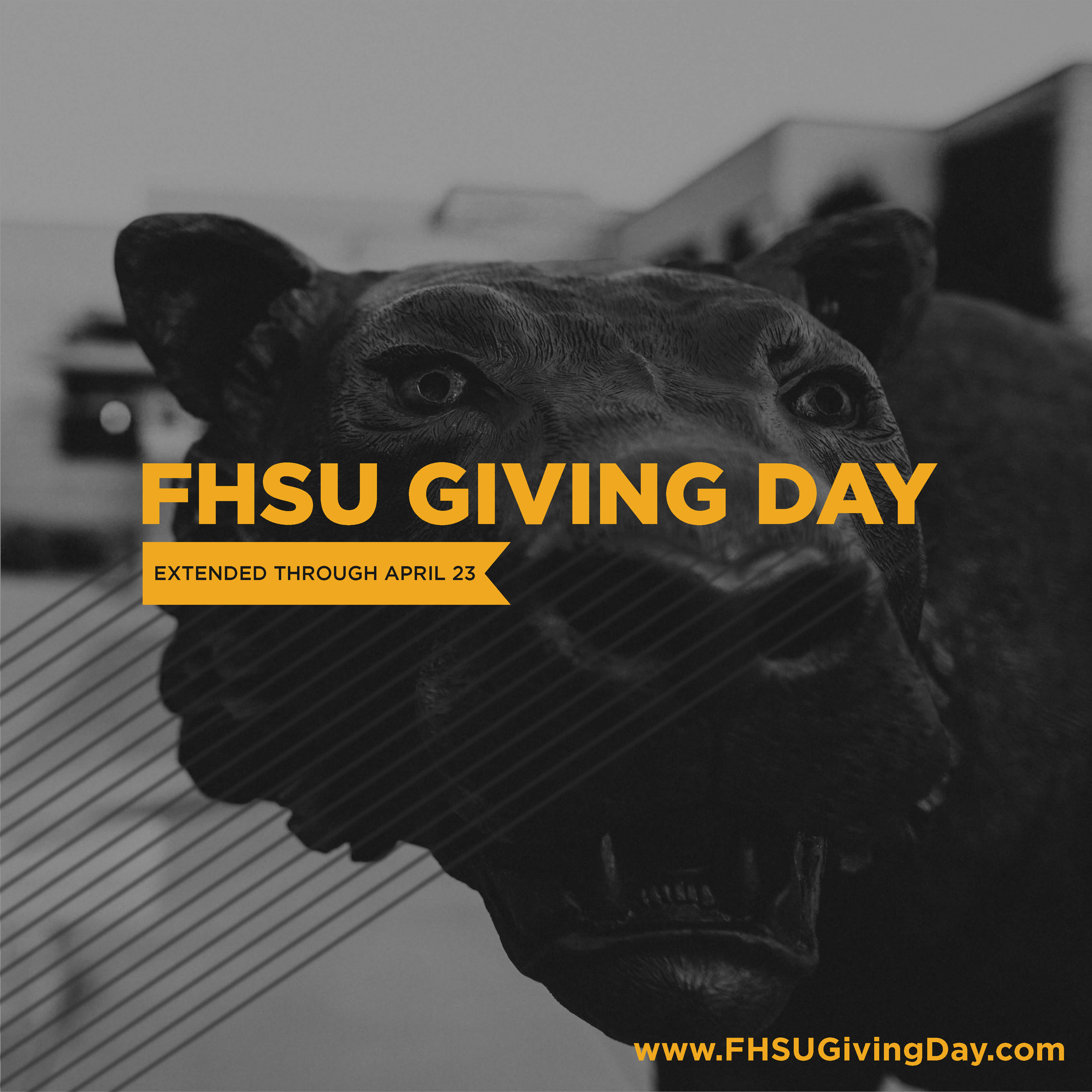 4/22/21
When Fort Hays State University kicked off its inaugural Giving Day earlier today, it was hopeful that a single 24-hour period could greatly impact the lives of FHSU students, faculty, and staff. With several hours remaining, the fundraiser has already had an overwhelming response with more than 430 gifts received.
"If there's one thing we know for certain, it's that Tiger Nation sticks together," said Janna Wilkinson, Director of Annual Giving for the FHSU Foundation. "Through the highs and lows, we have banded together as a family to impact the areas of campus that need financial support and to support the university we all love."
FHSU's Giving Day was created to raise awareness around the various needs of the university, to cultivate new donors, and to create an engaging way to raise money for deserving Tigers. Due to the success seen in such a short amount of time, as well as the excitement around the promotions being offered, FHSU's Giving Day fundraising event has been extended an additional 24 hours.
Donations will now be counted as part of Giving Day through midnight, Friday, April 23. Beyond this date and time, donors will no longer be able to receive the FHSU Giving Day socks or sticker promotion.
Check out the numerous incentives, matching gift opportunities, and challenges available, as well as other details about the event, at www.FHSUGivingDay.com. Those who make a gift of at least $10 will receive a cool FHSU sticker, and those who make a gift of at least $25 will receive a pair of Fort Hays State University socks, as well as a sticker.
"It has been a challenging year, and to see the success already generated from Giving Day, emphasizes the family environment at Fort Hays State University," Wilkinson said. "People truly care and want to help students succeed."
With more than 40 specific areas of the university that need financial support, there's truly something for everyone.
Gifts can be made online by visiting www.FHSUGivingDay.com, by phone, or in person through midnight Friday, April 23. A marketing toolkit to raise awareness for Giving Day is also available on this website. Share some of these sample graphics on Facebook, Instagram, and Twitter to inspire others to make a gift. And thank you to those who have already made a gift or have shared on their social platforms to help raise awareness for the event.
For questions, contact the FHSU Foundation at 785-628-5620 or email foundation@fhsu.edu.