FHSU Receives Accreditation for Its Masters of Counseling Degree Programs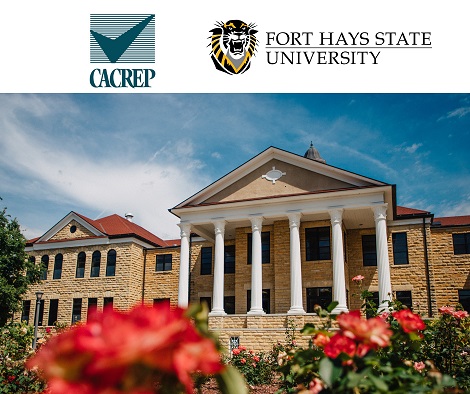 4/14/21
The counseling career is one of the fastest growing job markets in the United States today. Fort Hays State University continues to meet the growing demand for quality trained counselors through its progressive online training for its Master of Science in Counseling. The Counseling Program offers two programs: School Counseling and Clinical Mental Health Counseling. Historically, both programs have met the standards to furnish graduates with an endorsement to obtain licensure in Kansas. However, the national distinction set by Council for Accreditation of Counseling and Related Educational Programs (CACREP) has eluded the programs until now.
In March of 2021, both the FHSU School Counseling and Clinical Mental Health Counseling Programs received accreditation from CACREP. The vision of CACREP is to "provide leadership and excellence in professional preparation through the accreditation of counseling and related educational programs." Receiving a CACREP accredited degree ensures you have met the universal standards of the counseling profession, and are prepared to provide counseling that is consistent with the changing trends.
Consistent with the trends, employers and state licensing boards are noticing the value of a CACREP accredited degree. State agencies, most recently Colorado, require an accredited degree to receive licensure. Federal entities, such as Veterans Affairs, will only hire counselors from CACREP accredited programs. The changes speak volumes toward the value of counseling as a profession, and society's acknowledgement of the role mental health has toward an individual's wellbeing. CACREP as a national standard continues to expand as more training programs join to unify preparation requirements.
The programs have been working toward the accreditation for several years, gradually modifying courses and the learning environments to meet the rigor of CACREP's standards. "There is quite a bit of expertise required to create a grow a counseling program that not only meets a state's standards for student licensure, but the evolving national standards put forth by CACREP. With the accreditation and growing our faculty base, we now have the full tool set to provide graduates of our program with lasting value while helping to meet the mental health needs of Kansas and the greater region." Dr. Elliot Isom, the CACREP Liaison for the programs, said.
FHSU is the only accredited program in Kansas with the "Online" distinction given by CACREP. Students are given the option of meeting face-to-face in select courses, with most of the instruction taking place online through learning management systems, video conferencing and online communities. Dual modes of learning have created an innovative learning environment not traditionally seen in other counseling programs.
Dr. Reade Dowda, the CMHC Program Coordinator sees value in dual learning environments. "Students at FHSU have reported the brief on campus interactions are key in developing counseling skills and building professional relationships with their peers." He said. Dr. Kenton Olliff, commented on the strength of the faculty in leading counselor education in Kansas. "The counseling faculty understand how our life experiences can help in our teaching, and we make sure our students know that the life experiences they bring to the program are very important. The faculty help them begin to use those experiences in their program and eventually the profession. We strive to make connections with our students and do what we can to help them succeed."
In addition to its accessibility, the FHSU counseling programs offer affordability to enable potential students to service their communities in need of mental health professionals and school counselors. With close to 200 current students, the programs continue to expand to meet the greater demand for mental health professionals. "Now that we are accredited by CACREP as an online program," Dr. Isom said, "we will be able to provide education to anyone in the country and a degree that meets qualifications to serve their community."