Breckbill will graduate and return for one more season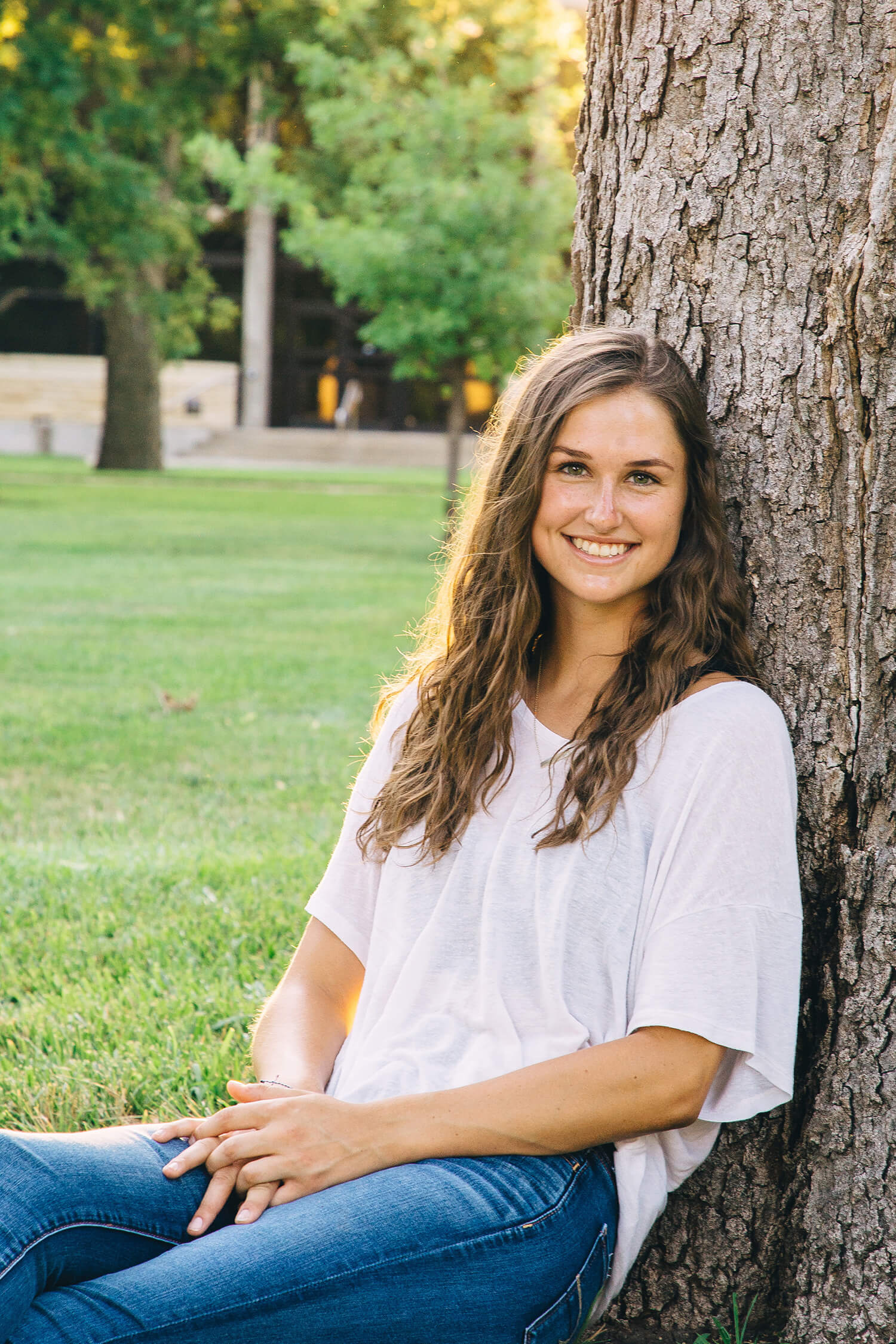 5/14/21
Sara Breckbill will cross the FHSU commencement stage today, graduating with a Bachelor of Business Administration in marketing with an emphasis in digital marketing from Fort Hays State University's Robbins College of Business and Entrepreneurship.
While some seniors are moving on and joining the workforce after what has been an unprecedented year, Breckbill will be returning in the fall to complete a minor in communication, certificate in leadership, and take the field for one more softball season.
"I was worried I would be putting my life on hold for one more year," Breckbill said. "But then I realized I would get to do the thing I love for one more year and I could never get that back."
Breckbill started in all 46 games this season, and led the team in batting average (.331), on-base percentage (.413), hits (46), RBIs (27), and doubles (11). She was also named an All-MIAA Honorable Mention at utility/non-pitcher. Breckbill and the team have come a long way, ending the year with a 24-22 record, seeing major progress from her freshman season finish at 13-37.
"It was tough that first year. Our coach had been here three years and we were focused on improving individually, as a team, and setting a foundation for the program," Breckbill said. "Each year we've gotten better, though. Team chemistry improved and this year we were able to go into post-season play for the first time since I've been here and that's the dream- to keep getting better and going further."
Growing up in Parker, Colorado, Breckbill has played softball since she was seven. A talented athlete with an insatiable work ethic, dreaming of playing in college, Breckbill trained hard and received scholarship offers from colleges in Colorado and Texas. Her high school coach was an FHSU alumnus, and told her about the incredible academic programs and warm and welcoming college town on the plains.
"This is where I was supposed to be, even if its cheesy and cliché, it's true," Breckbill said.
Breckbill was in the first freshman class to live in the new Victor E Village and a part of the Athletes Today learning community. Being a part of the learning community helped her get acquainted with Hays and make lifelong friends.
"I'm nostalgic walking around there and remembering playing pool or board games and studying and staying up until 3 a.m. writing a paper," Breckbill said.
The friends she made in those first years at Fort Hays State would be the same ones that she would navigate the COVID-19 pandemic alongside. Student-athletes were faced with many changes throughout the year, including daily COVID-19 testing, taking hybrid classes, and creating smaller pods or groups of people who would work out, study, and stay together to ensure health and safety of all the Tiger athletes. While it was tough, it made it all worthwhile to play in the Spring 2021 season.
"The people of Hays and FHSU are what make it special," Breckbill said. "In this college town, everyone is involved in athletics and the community turns out to cheer for your games. It's an awesome environment and even though it's been different this year, we'd do it over again just to feel that energy and sense of community pride again."
From lifelong friends to faculty, staff, and supporters who feel like family, there's nothing quite like the Fort Hays State atmosphere. FHSU faculty, staff, and supporters all play a massive part in the life of student-athletes. Breckbill can recount many times someone has saved her clippings from newspapers, left positive notes for the team, or sent an email just to check in and let her know they are proud of her effort in the classroom and on the field.
"There's so many people that have made a difference and helped us get where we are today," Breckbill said.
Thanks to the support of the FHSU and Hays Community, Breckbill and her teammates have grown up over the past four years, academically, personally, and as athletes. 
"We have a goal every year and it's important to our team that we excel academically- that's why we're here," Breckbill said. "We learned to adapt and manage our time."
Breckbill dreams of working for a college, doing social media management for athletes to combine her passion for sports and her newfound love for social media marketing. In one of Dr. Mary Martin's courses, she discovered her interest in marketing and digital marketing and understood the opportunity available in sports marketing.  
"This semester we are writing a blog about social media- how to get started, how to get a job and internship," said Breckbill. "I've really enjoyed it and it's beneficial to do things that I will do in the workforce. I'm able to apply what I'm doing in the classroom right now."
For now, her plans to land a career in sports marketing will wait as she continues to build her skills academically and, on the field, while preparing for one final season at FHSU.