Dr. Hendratta Ali named President's Distinguished Scholar at Fort Hays State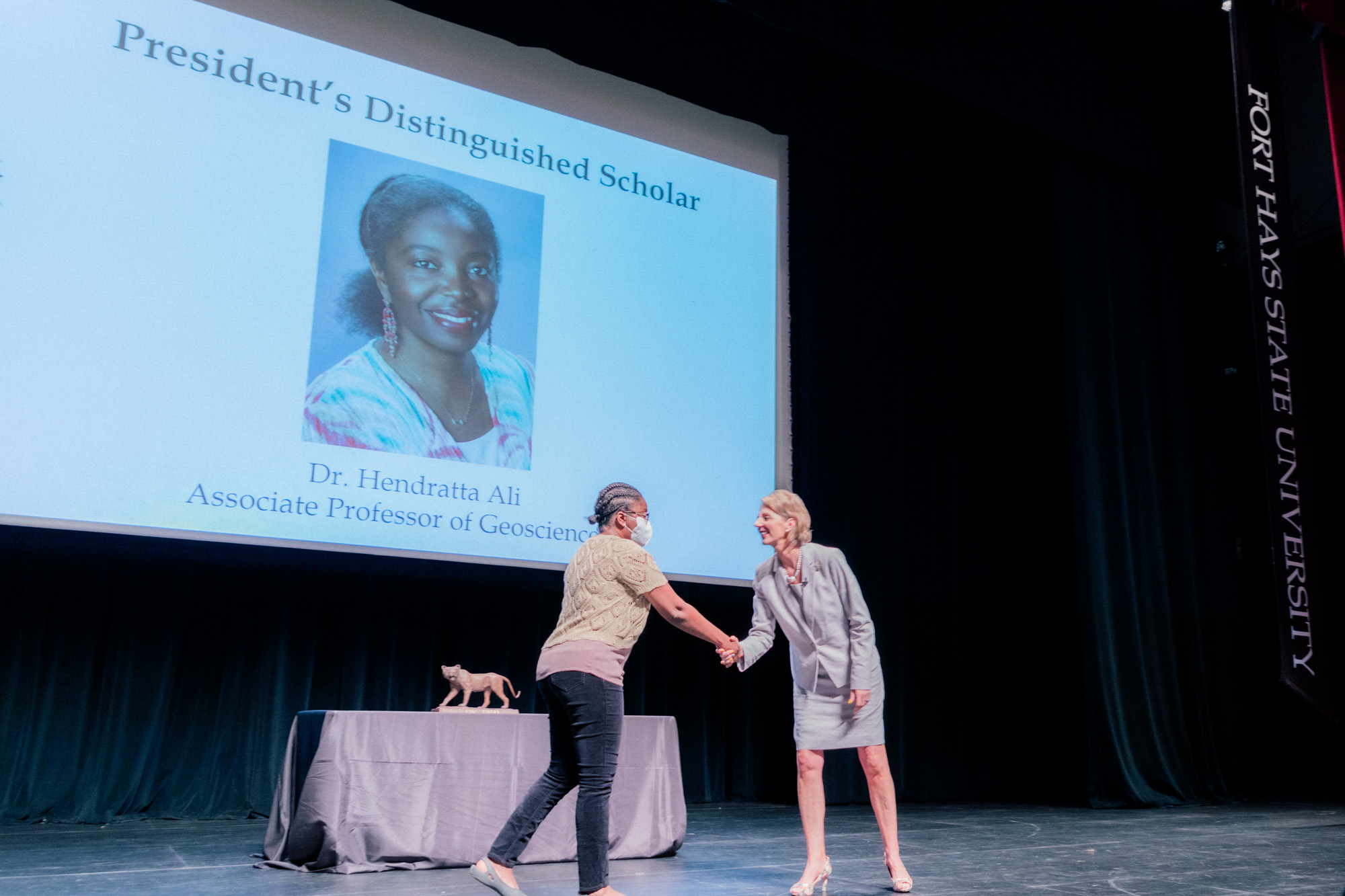 08/20/21
Dr. Hendratta Ali, associate professor of geosciences, was announced this week as the 2021 President's Distinguished Scholar at Fort Hays State University.
"She has 15 peer-reviewed publications, over 50 refereed abstracts, and presented both nationally and internationally. Recently, she has secured two National Science Foundation grants that total near $400,000," said Dr. Jill Arensdorf, provost and vice president for academic affairs and emcee of the ceremonies at the 2021 FHSU fall convocation.
"Hendratta also mentors both undergraduate and graduate students in the field of geology, which has led to these students receiving numerous awards," said Arensdorf. "Thank you, Hendratta, for your contributions to the university, to your discipline, and the world."
The President's Distinguished Scholar Award was first conferred in 1989. Nominees for this honor are evaluated by analysis of their performance in the categories of research and creative activities, service, and instruction. Acceptable levels of performance must be demonstrated in service and instruction, with the primary focus of this award on research and creative activities.
An evaluation committee, composed of five of the most recent award winners, reviews applications, and a recommendation is forwarded to President Tisa Mason. The provost chairs the committee and is responsible for administering the award process.
Several other awards were also presented at the convocation.
Dr. April Park, associate professor of psychology, was named Faculty Member of the Year. Commerce Bank provides a $1,000 stipend for the award. The award was presented to her by Arensdorf, and Shane Smith, president of Commerce Bank.
The Faculty Member of the Year is selected from the past year's recipients of faculty awards for teaching, for research and scholarly activity, and for service.
"April was selected as the recipient for this award because she defines excellence in scholarly activity," said Arensdorf. "April's impact on her students continues to enhance their learning experience and reflects her goal to be the best professor, researcher, mentor, and colleague possible."
Park, and Dr. Jonathan Sumrall, associate professor of geosciences, were the winners of last year's awards for research and scholarly activity.
The 2020-2021 awards for service were awarded to Dr. Sarah Broman Miller, assistant professor of teacher education, and Jacque Jacobs, program specialist in communication sciences and disorders.
Last year's outstanding teaching awards went to Selena Bonomelli, instructor of health and human performance, and Dr. April Terry, associate professor of criminal justice.
Ms. Brooke Mann, instructor of psychology, was named the John Heinrichs Outstanding Research Mentor.
This award recognizes faculty members for their commitment, time, and energy in promoting undergraduate research. All current faculty and unclassified staff members at levels comparable to academic faculty are eligible. The winner's home department is awarded $500 of budget funding to benefit the recipient. The Office of the Provost, the Undergraduate Research Environment Committee, and the Office of Scholarships and Sponsored Projects sponsors the award.
Arensdorf introduced Mann during the convocation event, "Brooke has shown outstanding mentorship by supporting her students throughout the research process. She is committed to the growth and learning of these individuals by making it a priority to oversee and assist in preparing their materials for presentations and conferences. She is open to student ideas and broadening her own research interests to enhance the experience for all of our students."
The "Closing the Loop" Departmental Assessment Award went to the Department of Leadership Studies. The department receives $2,000, provided by Voya Financial, in additional operating budget for the year. This award recognizes a department that implements improvements in its degree programs.
"The department exemplifies the characteristics of using the collected data to adjust and improve student learning in each of their programs on campus, online, and in China." Arensdorf said. "Their report provided details on the improvements and adjustments made based on their prior year's assessment data. This shows clear evidence the department understands the value of assessment and continues to strive for academic excellence in their program."
The Department of Computer Science won the Advancing Assessment Award, receiving an additional $1,000 in operating budget funds, sponsored by the Office of the Provost and the Office for Institutional Effectiveness and Quality Improvement. This award recognizes departments that make advances in their program assessment procedures.
The department used comparative analysis of their assessment results at three different levels for two different delivery modes.  This indicates the program assessment has improved to an even higher level and indicates that the department and program are well prepared to make adjustments for improved student learning and academic success.
President Tisa Mason presented the President's Award, Fort Hays State University's highest honor, to the Teaching Innovation and Learning Technologies department. Given by the president to recognize substantial contributions to the university through professional and personal achievements, this award is not given often and had not been awarded since 2014.
Mason described the contributions of the FHSU colleagues in TILT, "In just three short weeks, TILT helped overhaul the entire China program to deliver online learning when the pandemic shut down the 2020 spring semester. During the pandemic, the team worked tirelessly to create and update the website to provide resources for students and faculty. They oversaw a significant transition to Blackboard, the university's online student learning system, during the midst of this. They also recognized a need for online student connection and oversaw a Tiger2Tiger student support program. They also continued to meet with faculty to develop new courses for programs, incorporated new ideas from the pandemic into the fall professional development day, and are constantly scanning and implementing cutting-edge technologies to improve teaching and learning at Fort Hays State University."