FHSU Alumni Association announces Homecoming 2021 honorees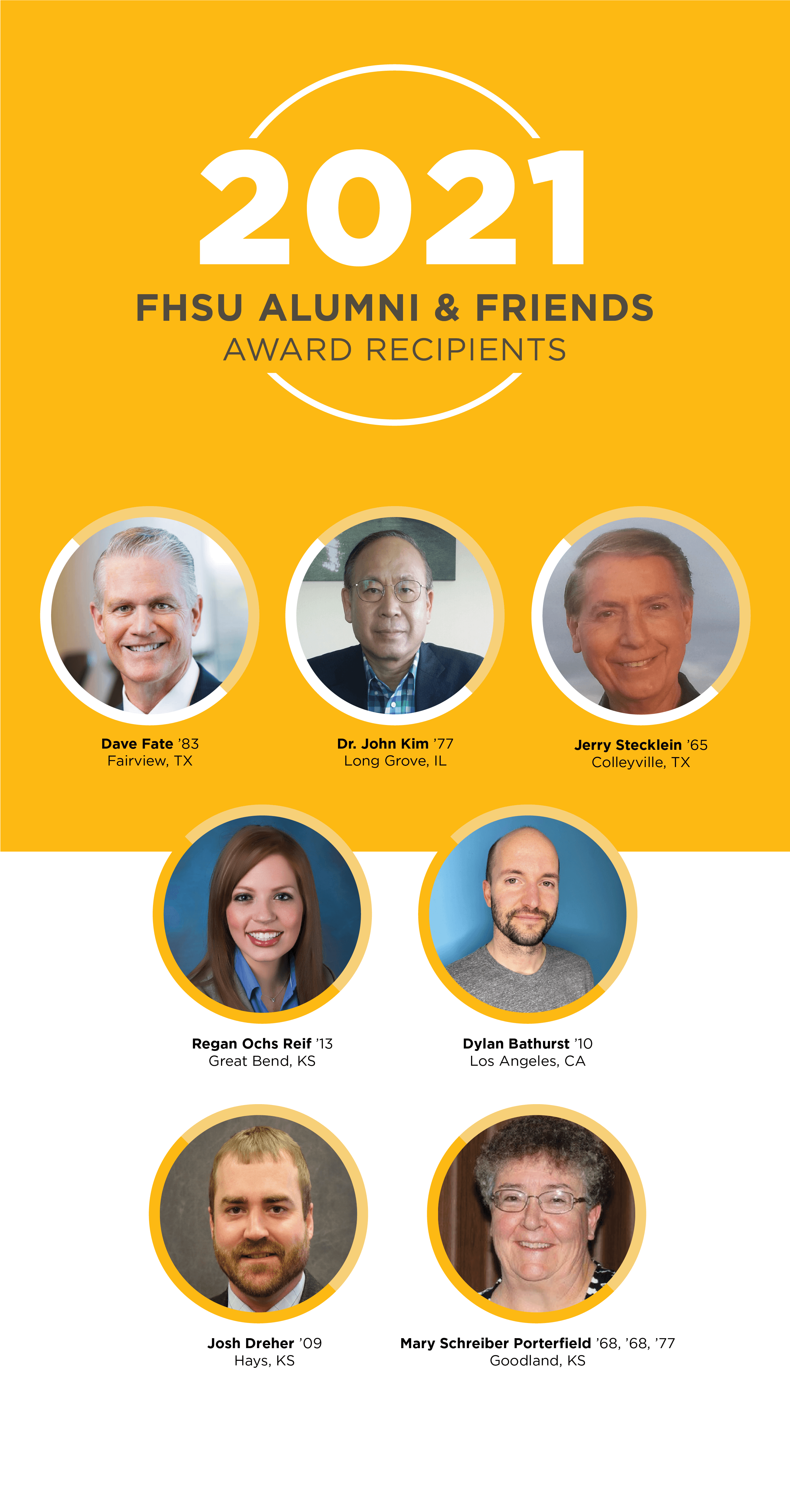 08/17/21
Seven Fort Hays State University alumni will be honored at the Alumni and Friends Awards Banquet on Friday, Oct. 1 during Homecoming. For details on how you can celebrate these award winners during FHSU's Homecoming week, visit www.FHSUHomecoming.com.
This year's three Alumni Achievement Award recipients are Dave Fate '83, Fairview, Texas; Col (Ret) Jerry Stecklein '65, Colleyville, Texas; and Dr. John Kim '77, Long Grove, Ill 
The Alumni Achievement Award, the association's highest recognition of its graduates, was established in 1959 to recognize graduates of the university for outstanding achievement based upon meritorious service to society or the community. The award is based upon career and professional achievements, service involving community betterment and philanthropic activities, and educational achievements.
The Young Alumni Award recipients for 2021 are Regan Ochs Reif '13, Great Bend; and Dylan Bathurst '10, Los Angeles, Calif.
The Young Alumni Award is designed to recognize those early in their careers who have had outstanding achievements and recent accomplishments. The award is based on professional and educational achievements, community activities, honors and awards received and other noteworthy items of merit since graduation. Candidates must hold a bachelor's degree from FHSU, be members of the 10-15-year classes and be under the age of 40 as of Jan. 1 of the year the awards are presented.
This year's Nita M. Landrum Award goes to Josh Dreher '09, Hays.
The Nita M. Landrum Award recognizes alumni or friends who have provided sustained volunteer service for the betterment of the Alumni Association and/or FHSU, in their home communities or at any local level.
The Distinguished Service Award goes to Mary Schreiber Porterfield '68, '68, '77, Goodland.
The Distinguished Service Award recognizes individuals who have demonstrated a continuing concern for humanity on a universal, national, state or community level; who support spiritual, cultural and educational objectives; and who endorse and exemplify the highest standards of character and personal attributes. It is reserved for alumni or friends of the university.
Profiles of the 2021 Honorees:
ALUMNI ACHIEVEMENT AWARDS
Dave Fate
Dave Fate, a native Kansan from rural Belleville, KS, graduated in 1983 with a B.S. in finance and went on to lead a remarkable career in the commercial finance industry. Currently he is the Chief Executive Officer at Stonebriar Commercial Finance, a company he founded and has led to become the largest independent commercial finance and leasing company in the United States. He began his career in 1983 as a credit analyst with CIT in Wichita. ITT Capital Finance soon lured Fate to the Plano, Texas area where he quickly assumed key leadership roles first with ITT and then as a co-founder of two commercial finance and leasing companies, all of which started from scratch and each with phenomenal growth and success. Transamerica Equipment Finance grew to $3.2B before it was sold, after which AIG Commercial Asset Finance built a $3.5B portfolio before Fate left AIG to form Stonebriar in March, 2015.
Fate currently leads a team of 47 professionals at Stonebriar, ranked #1 by the finance and leasing industry's leading trade journal in assets, new business volume, and volume per employee. In 2018 Fate was selected from the industry's most senior leaders for the Monitor's inaugural MVP award, and Goldman Sachs recognized him as one of 2020's 100 most intriguing entrepreneurs.  In July of this year he was honored by the christening of a new 3,400 hp push boat, the MV Dave B. Fate by one Stonebriar's key strategic maritime partners.
Fate has demonstrated the importance of community, education and helping others. He often serves as a mentor and promotes qualified young employees into leadership roles in the industry. One of his favorite projects, First Tee, is an initiative to raise financial support, teach life skills and provide educational opportunities for at-risk youth through golf. He has been a strong Equipment Leasing and Finance Association (ELFA) industry advocate during his career through many service roles and is actively involved in the ELFA's Emerging Talent and Women's Counsel initiatives designed to attract, hire, and encourage a diverse pool of current and future leaders with the same opportunities he experienced.
William Farrell, Jr., longtime friend, mentor and one-time boss noted, "Success cannot be measured purely by personal gains, but by the legacy you leave behind. Dave is known as a tremendously smart, hardworking innovative leader who is responsible for the success of four large organizations during the span of his career, but more importantly, he will one day be remembered for his positive impact on the industry as a whole and for his immeasurable contributions to the personal and career success of those around him." 
Fate lives in Fairview, Texas with his wife, Tasha Fate. They have two children, 26-year-old son Grant and 23-year-old daughter, Jordan.  Both live in Dallas, Texas. 
Col (Ret) Jerry Stecklein
Hays area native, Jerry Stecklein graduated in 1965 with a degree in Business Administration. Following graduation, he volunteered to serve in the U.S. Air Force and was commissioned as a Second Lieutenant. He attended the USAF Undergraduate Pilot Training program, graduating near the top of his class.
However, his love for flight actually began when he was a 9-year-old boy living on a farm near the small town of Munjor, and his father bought a small plane. Stecklein once recounted, "When we flew to other farms and landed in their pastures, my job was to guard the plane and keep the cows from chewing on it. The airplane was covered with a treated fabric, and they loved eating it."  This simple experience led to his love of flight, his decision to join the U.S. Air Force and his distinguished career in the military service and related business ventures spanning decades.
Stecklein's first assignment was as a flight instructor in the Cessna T-37B jet trainer, teaching USAF Academy, College/University USAF ROTC and Officer Training School graduates, and allied student pilots from NATO countries as well as from Saudi Arabia and Iran. He taught them how to fly and perform all aerobatic, instrument, navigation, and formation maneuvering to military standards in jet aircraft operations. He also was an academic instructor, and as President of the Junior Officer's Council, initiated a program to introduce junior officers to military and civilian leaders, and spearheaded a campaign to make the public aware of the exceedingly inhumane conditions USAF and Navy airmen endured in prison camps after being shot down and captured while flying combat missions in the Vietnam theater of operations.
Stecklein was then selected to fly the RF-4C, Phantom II jet and assigned to Udorn Royal Thai AFB, Thailand, in 1971. He flew 173 combat missions over North and South Vietnam and Laos and earned four awards of the Distinguished Flying Cross, the Air Force award for heroism and extraordinary achievement in aerial flight, and 14 awards of the USAF Air Medal.
Upon returning to the United States where he continued as a combat-ready pilot, Stecklein fulfilled many roles, including work at the Pentagon where he was responsible for moving USAF flight training activities from actual aircraft flight to flight simulators and then served on Project Checkmate to combat Cold War actions.  He also served in multiple command positions in the US and overseas, including Commander of the USAF's largest undergraduate pilot training wing. His final assignment was the Assistant Director of Operations of the USAF Air Training Command where he was responsible for all USAF pilot, navigator and space operator training.
Stecklein then transitioned into management and leadership roles in the defense industry, working for a large defense contractor. In the late 1990s, serving as the company's Director of Engineering Support, he realized a significant aviation training industry need for automated tools to assist flight training managers and improve the quality and safety of commercial flight training.  Unable to convince the company CEO the idea merited the necessary sizeable investment, Stecklein retired from his position and together with three partners started Talon Systems, LLC to meet that aviation training industry need.
Under Stecklein's leadership, Talon Systems is now the premier cloud-based provider of flight training management, aircraft maintenance management and safety management systems serving nearly 100 universities and colleges and commercial flight training academies and schools in the US and many other countries. The systems are currently being used to manage flight training for over 40,000 flight training students worldwide. The widespread use of Talon Systems' products has contributed toward improving the quality and safety of flight training resulting in measurably improved pilot quality and overall flight safety.
He is also currently serving  on the board of trustees for the Aviation Accreditation Board International (AABI) where he recently received the distinguished Chairpersons Award for distinguished service in guiding AABI's role in worldwide aviation education accreditation. He continues to work as president of Talon Systems and continues his love of flight, frequently flying his own Beechcraft Bonanza.
He currently lives in Colleyville, Texas with his wife, Joanne Schmidt Stecklein. They have two daughters, Janalee Corato and Julianne Stecklein.
John Kim
Upon graduating from Fort Hays State in 1977 with a Master's in Chemistry, John Kim had no idea he would one day build an international company with expertise importing and exporting a variety of products.
Through hard work and determination to make a better life, Kim left his poor farming village in South Korea to earn a degree in ceramic engineering and rather than enlist in the South Korean army, he traveled to California where he toiled at three menial jobs to save enough money to continue his education. Before his visa would expire, he found his one opportunity at Fort Hays State University. After his first year as a graduate student, he almost dropped out for financial reasons, but thanks to the support of his advisor, the department chair and the woman who provided him room and board, he persevered, graduated and then earned his Ph.D. in Chemistry at the University of Kansas. Kim went on to have an outstanding career teaching college-level chemistry before working in the industry and founding Unidex in 1990.
Unidex offers a complete line of coilers, formers, wire benders, grinders and special-purpose machinery for producing springs, wire forms and metal stampings. The company has also been a supplier of custom-designed flexible packaging solutions for pharmaceutical, chemical and food industries. Unidex has extensive import and export experience producing on three different continents. Kim won the 1998 US Small Business Administration Award as Illinois Small Business Exporter of the Year.
Kim is described as a "pillar" of the Rotary Club of Chicagoland-Korean Northbrook and served as its president in 2015-2016 and as the longtime chair of the scholarship committee. He also was the champion and grants manager for a major project providing vocational training and employment for individuals with intellectual and developmental challenges. Kim is a member of the International Network of Korean Entrepreneurs and holds a US Patent for a flexible packaging in 2005 and magnetic belt issued in 1996. 
Fellow member of Rotary International, Lyle Staab stated, "With the help of Fort Hays State, he has made a life, and made a difference. From that poor village in South Korea, John has become the embodiment of the American Dream."
Kim lives in Long Grove, Ill. with his wife, Dal Kim, and two sons, David and Richard.
YOUNG ALUMNI AWARD
Regan Ochs Reif
This 2013 alumna with a B.S. in organizational leadership has progressed through her career into her current position as Strategic Marketing Manager with The University of Kansas Health System in Great Bend.
Reif began her career immediately following graduation from Fort Hays State at Adams, Brown, Beran & Ball, Chtd. in Great Bend as an H.R./Marketing Associate and quickly advanced to Marketing/Executive Administrator and then Chief Operations Officer. Described as a visionary leader and mentor to many, she proved her passion by focusing on the firm's strategic planning and operations. She played a pivotal role in the firm's recruitment, human resources, and marketing efforts. Recognizing her leadership and service to the community, the Great Bend Chamber of Commerce presented her with the 2016 NextGen Leader of the Year award.
Reif then worked at Wheatland Electric Cooperative, Inc. as a Member Services & Key Accounts Manager before moving to her current position as Strategic Marketing Manager at The University of Kansas Health System.
As she did throughout the years as a college student, Reif continues to be active in community organizations and civic leadership. She serves as a member of the FHSU Leadership Studies Advisory Board; a mentor for the Voss Advanced Leadership Undergraduate Experience (VALUE) at Fort Hays State University; an executive board member and volunteer for the United Way of Central Kansas; a current board member and past ambassador for the Great Bend Chamber of Commerce; volunteer and past chairperson for Barton County Young Professionals along with being active in other area groups.
In addition to the personal success she has achieved, the words of Glenn Growe, Ph.D., FHSU assistant professor of accounting, in a 2013 letter of support for the Torch Award nomination at the university, accurately predicted her future impact: "Her commitment to achieving excellence and her stellar work ethic will help those she leads to achieve success."
Reif lives in Great Bend with her husband, Cole Reif, and two children: Fitz and Dax.
Dylan Bathurst
Young Alumni Award honoree and Kansas native from Talmage, Dylan Bathurst earned his B.S. in information networking and telecommunications from FHSU in 2009 and has been recognized in the information technology industry for his proficiency in web design and work as a software engineer.
Bathurst moved up the ranks at Zappos Family of Companies as a front-end developer building website code to increase user functionality.
He went on to co-found a company, Rumgr, an online garage sale application for buying and selling used products. He created the app when he saw the need for a formalized process to provide greater simplicity and security for users.  He and two fellow software developers presented the code and design for the app at Startup Weekend Las Vegas, where the app was named the crowd favorite and won two prizes. In addition, the app earned recognition on CBS and local newspapers and was accepted into the Apple App Store, an achievement allowing wide distribution for iPhone users to download the app for free. While co-managing the new business, in an effort to support other budding entrepreneurs, he also became an organizer for Startup Weekend Las Vegas to secure sponsorships, recruit judges and plan the overall event. In developing Rumgr, Bathurst performed web work for businesses and built a premium product that was then acquired by eBay. 
Bathurst expanded his knowledge in the I.T. industry as a software engineer with Close5, Upright Metrics and Purse before his current role as Senior Staff Engineer with Blockchain.com in San Francisco, the world's leading software platform to transact internet commerce. The company deals in trading and processing digital coins and works to accelerate the adoption of crypto currency. As a member of Blockchain staff, Bathurst works to design, build and maintain systems to securely move these digital funds as the company ushers in the future of finance.
Mark Bannister, former Dean of FHSU's Robbins College of Business and Entrepreneurship, affirmed "Dylan is a bright and diligent Informatics graduate from Chapman who has vigorously and creatively put his skills to work as an entrepreneur."
Bathurst lives in Los Angeles, Cal. with his wife Crystal Chang and children Coral and Sunhee.
NITA M. LANDRUM AWARD
Josh Dreher
The Nita M. Landrum award winner for 2021, Josh Dreher, Hays, is dedicated to serving the Hays community through volunteerism. Dreher is a 2009 graduate of Fort Hays State University, earning his B.B.A. in management while working at Bank of Hays throughout college as a teller, which, upon earning his degree and gaining more experience, developed into his current career as Senior Vice President and Commercial Lending Officer at Bank of Hays.
As an alumnus, Dreher has continued to serve the university by volunteering for the FHSU Community Drive fundraising team as both a member of several teams and as a team captain. He served as a coach for the 2018 FHSU College of Business' annual startup weekend, helping community members present their entrepreneurial projects. He also has worked closely with the FHSU Small Business Development Center
His community outreach memberships include The United Way of Ellis County, where he served six years on the board, Hays Rotary Club, ARC Park fundraisers, Paint-a-Thon for low-income families in partnership with Tigers for Service, Hays High School technical education advisory committee, Hays Larks board, Big Brothers and Big Sisters telethon, Fort Hays Municipal Golf Course advisory committee, Heartland Community Foundation and Leadership Hays.
Dreher has demonstrated his commitment to serving as an ambassador for Fort Hays State University and bettering the community of Hays through his many areas of volunteerism.  Sandy Jacobs, executive director of the Heartland Foundation, noted that he "clearly understands the importance of quality of life issues…. He is not a 'resume building' board member, but one who takes his role seriously and dedicates himself to the betterment of our organization, Fort Hays State University and his community as a whole." As Brandon Prough, Bank of Hays senior vice president, concluded, "Josh has a heart for giving back."
Dreher currently resides in Hays.
DISTINGUISHED SERVICE AWARD
Mary Schreiber Porterfield
The Distinguished Service Award winner for 2021 is Mary Schreiber Porterfield. Her primary passion has always been a desire to see the world and bring the world closer to Kansas. Throughout her career as a teacher, Porterfield was also a volunteer for AFS Intercultural Programs. For more than 40 years, she welcomed many students to her home for short and year-long visits. From her school, 17 students studied abroad, and the school community welcomed over 100 students from various countries around the world.
As a Spanish teacher for 46 years in the Goodland school district, Porterfield taught grades 4-12 not only the language, but also the culture and customs of each country. From 1992-2014, her classroom was linked to the Peace Corps' World Wise School Project, which connected her students with Peace Corps volunteers in Spanish-speaking countries to do several projects. In 1998 her classroom was the only US classroom to participate in a project with the World Bank and the World Links Latin American Initiative.
Porterfield received the Kansas Foreign Language Teacher of the Year Award in 1987 and was a finalist for the Kansas Teacher of the Year the same year and again in 1993. In 1995, she attended the Goals 2000 National Teacher Forum in Washington, DC, as one of two teacher representatives from Kansas. In 1999 she was recognized as one of the seven Kansas Master Teachers of the Year.
With Porterfield's global interests, she served as the chair of AFS-USA Intercultural Programs Board of Directors and the president of Kansas Paraguay Partners of the Americas, which led to trips to multiple countries alone or with other volunteers to collaborate in projects ranging from agriculture to civic education to international high school exchanges. Through her travels, she built many lifetime relationships and opportunities to share her knowledge of other cultures with family, friends and her community, thereby aligning with the AFS-USA mission "to empower people to become globally engaged citizens by delivering meaningful intercultural experiences that provide the knowledge and skills needed to help create a more just and peaceful world."
Protecting domestic and sexual violence survivors is also a primary concern for Porterfield. In past years, she helped establish safe homes for victims and their families, and she never hesitated to welcome anyone in need to her own home. She currently serves on the board for Options Domestic and Sexual Violence Services. Once retired, she has also branched out to volunteer at local museums and the county historical society.
Witnessing her mother's life experiences first-hand, her daughter, Heather Musil, stated that Porterfield "…is an advocate for all cultures, all people, all humans in the world. She lived it, she breathed it, and she shared her passion with everyone."
Porterfield lives in Goodland with her husband, Clifton Porterfield, and they have a daughter, Heather Jean Musil, who lives in Hays with her husband, Shaun, and their three children.