FHSU, GCCC to celebrate transfer center's new location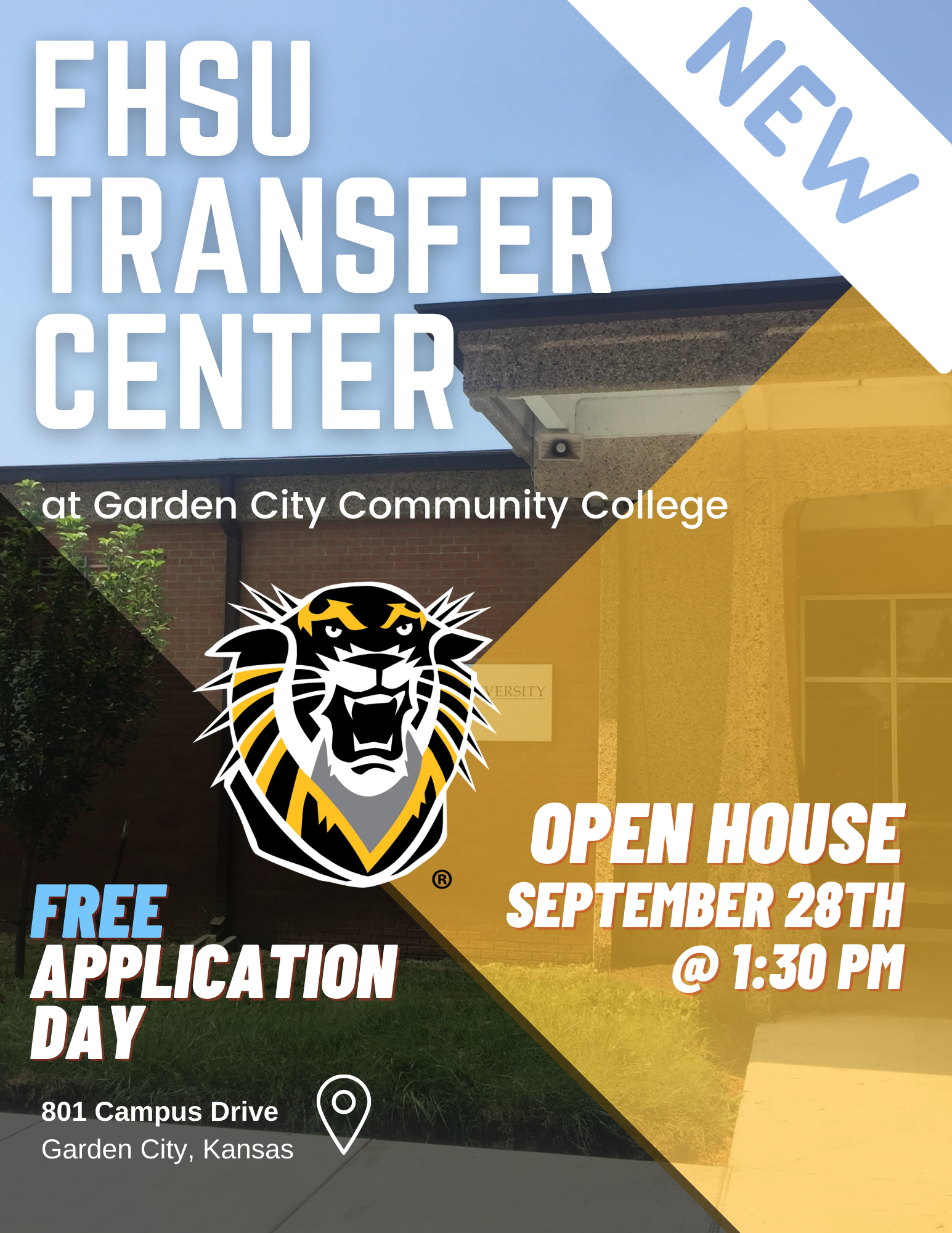 9/23/21
GARDEN CITY, Kan. – Fort Hays State University and Garden City Community College have a long tradition of working together to ensure student success. FHSU administrators will gather on the GCCC campus on Tuesday, Sept. 28, to celebrate their latest partnership – opening a new location for the FHSU Transfer Center at GCCC.
The 1:30 p.m. ribbon-cutting ceremony will be part of an open house and information day at the transfer center, and the popular Transfer Connect Program (TCP). TCP is a dual advising relationship where prospective community college graduates have access to FHSU transfer success coaches, who proactively engage with their assigned students.
Previously housed in the FHSU Higher Education Opportunity Center, the transfer center moved to the GCCC campus this past summer, making it more accessible for students.
FHSU President Tisa Mason will be on hand for the ribbon-cutting for the center's new location in the Thomas S. Staffel Library. As part of the celebration, the application fee will be waived for students from Garden City or attending GCCC – both on campus and online – who fill out transfer paperwork during the open house and information day.
"We are excited to enhance our transfer relationship with students in the Garden City area," Dr. Mason said. "Our enduring partnership with Garden City Community College strengthens our collective impact. We continue to remove barriers for students as we help them succeed, understanding that also is success for the community – and the region."
GCCC President Dr. Ryan Ruda, who coincidentally is a Fort Hays State alum, will also attend the ribbon-cutting.
"Historically, Fort Hays State University is the top choice for GCCC students to transfer into," Ruda said. "Our students greatly benefit from having the FHSU Transfer Center housed on our campus. GCCC is proud of the continued collaboration and partnership with FHSU."
Ruda's passion for his alma mater is evident, says FHSU's Mercedes Ramos, manager of the transfer center at Garden City.
"President Ruda knows how beneficial these partnerships are for our students," Ramos said. "GCCC has really opened its doors to us, and its president is a great advocate for Fort Hays State. This has been a great move to campus, where we already have seen a lot more student traffic."
Ramos and Judy Espino, a transfer success coach, are looking forward to helping more students than ever before. According to Kansas Board of Regents statistics, more GCCC graduates transfer to Fort Hays State to continue their education than to any of the five other KBOR universities.
Ramos and Espino are available at the center to answer students' questions, from how to fill out the FAFSA or residential applications to scheduling a campus visit to FHSU – and anything in-between that will help create a seamless transfer process.
"This is a great resource to learn what to do when transferring, which can sometimes be scary," Ramos said. "We look forward to helping students maneuver through this process. It's going to be a great partnership."
For more information, contact Mercedes Ramos, FHSU Transfer Center manager, at m_ramos@fhsu.edu or 620-276-9701 or Judy Espino, Transfer Success coach, at j_espino@fhsu.edu or 620-276-9702.