FHSU celebrates business college students, donors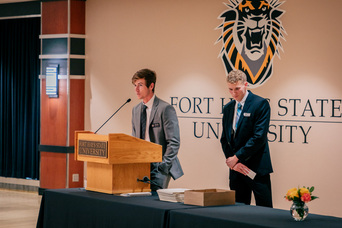 HAYS, Kan. – Ethan Lang wants to start his own financial planning company in his hometown someday.
The Hays native is confident of reaching that goal sooner rather than later because of the quality education he is receiving from Fort Hays State University – and the philanthropy of donors in the Hays region.
Lang was one of more than 150 FHSU business majors – on campus and online – who were honored at the annual awards ceremony for the Robbins College of Business and Entrepreneurship (RCOBE) earlier this month.
Including department-level scholarships, the RCOBE awarded approximately 270 student scholarships exceeding $300,000. And that doesn't include the stipends the numerous graduate assistants receive through their respective business departments.
"The vast majority of these funds, nearly every dollar, is provided solely by donors," said Dr. Cole Engel, master of ceremonies for the RCOBE awards ceremony. "This is above and beyond the university scholarship program, and we have a host of very generous donors. Several are FHSU alumni who value their education and have become quite successful professionally. Now, they are in a good position to give back."
Lang is a junior, majoring in finance with a concentration in financial planning. Last year, he was selected as one of two Robbins College ambassadors, an honor that comes with a $5,000 stipend. That, coupled with three other scholarships, earned Lang a total of $8,500 for the 2021-22 school year – from the business college alone.
"This is huge for me," Lang said. "Being a financial planning major, I know what large amounts of debt and taking on student loans can mean for a person. Not having to do that means I will be in a position to reach my goal of starting my own business a lot sooner."
Engel –  associate professor of economics, finance, and accounting – has first-hand experience of how much impact those types of scholarships can have. He has two bachelor's and a master's degrees from Fort Hays State and was aided greatly by scholarship money from some of the same donors who are still giving today.
"I was able to graduate from college debt-free because of scholarships through this program as well as community scholarships," Engel said. "Then when I was in graduate school, I was a teaching assistant so my tuition was taken care of, and we received a stipend, too. That all allowed me to start my professional life without any debt, so I was able to buy a house immediately and contribute to the economy."
Engel also most likely was able to give back to the university more quickly than graduates with those carrying student loan debt with them after graduation. This year alone, three students received $2,000 Dr. Cole J. Engel scholarships. Students apply for business college scholarships through the university's general scholarship application, which matches those eligible for certain scholarships. A committee selects the recipients, and the RCOBE ceremony and reception is a way of honoring those students as well as recognizing the donors.
"We see it as an event that brings the whole business community together – faculty, parents, students, donors," he said. "It's a perfect way for the parents to meet the faculty, and most importantly, for the students to meet the donors. It's just a great way to start the academic year and to celebrate philanthropy."
Engel called off names of students at the ceremony, who came forward for a quick photo with their donors. He reminded the students that "giving is not just about making a donation. It's about making a difference."
David Schulte, a junior from Halstead, said that the RCOBE scholarships have made a huge difference in his college career.
"They have made an enormous impact, and I feel very fortunate," said Schulte, a finance major with a concentration in economics. He also is getting a minor in banking. Schulte received five scholarships this year worth $8,000.
"Besides having rent and tuition and books paid for, it also helps takes care of a lot of other expenses," Schulte said.
Even more importantly, Schulte said, are other campus opportunities he is able to take advantage of while still maintaining a 3.96 GPA as a member of the Honors College. This year, he holds offices in numerous organizations: the Economics Club, the Finance Club, the Student Government Association, and Alpha Kappa Psi – the professional co-ed business fraternity.
"I feel that if I was going to another university, I would have to be working 30 to 40 hours to make ends meet," Schulte said. "With these scholarships, I'm able to seek out positions where I can get valuable experience in my field."
Lang echoed those sentiments. A member of the Tiger track and field team, he earned All-America honors at last spring's NCAA Division II National Outdoor Championships. As a freshman, he was part of FHSU's Financial Planning team that placed fourth in the nation. He helped that team qualify for the top eight in the nation again this year.
Lang wasn't sure he wanted to attend college in his hometown – until he visited the RCOBE his senior year of high school.
"I was born and raised in Hays, Kansas, so this community is special to me," he said. "Fort Hays State has great programs and opportunities, and we can take part in a lot of those opportunities in part because of our amazing donors."
Dr. Muhammad Chishty, dean of the RCOBE, applauded the philanthropy of FHSU donors.
"The Robbins College of Business and Entrepreneurship wants to provide an excellent education at an affordable price to our students. Our generous alumni and donors have made that possible by their continuing gifts," Chishty said. "The many endowed scholarships have transformed the lives of our students by making it possible for them to attend college – and begin meaningful and rewarding careers in their chosen professions."
Learn how you can support students within FHSU's Robbins College of Business and Entrepreneurship by visiting https://foundation.fhsu.edu or by contacting the FHSU Foundation at 785-628-5620 or foundation@fhsu.edu.