FHSU students express gratitude for donors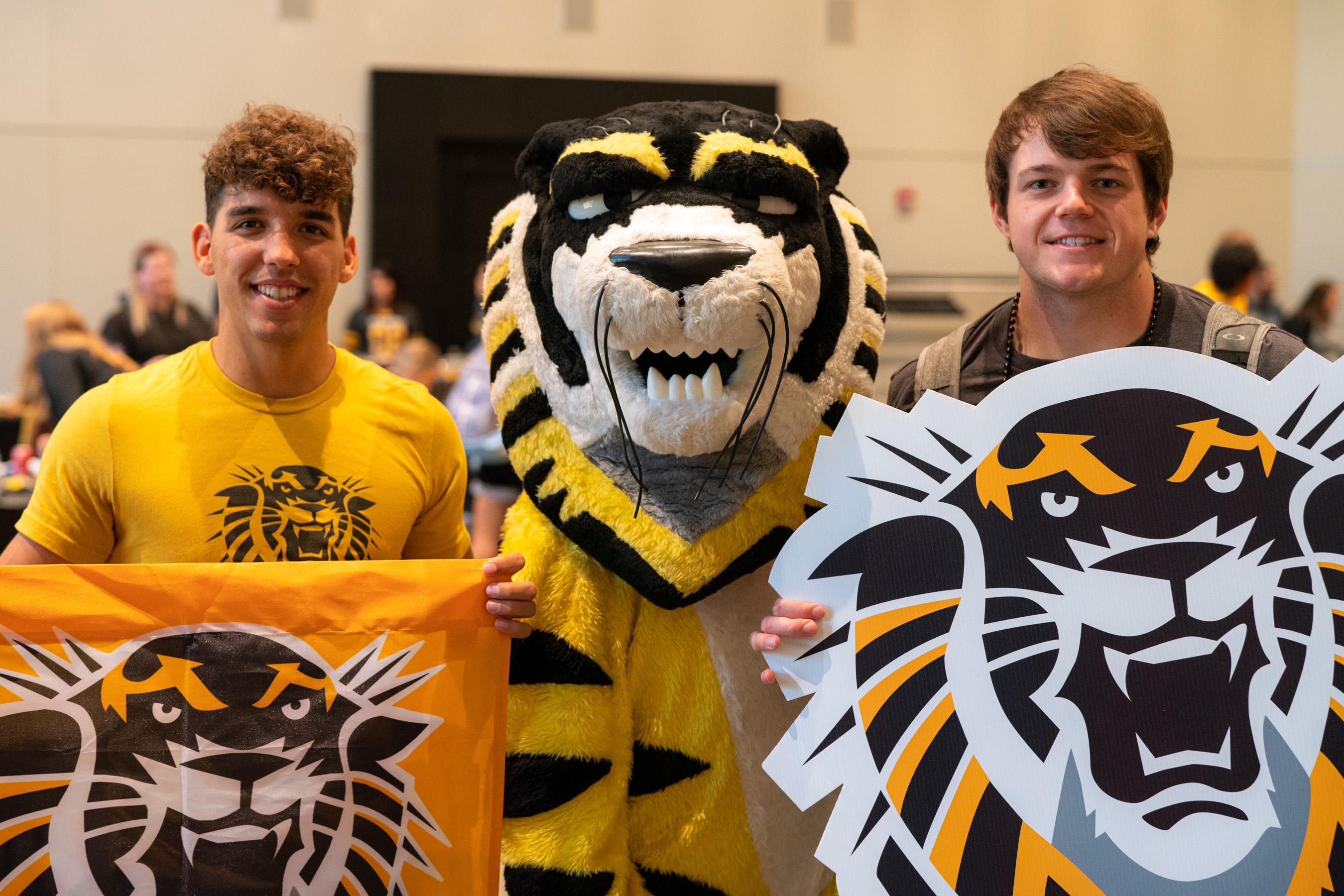 9/24/21
HAYS, Kan. – More than 275 current Fort Hays State University students stopped by the Robbins Center, home of the FHSU Foundation, to enjoy a free lunch along with the opportunity to win scholarships on Thursday.
Representatives from Astra Bank, the scholarship sponsor, drew names for some of the lucky scholarship winners.
Fort Hays State's Awareness Day was created to educate current Tigers about the importance of private support.
"Fort Hays State has some truly amazing donors," said Ricardo Zamora, director of annual giving for the FHSU Foundation, the fundraising arm of the university. "I cannot stress how important it is for our students to learn who those donors are and that there are generous, caring people behind each scholarship, the equipment they utilize in class, and the campus buildings they study in."
"Ensuring that students know how FHSU is funded is an important lesson,"  Zamora added. "Fort Hays State University offers the lowest in-state tuition of regent universities. The low tuition is only possible due to the number of generous alumni and friends who understand how important it is to give the gift of education."
Many student Awareness Day attendees left behind thank-you notes for FHSU donors: 
"You are making an impact in so many lives, impacts that will last a lifetime."
"Everything that I am working toward is because of you."
"Your donation has opened the door to many opportunities at FHSU, and I am forever grateful!"
""People like you are true heroes. I hope to follow your lead someday by giving back to this amazing university that I call home."
"Without your contribution, my schooling would not be possible."
"Students who attended Awareness Day will soon become alumni, and when they do, I hope they will understand the significance of supporting future Tigers and paying it forward like those who came before them," Zamora said. "Their future generosity will be vital to the success of our students to come."
"Also, a big thank you to Astra Bank for its continued support by providing $2,000 in scholarships for us to give away throughout Awareness Day," he added. "Astra Bank has been providing scholarships for this event since 2014, and we cannot thank them enough for their partnership and generosity."
"Thank you so much to Astra Bank for donating. This will help me toward my dream of becoming a nurse," said Brianna Jones-Rupp, who won a $100 scholarship. "Continue being an amazing support for FHSU students," said Jones-Rupp, who is a sophomore majoring in nursing.
Our 2021 Awareness Day scholarship winners:
$1,000 Scholarship – Elyzabeth Winter, biology/pre-vet, Sutton, Neb.
$500 Scholarship – Andrew Neuman, mathematics, Liberal
$100 Scholarship – Brianna Jones-Rupp, nursing, Hays
$100 Scholarship – Paeton Buchanan, speech-language pathology, Simla, Colo.
$100 Scholarship – Savannah Yost, nursing, Hays
$100 Scholarship – Payton Hake, radiology, Cawker City
$100 Scholarship – Kade Melvin, economics, finance and accounting, Norton
Learn how you can support students at Fort Hays State by visiting https://foundation.fhsu.edu or by contacting the FHSU Foundation at 785-628-5620 or foundation@fhsu.edu.