FHSU Homecoming 2021 one to remember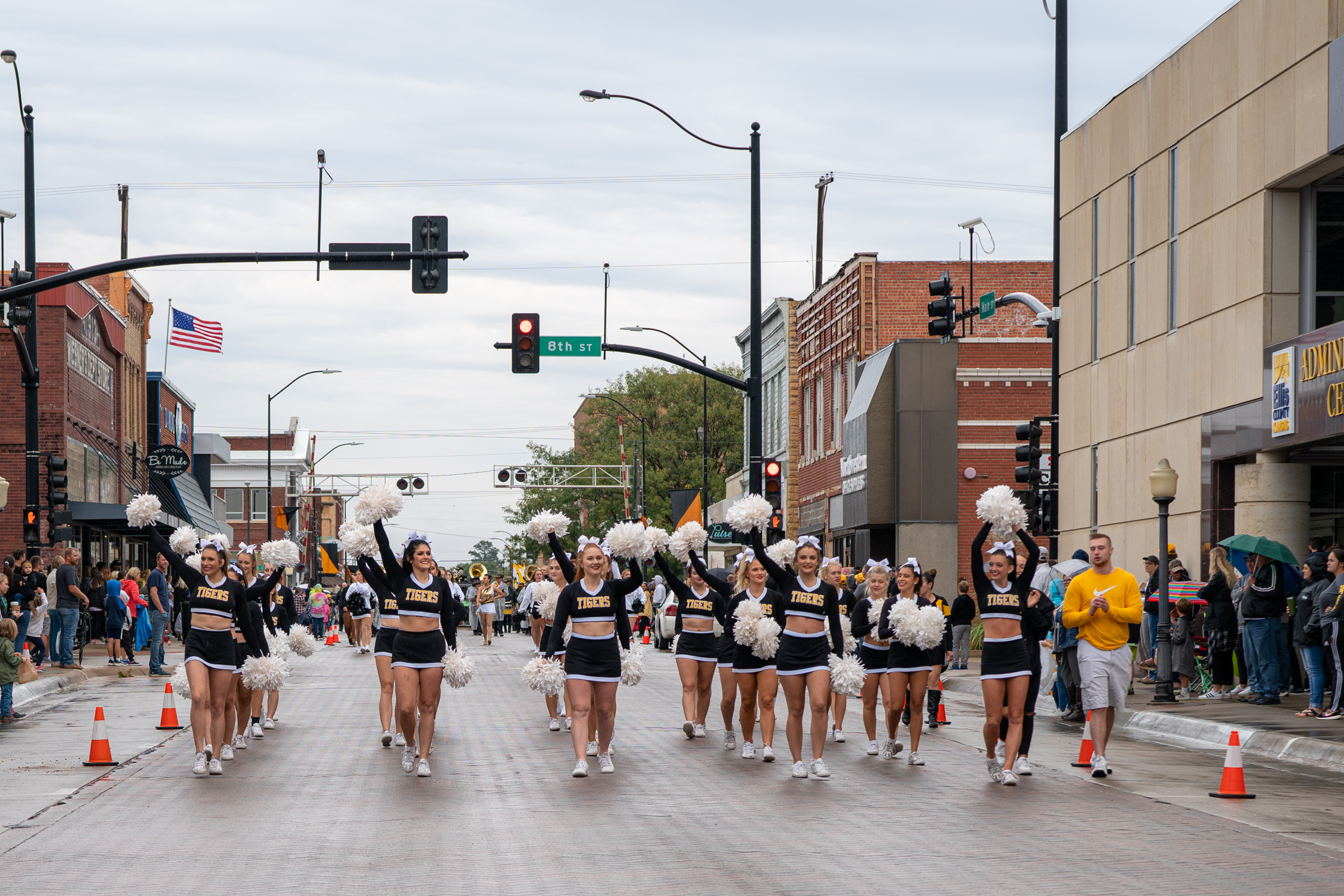 10/6/21
HAYS, Kan. – Homecoming weekend at Fort Hays State University truly captures the essence of what college is all about. Long-lost classmates from 50 years ago catching up and making note of one another's contact information on a napkin. Alumni laughing and reminiscing with past instructors and wide-eyed as they toured new buildings throughout campus. The sometimes-unpredictable fall weather that called for university-branded sweatshirts and umbrellas. Oktoberfest, which brought together longtime FHSU supporters, current students, and families. Finally, an exciting football game that ended the week in a flourish of Tiger pride and celebration.
This is an apt description of the events that unfolded in Hays last week. Fort Hays State University's 101st Homecoming was as much of a success as the FHSU Alumni Association and Foundation had hoped, and after the untraditional celebration of last year, it just felt right to be together once again.
A gloomy forecast earlier in the week that might have hindered festivities led to perfect weather, with a few rainy mornings that cleared into pleasant autumn afternoons and evenings. As always, the annual Homecoming golf tournament was a popular event with more teams playing than ever before and one alumnus making a hole-in-one.
Another fan favorite, the Tiger bonfire and pep rally, featured a tremendous turnout as Fort Hays State had not been able to hold the bonfire event since 2018 due to poor weather conditions. It was due time.
This ideal fall weather set the scene for a memorable ribbon-cutting ceremony for the university's new Fischli-Wills Center for Student Success. Joined by alumni and patrons of FHSU, along with the Chamber in Hays, FHSU celebrated the innovative new building and its namesakes, Richard and Dolores Fischli, who made the initial dream of the facility a reality.
Those back in town for Homecoming enjoyed campus walking and bus tours, gatherings for 50- and 60-year alumni, and reunions for various groups such as Tiger baseball, the FHSU Tiger Marching Band, the Department of Leadership Studies, and the College of Education. Attendees of the new and improved – and shortened – Alumni Awards Banquet, a dinner event recognizing FHSU's 2021 Alumni Achievement Award winners – got to hear short clips of the recipients' diverse accomplishments over the years as well as memories of their time on campus.
A new event for Homecoming 2021 was Breakfast with the President, held Saturday morning in the Memorial Union. FHSU President Dr. Tisa Mason provided an update on the latest campus developments. Those in attendance were alumni, donors, and students, including current members of Sigma Phi Epsilon that were hosted by an alumnus of the fraternity.
To top it off, Tiger fans celebrated an exhilarating win at the football game against undefeated University of Nebraska-Kearney. FHSU got off to a slow start and trailed 21-0 at halftime. However, like the rainy mornings that turned into beautiful days, the Tigers turned the game around and ended Homecoming 2021 with an unbelievable comeback, scoring 42 points in the second half to win the game.
It was truly a beautiful sight to see the Hays community and FHSU's campus alive with people and activity again. The gathering of various campus groups, faculty and staff, visiting families and friends, and returning alumni and Tiger fans made the week a true homecoming that will be remembered for years to come.