FHSU to host science documentary and presentation by Dr. Alison Van Eenennaam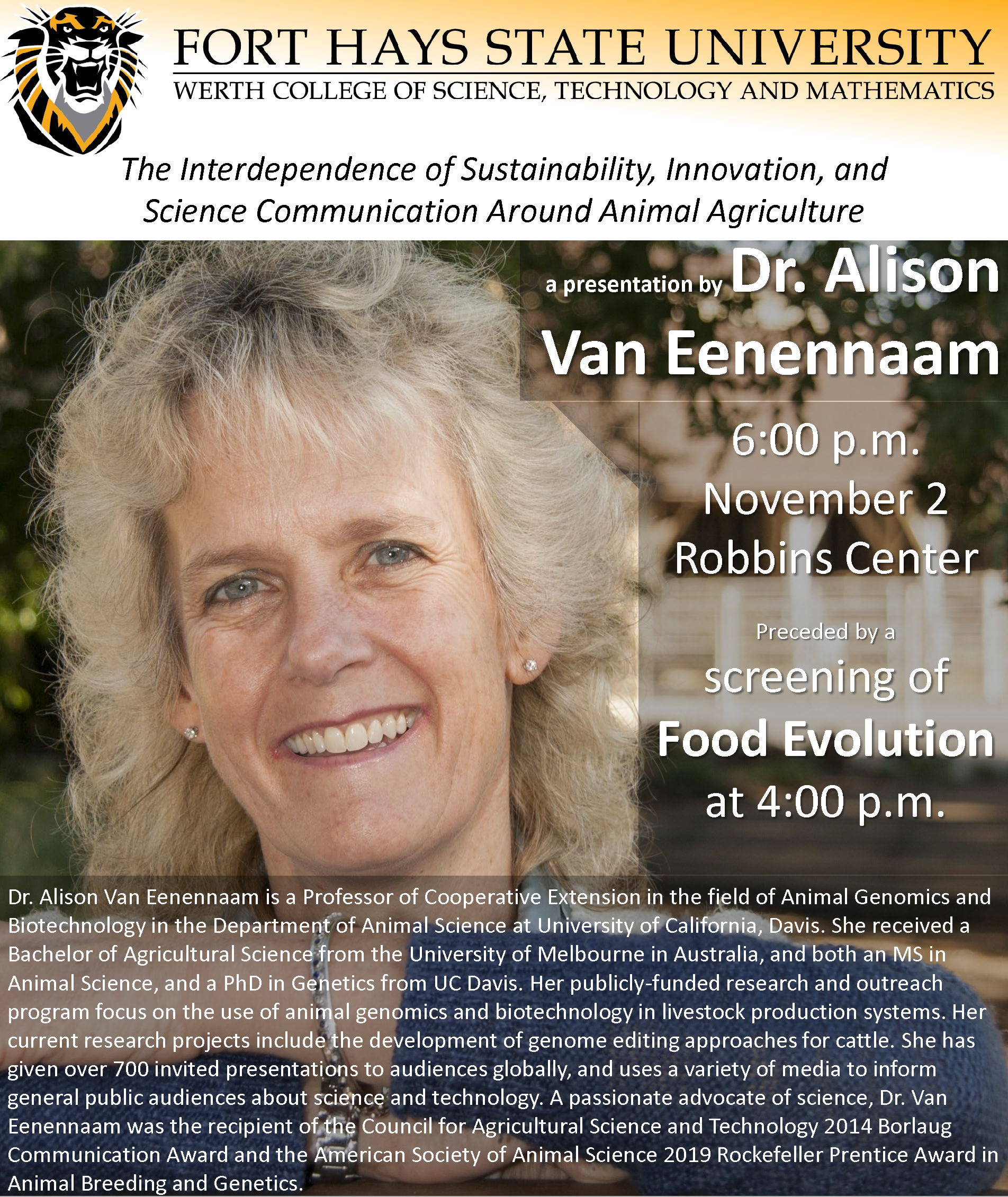 10/26/2021 
HAYS, Kan. – Fort Hays State University's Werth College of Science, Technology and Mathematics will host a public presentation, "The Interdependence of Sustainability, Innovation, and Science Communication Around Animal Agriculture." The presentation by Dr. Alison Van Eenennaam from the University of California-Davis is set for 6 p.m. Tuesday, Nov. 2, at the Robbins Center. It will be preceded by a screening of the highly acclaimed documentary, "Food Evolution" at 4 p.m.
Dr. Van Eenennaam is a professor of Cooperative Extension in the field of animal genomics and biotechnology in the Department of Animal Science at UC-Davis. A passionate advocate for the sciences, she has given over 700 invited presentations to audiences globally and uses a variety of media to inform general public audiences about science and technology.
Eenennaam received a Bachelor of Agricultural Science from the University of Melbourne in Australia and both master's in animal science and a PhD in genetics from UC-Davis. Her publicly funded research and outreach program focus on the use of animal genomics and biotechnology in livestock production systems.
She was the recipient of the Council for Agricultural Science and Technology 2014 Borlaug Communication Award and the American Society of Animal Science 2019 Rockefeller Prentice Award in Animal Breeding and Genetics. She also received the Beef Improvement Federation's 2021 Pioneer Award. Eenennaam was a consultant and featured scientist on the documentary "Food Evolution:"
Food Evolution
Amidst a brutally polarized debate marked by passion, suspicion, and confusion, "Food Evolution," by Academy Award-nominated director Scott Hamilton Kennedy (The Garden, Fame High, OT: Our Town), explores the controversy surrounding GMOs and food. Traveling from Hawaiian papaya groves to banana farms in Uganda to the cornfields of Iowa, the film – narrated by esteemed science communicator Neil deGrasse Tyson – wrestles with the emotions and the science driving one of the most heated arguments of our time.
In the GMO debate, both pro- and anti-camps claim science is on their side. Who's right? "Food Evolution" shows how easily misinformation, confusion, and fear can overwhelm objective analysis. How do we ensure that our food supply is safe and that everyone has enough to eat? How do we feed the world while also protecting the planet? Has genetic engineering increased or decreased pesticide use? Are GMO foods bad for your health? And, most importantly, what data, evidence, and sources are we using to approach these important questions?
While the passionate advocates in the film are all concerned with the stewardship of safe, nutritious food for the planet, their differing views over what constitutes the truth have pit them against each other, rendering the very subject of food itself into an ideological battleground.
Enlisting experts such as Mark Lynas, Michael Pollan, Alison Van Eenennaam, Jeffrey Smith, Andrew Kimbrell, Vandana Shiva, Robert Fraley, Marion Nestle, and Bill Nye, as well as farmers and scientists from around the world, this bold and necessary documentary separates the hype and emotion from the science and data to unravel the debate around food – and help audiences reach their own conclusions. In a debate in which all sides claim to be on the side of science, FOOD EVOLUTION brings a fresh perspective to one of the most critical issues facing global society today.
Registration is encouraged to participate in the film screening and the following presentation at the Robbins Center. Register for the film screening and the presentation at https://forms.gle/h4UX1shYfLcqSXQe8
For more information contact: the office of the Werth College of Science, Technology and Mathematics at (785) 628-4790.