Free hearing screenings to be offered in Lewis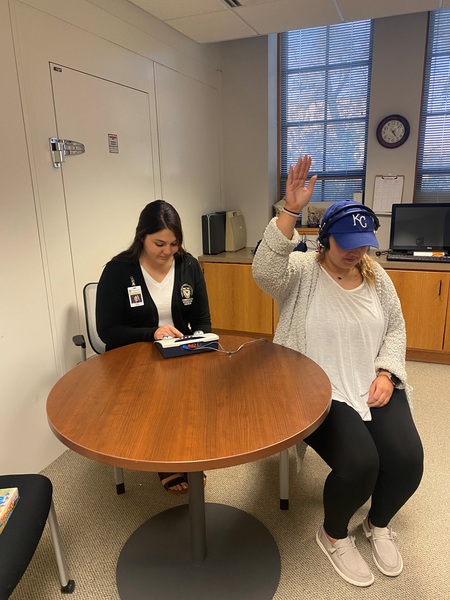 11/12/21
HAYS, Kan. – A free hearing screening held by Fort Hays State University graduate students is set for Friday, Nov. 19, in Lewis.
The screening is sponsored by the Lewis Masonic Lodge No. 220 and will run from 8 a.m. to noon at the Bank of Lewis, 217 Main, Lewis.
The hearing screenings are available because of a grant from the Kansas Masonic Foundation. The grant provides numerous opportunities for older adults in central and western Kansas to receive important health screening services that are currently scarce or difficult to access.
This marks the third and final screening for the fall 2021 semester, and three more screenings will be scheduled in other central and western Kansas communities next semester. Lewis is the 26th community that FHSU has offered this service over the first four and half years of the grant. About 900 screenings have been completed in that time span.
Appointments for the Lewis screening can be scheduled ahead of time, but walk-ins will be welcomed on a first-come, first-served basis. There will be four stations, with each screening lasting approximately 15 to 20 minutes.
Free educational material, including information about hearing loss and available follow-up visits, will be shared during the screenings. The Kansas Masons and provide participants with free earplugs.
The screening is provided by graduate students from the Department of Communication Sciences and Disorders under the supervision of an FHSU Herndon Clinic instructor.
The program is a win-win situation for everyone involved, including the FHSU students, says Marcy Beougher, speech-language pathologist and an instructor in the Department of Communication Sciences and Disorders.
"The students are gaining excellent clinical experience as well as mandatory clinical hours from each screening," she said. "We are grateful to the Kansas Masons for their support of this quality program."
To schedule an appointment for the Lewis screening, contact Robert Derley at 620-285-1443.
For more information, visit fhsu.edu/herndon-clinic or contact the Department of Communication Sciences and Disorders at 785-628-5366.