Fort Hays State graduate students earn prestigious regional awards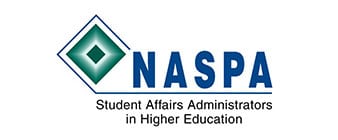 12/3/21
HAYS, Kan.  – Three graduate students in Fort Hays State University's College of Education were recently recognized by the National Association of Student Personnel Administrators (NASPA) Region IV-W. NASPA is a 15,000-member-strong professional organization that works to promote the principles of integrity, innovation, inclusion, and inquiry in the field of student affairs.
Caden Frank from Omaha, Neb., and Will Fried, Bethesda, Md., received the Region IV-W "Rising Star Award," the highest award offered in the graduate student category. Both are on-campus students working on Master of Science in Education (MSE) degrees in the Higher Education Student Affairs (HESA) program.
Cody Westerhold, Independence, Kan., is an online student in the MSE in HESA program, who serves as the Director of Student Life at Independence Community College. He received the NASPA Region IV-W  Community College Professional Award for his exceptional service this last year.
NASPA is the world's largest professional organization of higher education administrators, and Region IV-W is the largest region, covering an area from Saskatchewan to New Mexico.
FHSU had two of the four Rising Stars for the region, which Assistant Professor Phillip Olt said is uncommon.
"NASPA generally limits one awardee per state unless they truly stand out – even from among those who are exceptional," said Olt, who serves as the coordinator for the HESA program.
Olt pointed to the qualities that made Frank and Fried exceptional candidates for this award.
"Caden and Will stand out as leaders – dedicated rising professionals who put others first and bring a mission-focused and well-rounded approach to this important work," Olt said. "Caden is active in the research and design of effective student engagement and leadership programming for students on our campus, and Will is already becoming a leading national voice on issues related to students with disabilities in higher education."
Olt had similar praise for Westerhold.
"Cody is known among professionals in our field as an innovator and someone who tirelessly works to serve students," Olt said.
The MSE in HESA is a 36 credit-hour program designed around the current theory and practice of higher education with practical, hands-on learning experiences.