Anonymous donations provide Bloomberg Terminals to FHSU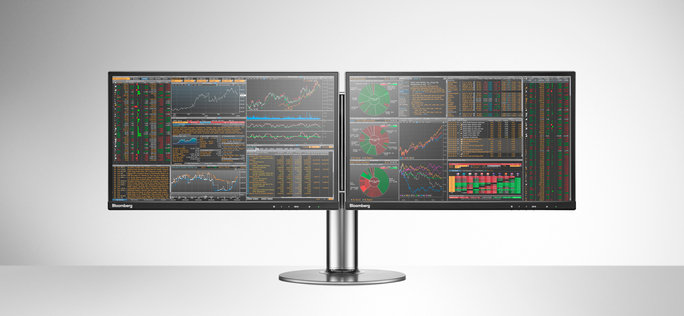 02/21/22 
HAYS, Kan. – Fort Hays State University today announced that finance and accounting students now have access to the Bloomberg Terminal, which is used by leading business and financial professionals worldwide. 
The Bloomberg Terminal provides real-time and historical data, market-moving news, and analytics to help leading business and financial professionals worldwide make better-informed investment decisions. The solution also features electronic trading or trade negotiation tools for every asset class, research, and a global network to communicate securely and reliably.
The Bloomberg Terminal will serve as a resource for both students and professors. It will enable students to become familiar with financial services industry tools, reinforce classroom theory, and allow professors to use the service to further their research.
Dr. Muhammad Chishty, dean of the W.R. and Yvonne Robbins College of Business and Entrepreneurship, said that FHSU's Investment Analytics Lab is now fully outfitted with 12 Bloomberg Terminal licenses, thanks to a lead anonymous donor with a deferred anonymous donor who will help support the investment fund in the future.
"This industry standard source of real time market data and financial news, coupled with the student managed investment fund we have created, will allow our students to develop strong analytical skills that will position them well for a career in the global financial services industry after college," Chishty said.
About Fort Hays State University
Fort Hays State University was founded in 1902 as the Western Branch of Kansas State Normal School on the grounds of Fort Hays, a 19th-century frontier military outpost. 
FHSU is a regional comprehensive public university serving more than 14,000 students. The university excels at developing engaged global citizen-leaders through innovative online and on-campus programs designed to push the boundaries of knowledge and drive solutions that serve the public good. The innovative community of teacher-scholars and education professionals at FHSU is committed to providing an accessible and high-quality education to the citizens of Kansas, the nation, and the world.
Tuition and fees at FHSU are nearly half the national average and substantially lower than peer institutions in Kansas and across the nation. More than 95% of FHSU students secure jobs or pursue advanced educational opportunities after graduation. Academic excellence, affordability, and extensive student support services combine to make FHSU the best value in higher education anywhere.
For more information, contact FHSU Chief Communications Officer Scott Cason at 785.324.2722 or sacason@fhsu.edu.