Award winners recognized at FHSU convocation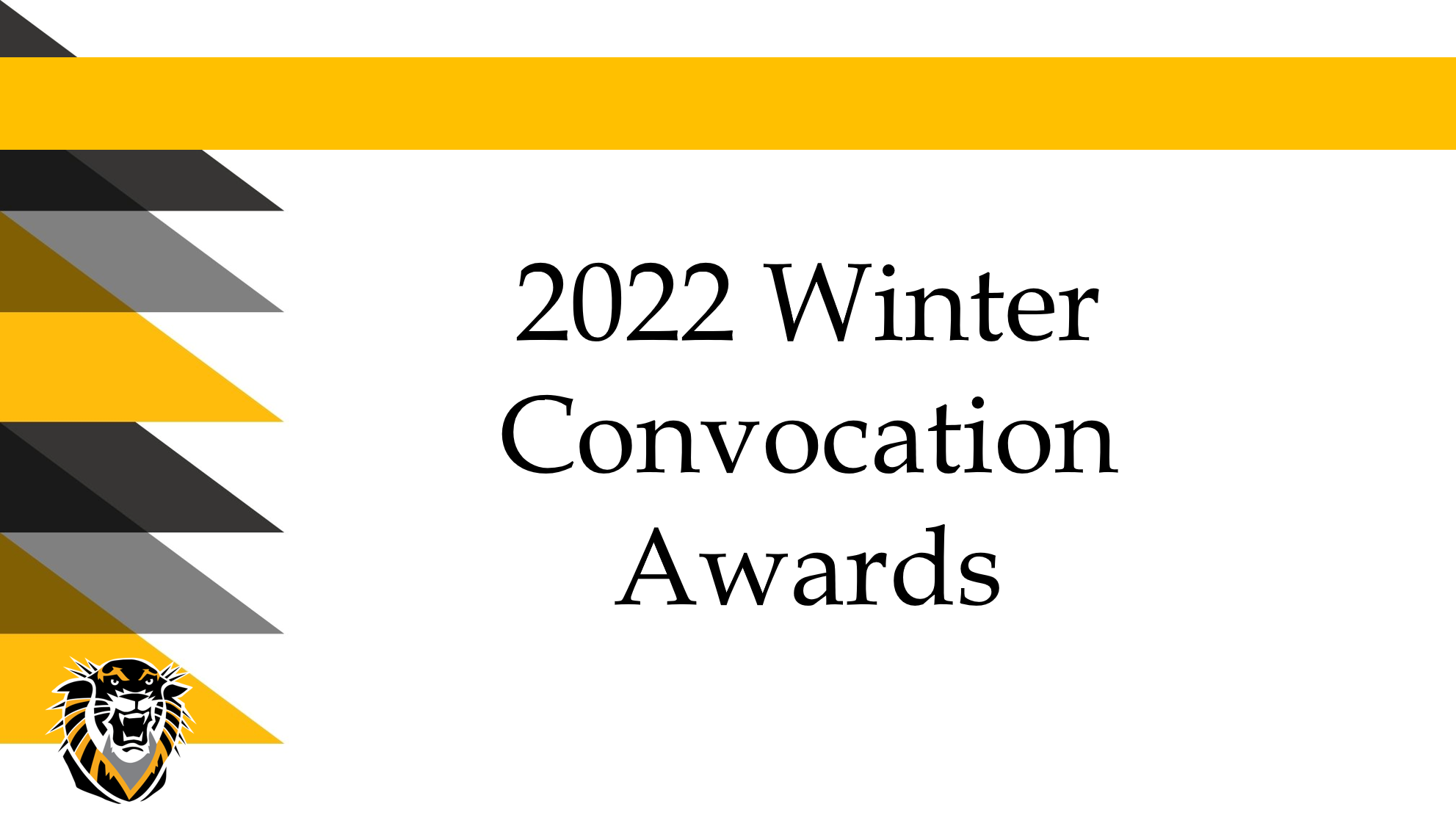 02/07/22 
HAYS, Kan. – Fourteen Fort Hays State University faculty, staff, and students were honored Friday afternoon during the 2022 spring convocation at the Beach/Schmidt Performing Arts Center.
Three faculty members were selected for the faculty awards from the fall 2021 semester, one each in the areas of teaching, scholarly activity, and service. Each person receives a $500 cash award, funded through the support of Commerce Bank. The university deans provide $250 to the departments of the award winners.
Linda McHenry, instructor of English, received the Outstanding Teaching Award.
Dr. Gordon Carlson, associate professor of Communication Studies, was the recipient of the Outstanding Research and Scholarly Activity Award.
The Outstanding Service Award for the fall semester went to Dr. Donnette Noble, associate professor of Leadership Studies.
The Adjunct Faculty of the Year Award recognizes an adjunct faculty member from each of the university's five academic colleges. Each winner receives a $500 cash award. They are:
John Mack, Department of History – College of Arts, Humanities, and Social Sciences.
Brian Hurley, Department of Informatics – Robbins College of Business and Entrepreneurship.
Arlea Carmack, Department of Advanced Education Programs – College of Education.
Breanna Taylor, Department of Communication Sciences and Disorders – College of Health and Behavioral Sciences.
Laura Haffner, Department of Agriculture – Werth College of Science, Technology and Mathematics.
The President's Distinguished Service Awards recognize two staff members, one from University Support Staff (USS) and one from Unclassified Professional Staff (UPS). The awards are presented for longevity, breadth of quality contributions, and the significance of their dedication and commitment to the university. Each receives a $500 cash award.
Linda Kepka, senior administrative assistant for the Department of Economics, Finance and Accounting, was the USS winner.
Derek Johnson, network operations manager in the Office of Technology Services, was the UPS winner.
The Les and Elizabeth Griffin Outstanding Service Awards were presented to two staff members and two student workers in the university's daily operations departments. Each staff winner receives a $500 cash award, and each student winner receives a $250 cash award.
Donna Augustine, horticulture supervisor in the Facilities and Planning Office, received the Griffin Family Outstanding Service Award for Facility Operations-Staff. Amber Neighbors from Wichita received the Facility Operations-Student award. She is a warehouse/delivery assistant in Central Purchasing.
Maria Rohr – salad bar/cashier for Chartwells – was the recipient of the Outstanding Food Service-Staff award. Danny Garcia from Garden City, shift lead at Starbucks in the Memorial Union, was the Food Service-Student award winner.