FHSU making an impact with new partnership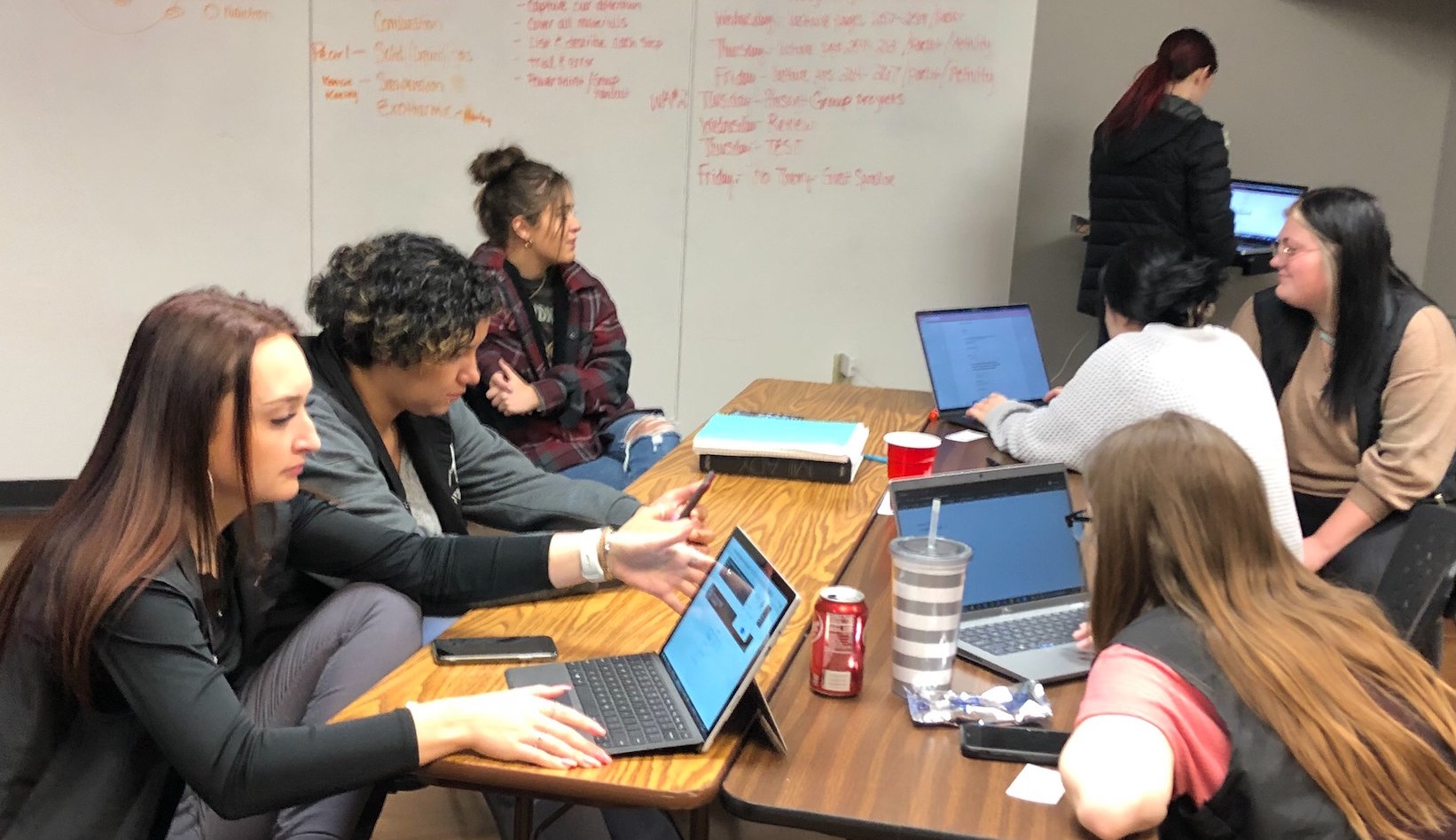 02/03/22 
HAYS, Kan. –  Fort Hays State University launched a partnership this semester with Hays Academy of Hair Design that will provide Hays Academy students the opportunity to take four business courses while working toward a Business Essentials Certificate.
This partnership is similar to the Gateway Program through FHSU and the North Central Kansas Technical College. NCK Tech students can either pay the student fee or enroll in at least one FHSU class and pay appropriate student fees to enjoy some of the same services offered to Fort Hays State students. Some of those include access to campus services, participation in student activities and organizations, and on-campus student housing.  
Those services also are available to Hays Academy students with this new partnership, which could expand in the future. The inaugural kickoff of the partnership features the business certificate, which Hays Academy co-owner Len Melvin thinks will help his students tremendously.
Current Hays Academy student Brylee Rupp from Hays – and her grandmother, Roxie Patterson – say they already have reaped benefits. They are both students in the first certificate class, Understanding Personal Finances.
Patterson had not taken a college business class when she began her career in cosmetology 42 years ago. The Hays woman is so pleased that opportunity is now available for her granddaughter that they are taking business classes together.
"I'm going to be my own contractor at 19 years old," said Rupp, who will graduate from Hays Academy later this month and begin her cosmetology career at a local salon. "I don't know how to budget a business, so I really want to gain more education about dealing with all the finances with my business. I am excited about learning all I can."
Patterson, long-time owner of Roxie's Hair Design and Tanning Salon in Hays, said she had to learn on the fly when she first started her business but has taken a variety of FHSU classes over the years. She thinks this opportunity for Hays Academy students is invaluable. She said that she has learned some new things after only two classes under instructor Andy Cutright.
"Andy has been so good at opening these students' eyes about what to expect with a business and even their personal finances. It's a very good opportunity for these young people to be able to take these cases. I've even learned some things already."
Dr. Dennis King, associate vice president of enrollment management at FHSU, mentioned housing as another challenge this partnership will help students overcome.
Hays Academy features four different start dates for classes for cosmetology students, in February, May, August, and October. Each cohort attends class for nine months, during which they complete 1,500 clock hours. That can make it difficult to find housing in the middle of a school year, especially in a college town. Now, FHSU – provided it has space in one of its residence halls – will offer housing contracts to Hays Academy students on a month-to-month basis. That service also will be beneficial for students taking the academy's three-month nail technology program.
"This way, academy students coming in on, for example, the October start date, can have a place to live immediately instead of trying to find a house or apartment in the middle of the university semester," King said. "It's a unique set-up, one that I think will work really well. We are pleased to add this partnership with Hays Academy."
Four classes developed by Fort Hays State faculty make up the Business Essentials certificate. A Management Practices class will follow the Personal Finance classes. The other two will be offered in the fall 2022 semester: Basics of Accounting and Taxes and Social Media Marketing.
Each of those classes will run from 4:30 to 6:30 p.m. every Monday for eight weeks, and Rupp and Patterson plan to enroll in the other three as well.
"I really want to get this business certificate," Rupp said, "and I am so thankful this is available now."
The first class began on Jan. 24. Cutright, assessment and operations coordinator for the Robbins College of Business and Entrepreneurship, developed the Understanding Personal Finance class and said he is enjoying teaching it.
"I've taken pieces from different reputable sources such as the FDIC and banks," Cutright said, "and compiled it to address the main topics a person would benefit from in a personal finance course."
Dr. Stacey Smith, chair of the Department of Applied Business Studies, worked with faculty in facilitating the development of the courses for the certificate.
"These students already do some business coursework at the academy," Smith said, "so I think this will be a great partnership to help them enhance and build their business knowledge."
"This is the heart of what our community is about - working together," Smith added. "Those involved with this initiative worked hard to create a fit between FHSU's courses and the students' work schedules at the HAHD. That's one of the things I like about Fort Hays State. We are always adapting to our audience, to our customers."
King sees the partnership as "a win-win all across the board."
"This helps the community. It helps the hair academy recruit; it helps us recruit," he said. "It helps our overall student experience, exposes all of us to people who are pursuing different majors."
Hays Academy's Len Melvin – an FHSU alum – couldn't agree more.
"I wanted our students to feel like they were getting a college experience, but our schedules are different than those at the university and technical college," he said. "This partnership will allow them to get a taste of campus life and get some good business education, too. This is a perfect fit."