FHSU's Hobson: 'My assistants are second to none'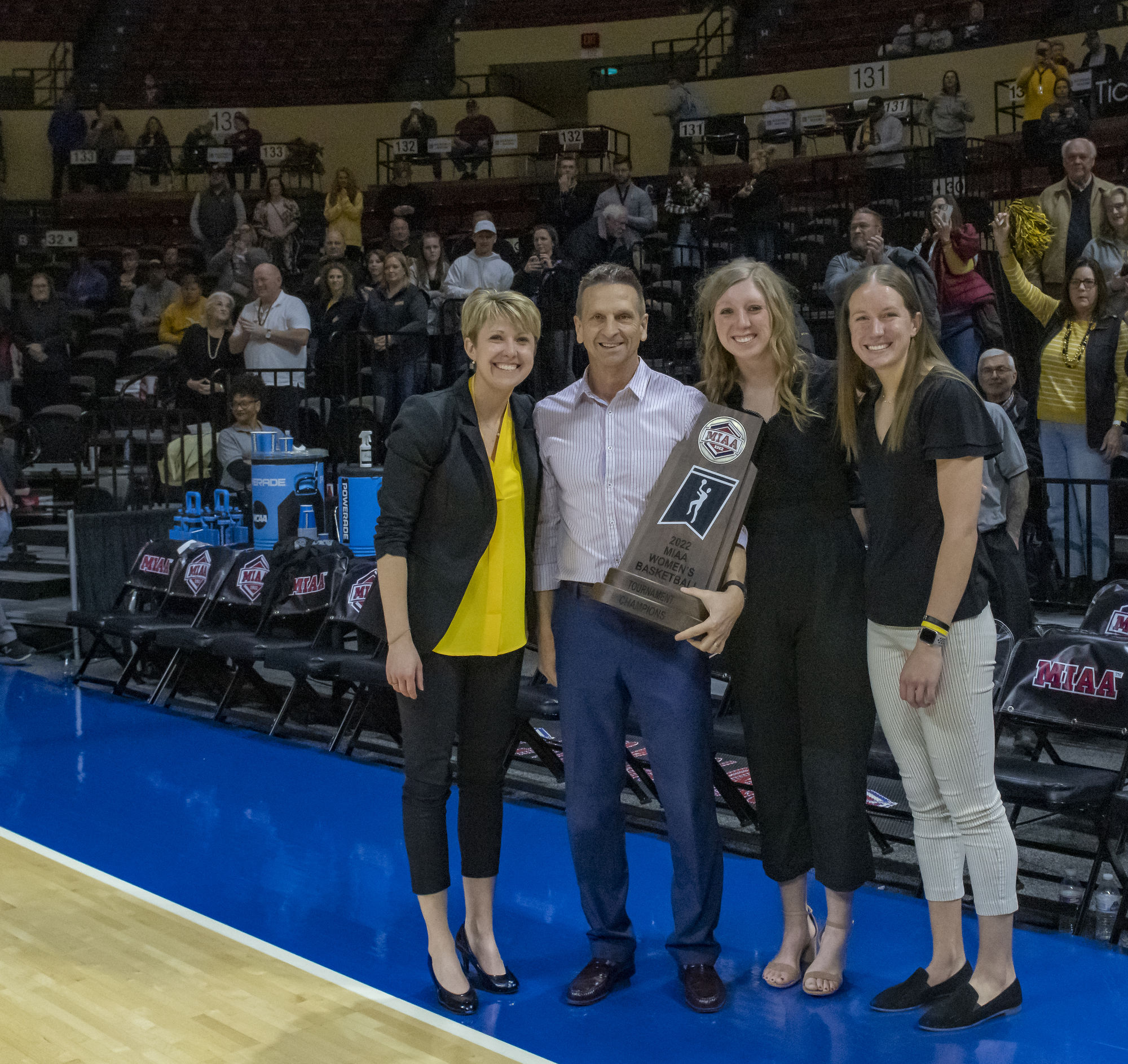 03/11/22 
By Diane Gasper-O'Brien
FHSU University Communications
HAYS, Kan. – During a three-week stretch in the first semester, the Fort Hays State University women's basketball team was ranked No. 1 in the nation among all NCAA Division II schools.
Tiger Head Coach Tony Hobson will tell you that his assistant coaches  are the best in the country every week.
Hobson is the coach you will see pacing the sidelines at this weekend's NCAA Division II Central Regional at Gross Memorial Coliseum. With his game face on, Hobson will call out plays to his team and even chat a little with referees as they run down the court.
But the assistant coaches on the bench play just as vital of role for the Tigers, the fourth-ranked team in NCAA D-II and the top seed in the Central Regional with a 28-3 record.
Both Talia Kahrs and Paige Lunsford are former FHSU players of Hobson's – and it's no coincidence they are still a part of his team.
"When I hired Talia or Paige I knew exactly what I was getting," said Hobson, in his 14th year at FHSU. "I knew them personally and the type of loyalty they had for our program and for me. I knew their work ethic and their knowledge of basketball. They were easy hires."
Hobson calls coaching with two of his former players a luxury. It got even better last year when former Tiger standout Kacey Kennett joined the staff as a volunteer assistant.
Kennett, a four-year starter for the Tigers from 2017-20, is working on her master's degree in health administration. She would like to coach someday and jumped at the chance to absorb more of Hobson's acumen.
Ditto for Kahrs and Lunsford.
Kahrs was recruited by Hobson in 2007 when he coached at Hastings College in Nebraska. A daughter of a high school coach, Kahrs was familiar with a coaching life. She followed Hobson to FHSU when he was hired as the new Tiger coach in 2008, and they have been together ever since.
After receiving her undergraduate degree in 2012, Kahrs was offered a job to coach volleyball and basketball at Trinity Bible College in North Dakota. But the opportunity to coach with – and learn more from – Hobson was too great to pass up. She said "no" to the college job in North Dakota and decided to begin work on a master's degree at FHSU. Hobson's assistant at the time then accepted a head coaching job in Nebraska, and Kahrs took over the Tigers' assistant role.
"That was a big decision back then," Kahrs said. "Looking back, it was definitely a blessing that I decided to stay at FHSU and work on my master's."
Indeed.
Hobson is the winningest coach in FHSU women's basketball history (310-108 record), and Kahrs has been a part of it all. The decision to stay in Hays has worked out personally, too. Kahrs met her husband, Garrett, while in graduate school. He now drives the Tiger bus on road trips, and their 3-year-old daughter, Malaki, gets to tag along with them.
Lunsford, who played for Hobson and the Tigers from 2012-16, did try her hand at college coaching away from Hays for one year. She graduated from FHSU in 2016 and joined the staff at Barton Community College in Great Bend. But the pull to return to her hometown – and FHSU – won out.
"Fort Hays State has been nothing but a blessing to me since I stepped on campus as a freshman," said Lunsford, a former standout at Hays High School. "I loved playing for Coach Hobson and Talia, so I decided to come back and get my master's and coach with them as a grad assistant."
A third full-time coaching position was added for both FHSU men's and women's basketball in 2019.
Hobson said it was an easy decision who that would be for the women's program. He said only once in his 30-year career has he hired he didn't know personally. That didn't work out, so he hasn't done it since.
"When you hire someone you are familiar with, not only do you know them, but they know you," he said. "That takes away a lot of the uncertainty of hiring new coaches."
Kahrs and Lunsford are certain they made the right choice, too.
"Besides all his basketball knowledge, Coach Hobson is really passionate about the game and really cares about his players," she said. "I admire all of those things in him."
Lunsford agreed, saying the consistency of the FHSU coaching staff is invaluable.
"We know what Coach expects, and you don't have to wonder what he wants done," Lunsford said. "We're all able to do our individual roles really well, which makes our collective effort more successful."
The collective effort of this Tiger threesome is the epitome of success. After winning the MIAA regular-season and tournament titles, the Tigers earned the right to host the Central Regional for a third time.
Anyone watching this weekend's FHSU's regional games, whether in person or online, will see Hobson strolling the sideline, game face on.
He obviously knows what he's doing. He won three national championships at Hastings College and has coached FHSU to NCAA D-II tournament appearances seven of the past eight years.
But, Hobson says "there's nothing in our program that Talia or Paige can't do."
That has to be a scary thought for opponents.