Registration open for summer KAMS camps at FHSU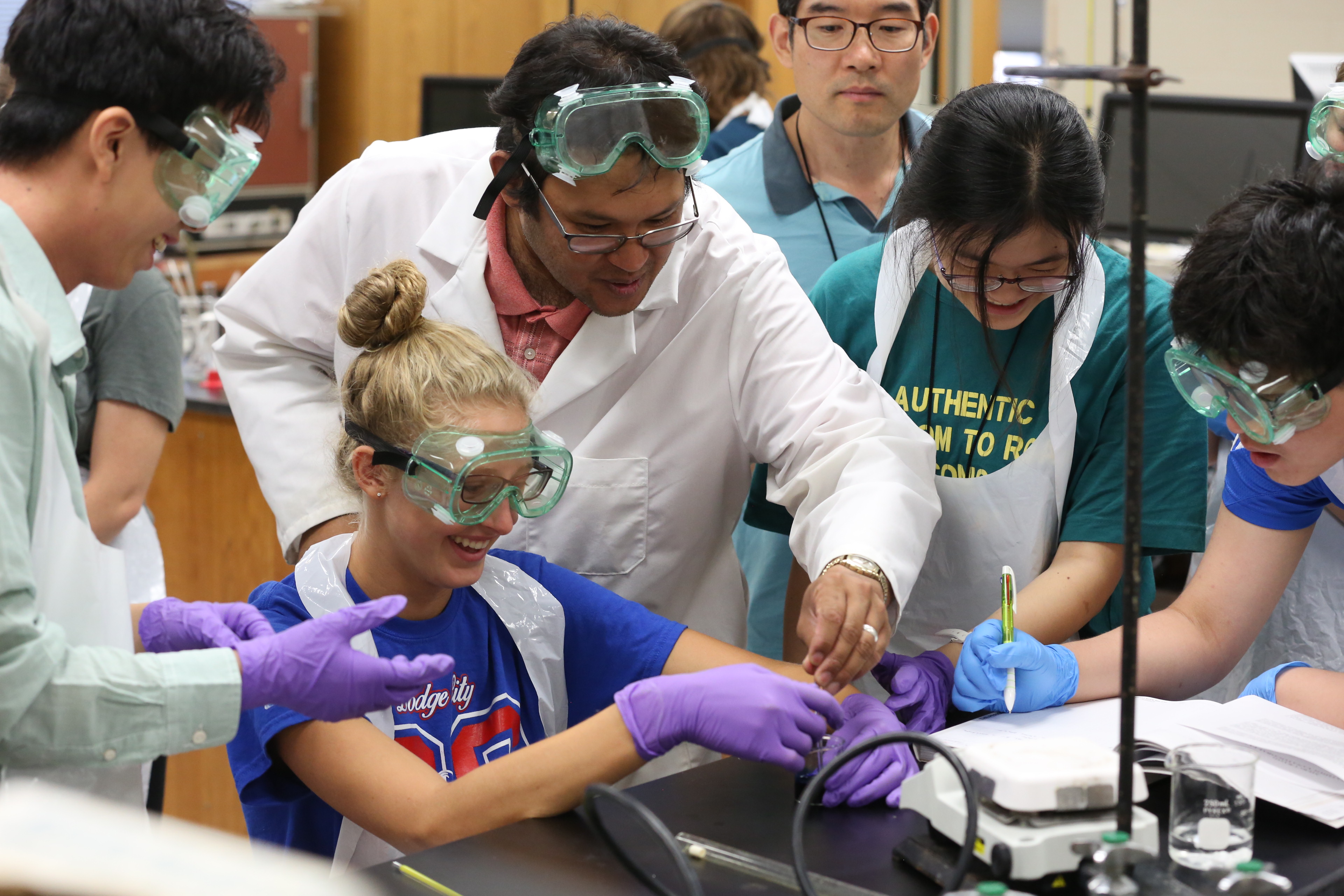 03/16/2022 
By FHSU University Communications
HAYS, Kan. – Openings are filling up quickly for the STEM-focused summer camps hosted by Fort Hays State University's Kansas Academy of Mathematics & Science (KAMS).
KAMS offers four engaging camps in June for incoming 9th- and 10th-grade students. Each are four-day residential sessions.
 Students will participate in various hands-on academic activities during the day with FHSU faculty, as well as activities in the evenings. Camp staff will be available day and night for the students. 
The 2022 camps and dates are:
June 5-9 – Engineering: When Computer Aided Design Collides with Virtual Reality. The use of virtual reality (VR) is exploding across the engineering and industrial design world. At this highly interactive camp, students will utilize the latest technology, new skill development, and project engineering in 2D and 3D environments through AutoCAD and Autodesk Inventor. Using the innovative equipment and software featured at the FHSU Center for Applied Technology, students will create drawings to be imported into a VR environment for viewing and manipulation in space. Join us for a unique virtual reality experience!
June 12-16 – Chemistry: Alternative Energy Sources. Budding scientists will enjoy this experiment-based camp packed full of hands-on learning opportunities in state-of-the-art chemistry labs on the FHSU campus. Campers will be exposed to problem-based activities that feature an exploration of alternative sources of energy, ranging from solar and electrical energy to biofuels. Experiments will include fabrication of dye-sensitized solar cells and synthesis of quantum dots and biodiesel from avocado fruit! Students will leave camp having gained a basic understanding of cutting-edge nanoscience and nanotechnology that they can use to explore the world around them.
June 19-23 – The Science Behind Fantasy Football. The world of fantasy sports is quickly shifting from a sports fan's hobby to a data scientist's career. At this camp, students will be shown the basics of data science, the fastest growing field in the STEM disciplines. Campers will be given the tools necessary to process data and use inferential statistics to predict outcomes and find correlations in sports statistics and fantasy football drafts. Use next-generation data science to build your next league-winning team!
June 26-30 – Glaciers Don't Lie: Understanding Climate Change. The measurable differences of our world's ever-changing glaciers are viewed as one of the most important indicators of climate change. At this camp, students will learn about the composition and characteristics of glaciers through experimentations, observation of virtual reality/360 videos, and unique historical data. Campers will then team up to build an understanding of the history of a glacier through 3D printing, photos, satellite imagery, and more. At the end of the camp, students will present their findings to fellow campers, local educators, and professional scientists. The key components to understanding climate change are right here at your fingertips!
The registration fee per camp is $50 for Kansas residents and $400 for non-Kansas residents per camp. Registration deadline is May 1, with a priority deadline of April 1. Camp fees include a four-night stay in an FHSU residence hall room, meals, campus supplies, and KAMS swag. Registration will be on a first-come, first-serve basis with a maximum of one camp per student. 
For more information about the summer camps, contact KAMS Camp Director Sheila Clark by phone at 785.628.4168 or by email at kamssummer@fhsu.edu. The registration brochure can be downloaded here:  REGISTRATION BROCHURE.