FHSU announces plans for new athletic complex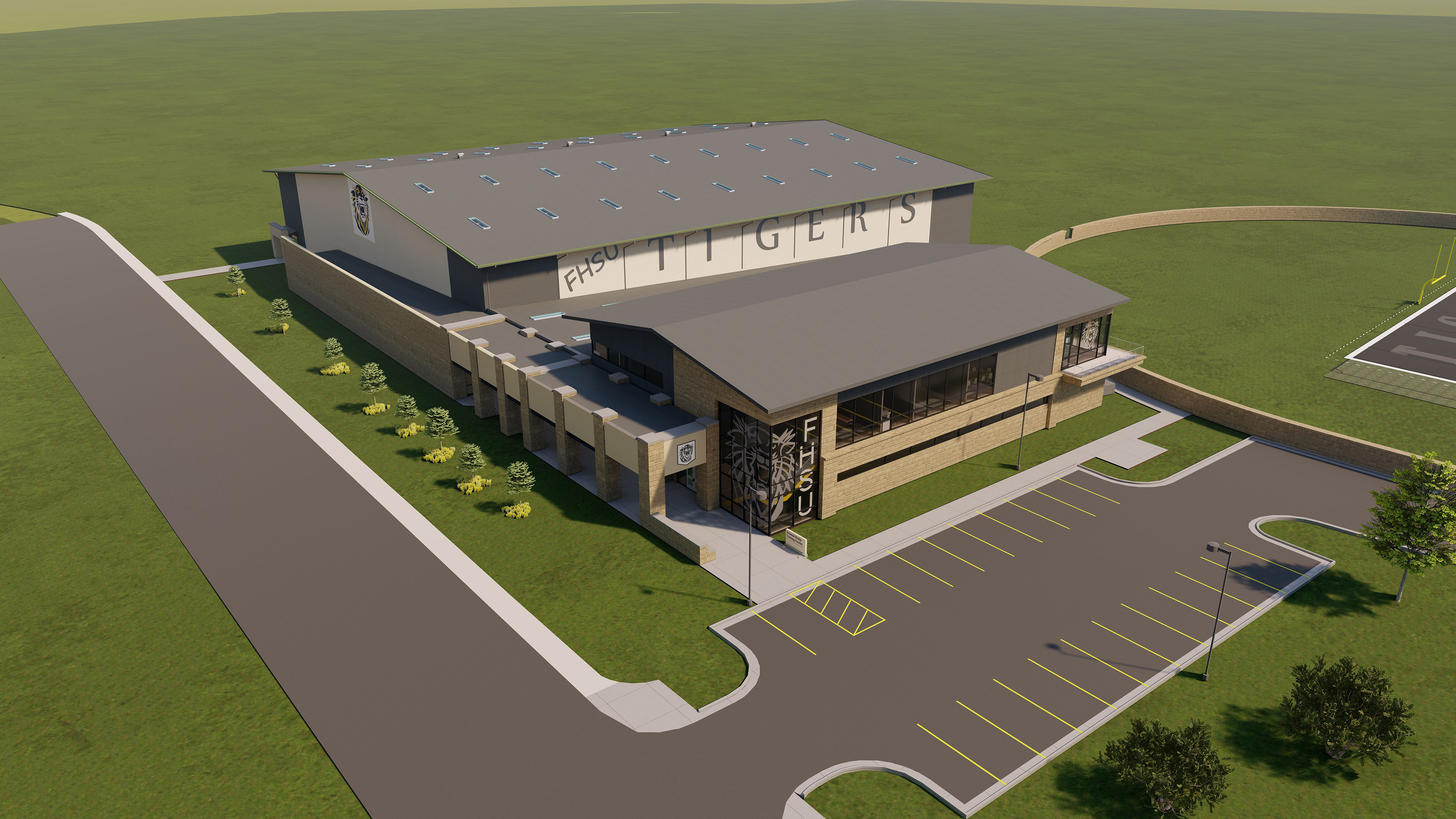 04/28/22
By FHSU Foundation
HAYS, Kan. – Fort Hays State University unveiled plans for a new athletic complex Wednesday. The Schmidt-Bickle Athletic Complex will be a $6.5 million, two-story facility that will span nearly 20,000 square feet.
The facility is possible thanks to two generous $1.5 million-lead gifts from the Schmidt Foundation and Don and Chris Bickle. Don and Chris Bickle are longtime donors of FHSU, as were the late Bob and Pat Schmidt. Those two local couples were never afraid to dream big when it came to supporting student-athletes at Fort Hays State. That philanthropy is continued today through the generosity of the Bickles and the Schmidt Foundation, which carries on Bob's and Pat's legacy.
The new complex will be located adjacent to Lewis Field. It has yet to be determined whether the complex will be attached to the current Schmidt-Bickle Indoor Training Facility or if it will be a freestanding building in the south endzone of Lewis Field.
The first floor will feature a locker room and training room, and the second floor will provide football coaches offices and additional meeting rooms. A theater-style meeting room will allow the full football team to come together to review game footage.
A locker room large enough to house the entire Tiger football squad will be new for Fort Hays State. Currently, the football team is split between two locker rooms, which is not ideal, said Layke Heimerman, a senior Tiger linebacker from Halstead.
"Although I'm a senior and won't have the opportunity to benefit from this facility, I'm very excited to see a facility like this come to FHSU, as I care deeply about the program and the future success of it," Heimerman said. "Having the entire team under one roof will be huge for our program. Not only will this help with the development of freshmen and allow each student-athlete to feel like they're part of the team, but it will create more camaraderie in the locker room and ultimately lead to stronger team chemistry."
Heimerman touched on the need for new team meeting rooms as well.
"Specifically for our linebacker group, we had 16 guys this fall – all meeting in one 8x11-foot room," he said. "Due to the lack of meeting space available, we're forced to meet in piecemeal groups that can add stress to our players and coaches."
The new athletic complex will improve physical needs and demands for Tiger Athletics and will also be a big plus with recruitment. A state-of-the-art building can attract and retain high-level student-athletes, which translates into more competitive teams well into the future.
"With the growth of our athletic department over the years, we have simply outgrown our current training facilities and a building like this will allow for a boost in student-athlete care," said Nate Hepner, head athletic trainer for FHSU Athletics, who said the new facility will house a state-of-the-art hydrotherapy area including a walk-in hot tub and cold tub along with a game-changing underwater treadmill.
"With these additions, our new athletic training room will be on par with many Division I universities and professional teams, but most importantly will set us apart as a leader in sports medicine across the highly competitive MIAA conference, as well as Division II as a whole," Hepner added. "Our student-athletes make a commitment to Fort Hays State, and the new Schmidt-Bickle Athletic Complex will showcase the university's commitment to keeping those students healthy while they compete."
Chris Brown, head football coach at FHSU, thanked Tiger Nation, saying "we have some of the greatest supporters in the country."
"Words can't explain how grateful we are. Without you and your support we wouldn't be where we are today," Brown said. "We appreciate all that you do for Tiger Athletics, and may God bless each and every one of you." 
Additional fundraising for the athletic complex is underway. Those interested in helping to make this project a reality, contact Jared Schiel with the FHSU Foundation at 785-628-5755 or jschiel@fhsu.edu.