HCI scheduled for June at Fort Hays State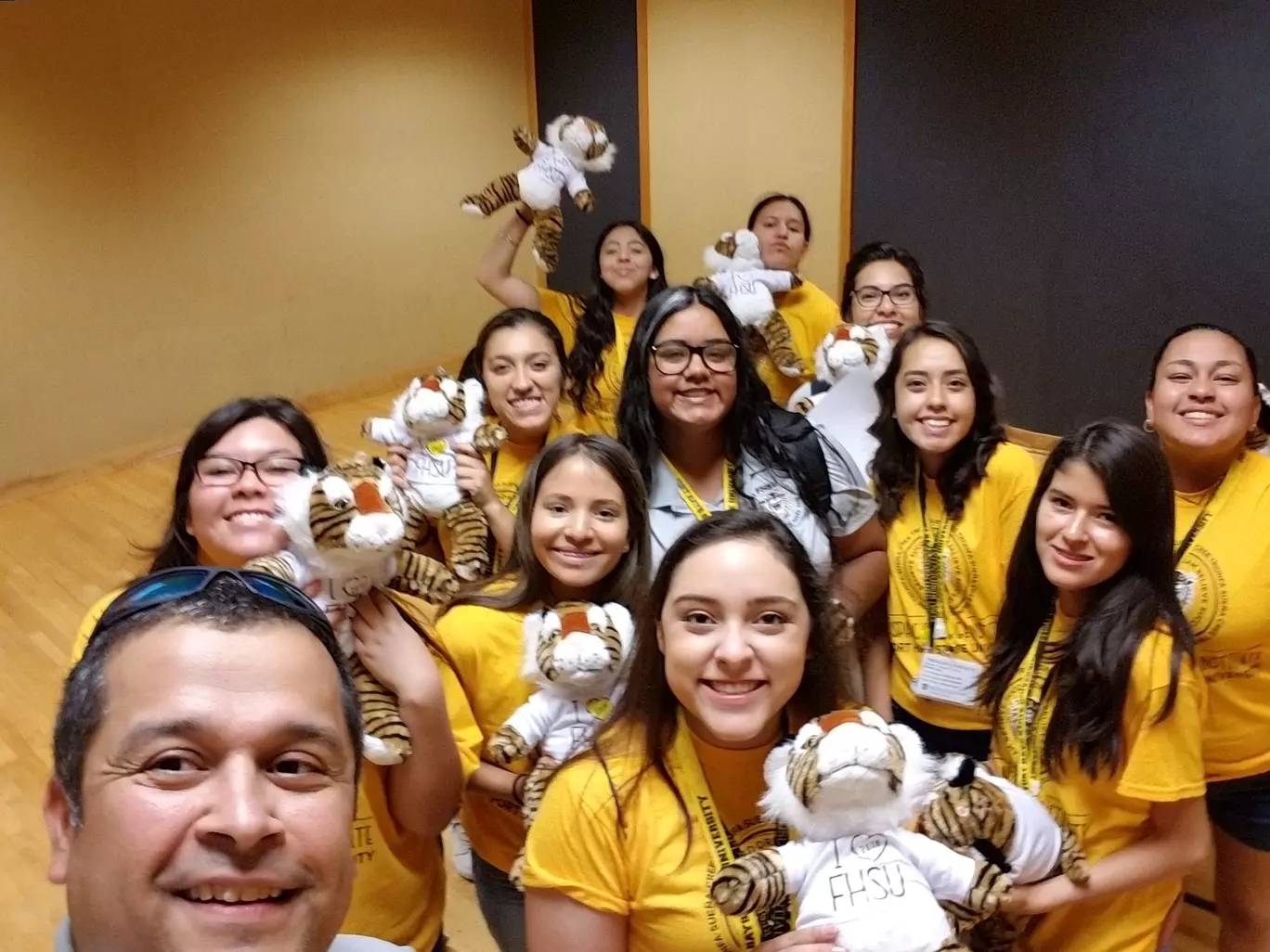 04/29/22
By FHSU University Communications
HAYS, Kan. – For the first time since 2019, Fort Hays State University's Hispanic College Institute (HCI) will be back to a full schedule in June.
The HCI is a free, four-day residential program held on the FHSU campus. It is targeted at first-generation high school students who are entering their junior or senior year in the 2022-23 academic year. However, any high school student entering their junior or senior year in high school is welcome to attend. Fort Hays State provides free transportation to campus for the students, and there is still time to sign up. More information can be found at https://www.fhsu.edu/hci.
After the pandemic forced the cancelation of the HCI in 2020, it was held in a shortened format last year. Hugo Perez, assistant director of admissions at FHSU, said he and the rest of the HCI planning committee are looking forward to returning to the full four-day, three-night schedule.
Perez well remembers the challenges he faced when trying to apply for college as a senior at Salina Central High School. Neither of his parents, natives of Mexico, were high school graduates. The only frame of reference to post-secondary education for Perez was an uncle who attended college.
So he always gets a feeling of exhilaration this time of year while preparing for the annual HCI.
"Growing up in Salina, most Hispanic students always thought we would work at Tony's Pizza or Exide Battery because that's what our parents did," said Perez, the oldest of three siblings. "To even able to have the knowledge that you anyone can go to college if that's what you desire to do is huge."
Perez did attend college and graduated from Garden City Community College and Fort Hays State. But he knows the process would have been easier had he been able to attend the HCI or a program like it.
"It would have given me a path of less resistance, showing us the ropes of even where to start," he said. "With my parents not having gone to college, that whole experience was eye-opening."
Students will learn about foundations for success in college, beginning with how to fill out applications for college as well as for financial aid. They will hear from FHSU alumni, telling about the impact that the Fort Hays State education experience has had on their lives. And they will make new friends.
The HCI gives students a taste of college life while introducing them to the beautiful Fort Hays State campus.
This year's HCI is set for June 1-4. Perez said he can see a difference in students from the time they walk on campus to their departure date.
"The more students we get here, the more students who learn about the college experience," he said.
"To get an understanding of what college is all about is a tremendous benefit for students," he said. "The majority of students who come to HCI are first-generation students. This is a way of making them aware of and guiding them through the financial aid and application process – just getting a taste of what college life is like – is so beneficial to them. They find out that they can follow their dream of attending college."