Fort Hays State announces 2022 commencement award recipients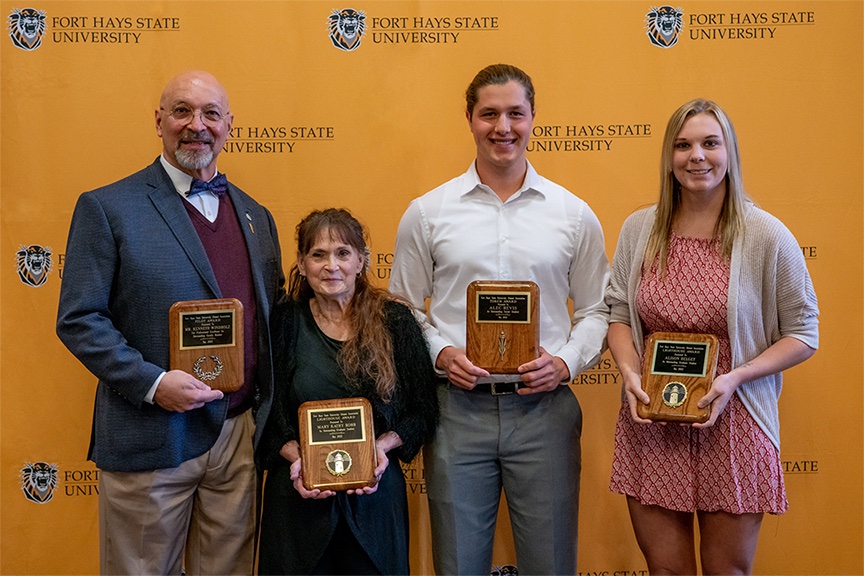 05/03/22
By FHSU University Communications
HAYS, Kan. – Fort Hays State University announced 2022 commencement award recipients at a press conference in the Memorial Union this morning. The three highly coveted awards recognize outstanding efforts and achievements of FHSU students and faculty.
"It really is an honor just to be nominated for these awards," said Dr. Grady Dixon, dean of the Werth College of Science, Technology and Mathematics. "These awards showcase the best and brightest. You see, you don't nominate yourself. You don't apply. You don't hit some standard that you've been working toward. These nominations are organic and come from those who feel you're worthy of being honored."
Alec Bevis, Wichita, received the Torch Award as the outstanding graduating senior of the class of 2022 at Fort Hays State University.
The Torch Award was created in 1974 as one of three annual commencement awards given by the FHSU Alumni Association.
Alison Helget, Hays, and Mary Kathy Robb, Kansas City, Mo., were co-winners of the Lighthouse Award honoring the outstanding graduate student for the academic school year. This award was first given in 2018.
Kenneth Windholz, instructor of psychology, was named the recipient of the Pilot Award as the outstanding faculty member for the academic school year. The Pilot Award was created in 1974 and is based upon nominations from the current graduating class.
Bevis, a graduate of Bishop Carroll High School, will receive a Bachelor of Science degree in chemistry with an emphasis in biochemistry and plans to pursue a graduate degree in biochemistry. He has multiple Ph.D. program offers pending.
A member of the FHSU Honors College, Bevis has served as a mentor in the organization's peer-mentor program. He stated that the Honors College has opened the door to many opportunities through scholarships and peer networking. He has worked as an undergraduate research assistant for the Department of Chemistry since 2020.
Bevis has served as team captain of the Tiger men's soccer squad since 2020. He has earned numerous honors for the Tigers – for his work both on and off the field – including several All-America recognitions. He was the first player in FHSU program history to be named to the United Soccer Coaches Scholar All-America team.
One of Bevis' nominations said that "the Torch Award defines who Alec is. He possesses the qualities that make a student successful in scholarly activities, and he exhibits those same qualities FHSU seeks to develop in students inside and outside of the classroom."
Alison Helget, co-winner of the Lighthouse Award, has maintained a perfect 4.0 GPA while earning her bachelor's degree in history from FHSU in three years, while working toward her Master of Arts in history.
Helget has earned numerous honors at FHSU, where she serves as president of both Phi Alpha Theta, a history honor society, and the FHSU History Club. She is co-founder and co-editor of Interdisciplinary Journal for the College of Arts, Humanities, and Social Sciences and will be published for the second time in a history journal this summer. She is the lead researcher for Imagine Ellis County's "An Economic History of Ellis County the Last 70 Years," and serves as a tutor for English and history.
Helget – a longtime volunteer, instructor, and coach for the Hays Recreation Commission – plans to continue her education this fall when she begins working on a Ph.D. at Texas Christian University.
One of Helget's nominators, in recommending Helget, said that "Alison represents the values and scholarly excellence of Fort Hays State University. She is an exceptional student who is driven and dedicated. I can think of no better representative of the Lighthouse Award than Alison Helget."
Mary Kathy Robb, co-winner of the Lighthouse Award, is also graduating with a perfect 4.0 GPA with a Master of Fine Arts with an emphasis in ceramics. During her FHSU career, she earned three Graduate Scholarly Experience grants and put one to use in developing a unique blend of fired and unfired surfaces on one of her ceramic sculptures.
As a member and officer of the Ceramica Clay Club, Robb presented workshops to fellow students. She is described as "a leader in the studio, who set the pace for spending focused time in making her sculpture."
Robb's work has been displayed throughout Kansas, including in Hays, and has been featured in regional competitions as well. Her master's thesis, "Human Nature," featured an immersive experience in living and connecting with our planet and its creatures with her thesis project leading to a 600-pound crocodile made out of porcelain.
A nomination letter described Robb as "a highly engaged learner and artist. As a leader in the studio, she inspired others to get busy and make art. She is a fine example of a creative lifelong learner."
Kenneth Windholz, the Pilot Award recipient, is highly regarded for his teaching style and "keeping students engaged through the class."
"I imagine that students feel they are having conversations with Ken rather than passively listening to a lecture," wrote Dr. Dharma Jairam, chair of the Department of Psychology. "Ken expertly and effortlessly weaves personal and professional stories into his discussion of course content."
Windholz was nominated by four separate students for this award. He is described as "not an excellent instructor, rather an exceptional one. … He is a major ally for mental health in the community. … Ken's positive regard for students has made my time at FHSU unforgettable … You could not ask for a better person, a better man, a better human."
Windholz is also described as a masterful teacher who does not look at his role as a faculty member as "just a teaching job. Ken is a model mentor to students. He is always available to students, and he is always going the extra yard, even if it means meeting with students at odd hours of the evening or weekend. It is extraordinary to see the long-lasting connections that Ken has formed with students."
Windholz, also a clinical psychologist, is a member of numerous professional organizations. Locally, he is president of the Hays Baseball Association board and is the longtime public address announcer for Tiger football and basketball games.
At Tuesday's announcement, Windholz concluded his acceptance speech with one of his favorite quotes – one that Windholz likes to live by: "The best teachers are those who show you where to look but don't tell you what to see."
Torch Award and Lighthouse Award candidates are nominated by members of the faculty and staff on the basis of classroom excellence; leadership; participation in campus, community, or national organizations; and involvement in student, civic, or research activities. Nominees are graduating seniors or students who graduated in December of the previous semester.
Pilot Award candidates are nominated by graduating seniors on the basis of classroom excellence, ongoing research, and service activities.
To learn more about the awards presented visit www.FHSUalumni.com/commencement-awards or contact the Fort Hays State University Alumni Association at 785-628-4430 or alumni@fhsu.edu.