Students honored at annual KAMS/AMS ceremony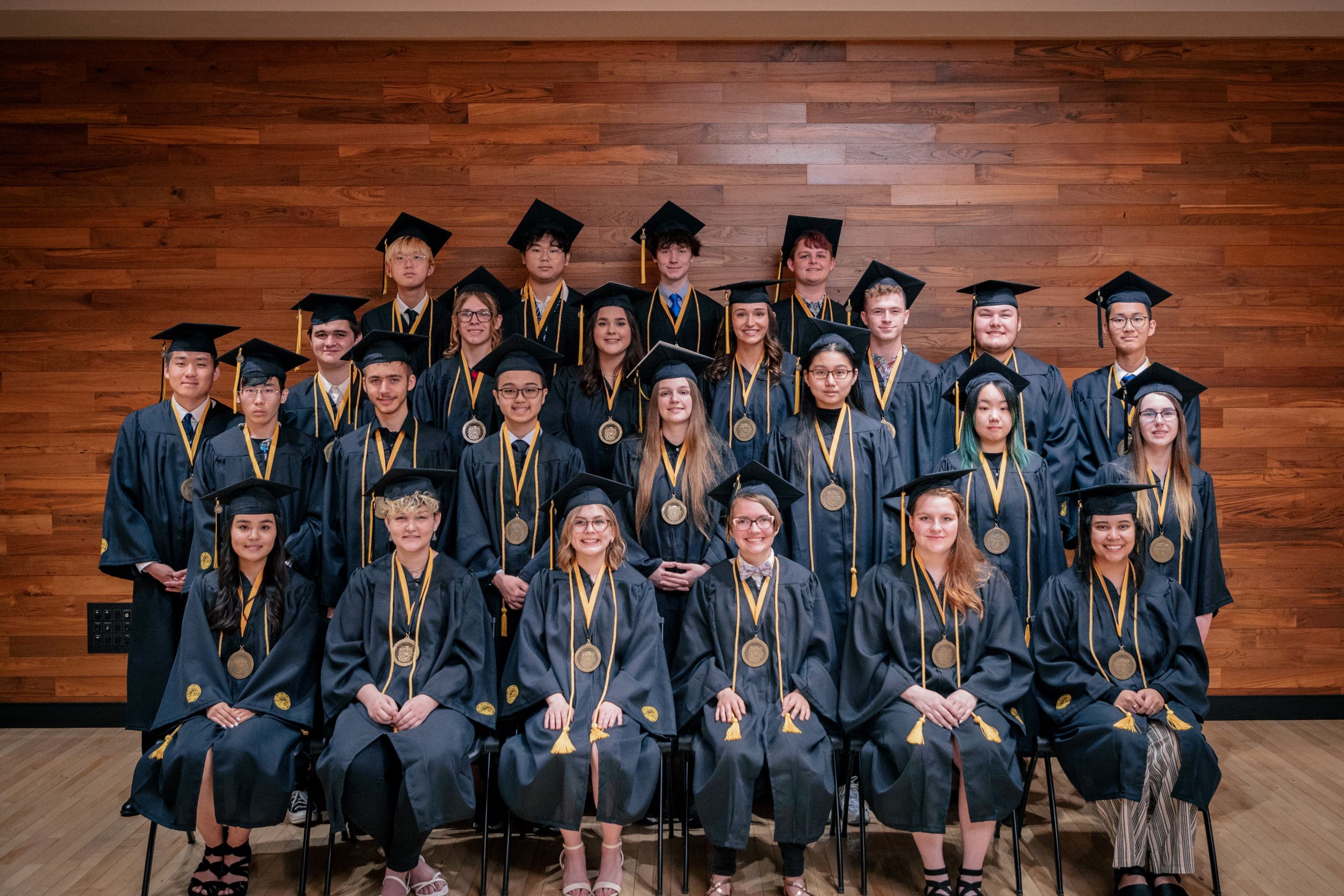 05/12/22 
By FHSU University Communications
HAYS, Kan. – Twenty-eight students from the Kansas Academy of Mathematics & Science (KAMS) and the Academy of Mathematics & Science (AMS) were honored at the 2022 completion ceremony Saturday in Fort Hays State University's Memorial Union. This was the 12th graduating class of the program.
KAMS is Kansas' premier early college residential program designed to provide a STEM-focused academic experience for gifted and talented high school juniors and seniors. AMS is an early college program open to international and out-of-state domestic students, offering an unparalleled educational experience for gifted and talented high school students.
This year's student speakers were Cooper Krueger from Bonner Springs and Yao-Wen "Joe" Liu from Taiwan. Student speakers are selected based on academic success achieved during their time in the program and involvement in clubs/activities, research, and community service.
Liu, who is planning on majoring in computer science at the University of Florida next year, thanked everyone who helped him succeed in the program but focused primarily on his friendships while in KAMS.
"My roommate really helped me adjust," Liu said. "We made memories that can't be bought with money, memories I will cherish for the rest of my life."
Krueger, who is planning to study fisheries and wildlife biology and entomology at Michigan State University, focused on the opportunities the KAMS/AMS programs provide while acknowledging its rigor.  
"This is not a program for everyone … and the path to get here was full of challenges," Krueger said.
"We would not have made it without each other," Krueger admitted, thanking faculty, staff, and the other graduates for their support and friendship. "It has been an honor to be a part of the KAMS/AMS 2022 cohort."
Will Burns, director of Early College Programs at Fort Hays State, shared some facts about this year's KAMS/AMS students. 
This class earned over $1 million in scholarships for the next academic year.
This class's average exiting ACT composite was a 30 composite, which is at the 93 percentile of all national exam takers.
The average exiting SAT score was 1465, which is at the 98 percentile.
"These extremely gifted, talented, and innovative seniors will be the movers and shakers of tomorrow," Burns said.
While continuing on to universities across the nation, including schools like the Massachusetts Institute of Technology and Carnegie Mellon University, many KAMS/AMS students choose to stay in Kansas, with eight planning to stay at Fort Hays State. No matter where they choose, it is clear that these students are headed for great things.