FHSU Announces 2022 Tiger Gear on Friday Community Partner of the Year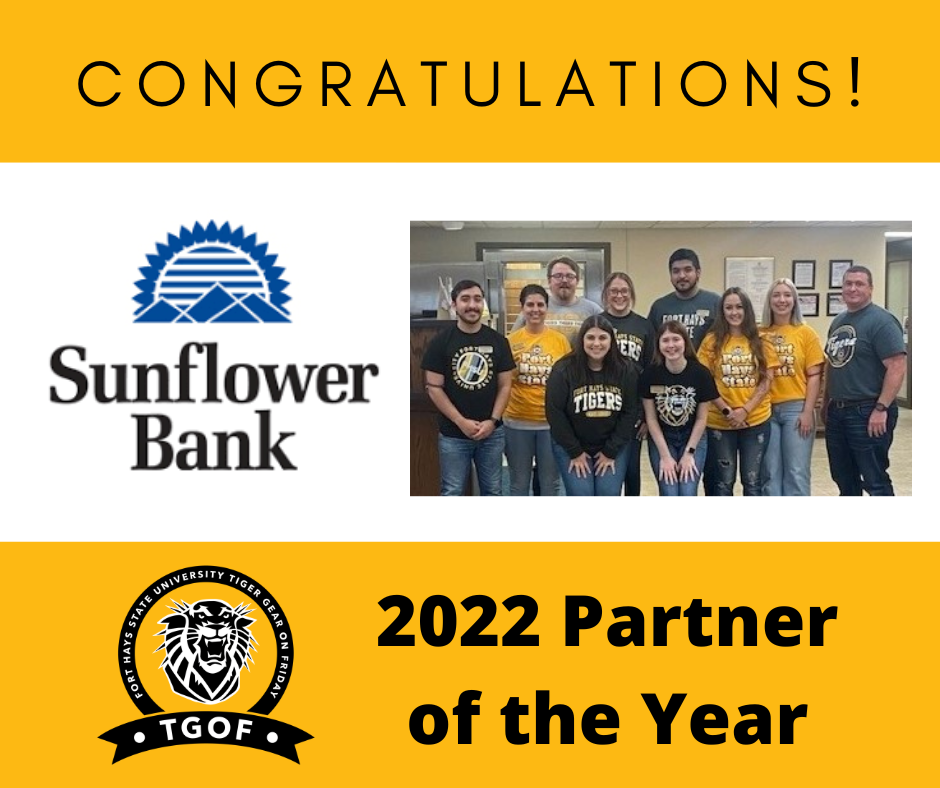 07/29/22
By FHSU University Communications
HAYS, Kan – Fort Hays State University presented its inaugural Tiger Gear on Friday Community Partner of the Year award to Sunflower Bank. Tiger Gear on Friday is a celebration of the innovative, determined, and caring people that make Tiger Nation unique. TGOF is a partnership involving several on-campus organizations, businesses, and community organizations in the Hays community.
"The TGOF, Community Partner Program, is a great example of the support this community shows for FHSU," said Brittney Squire, outreach services specialist for the Forsyth Library at FHSU and co-chair of the TGOF Community Outreach Committee. "Sunflower Bank has embodied the Tiger Spirit we hope for with our partners, and we are thrilled to recognize them as our Partner of the Year." 
FHSU created the TGOF Community Partner of the Year award to celebrate an organization in the Hays community that goes above and beyond to share its Tiger pride. The contest launched in January 2022 and ended in June 2022. To earn consideration for the award, TGOF Community Partners were asked to demonstrate their Tiger spirit in any or all of the following four ways:
Producing or sharing TGOF-related social media content
Encouraging employees to get "caught" wearing FHSU Tiger gear at work and in the community by members of the TGOF community outreach subcommittee
Ordering FHSU branded apparel for their employees from the Victor E. Apparel & Gift Company
Sharing the ways the organization "Tigerized" their workspaces
Sunflower Bank joined the TGOF community partner program in 2016, shortly after the program's initial launch. Visitors and bank customers can't miss the infectious Tiger Pride on display every Friday in both of the bank's offices.
"We are proud to partner with Tiger Gear on Friday and show our Tiger Spirit. We think it's another great reason to choose Sunflower Bank," said Chrissy Stacken, senior branch manager, and AVP for Sunflower Bank. "The tie between FHSU and the Hays community is incredibly important to us, as over 90% of Sunflower Bank's staff in our region is either an FHSU alumnus or a current student."
As the 2022 TGOF Partner of the Year, Sunflower Bank will receive several benefits:
A special feature on FHSU social media pages
An invitation to host a Chamber Chat event at the location of their choice, sponsored by the TGOF Steering Committee at FHSU
Complimentary registration and a prime location at the Back to School Picnic on the FHSU Quad on August 22, 2022.
Free Tiger Football tickets (up to 20) for the employees to attend the first home game and special on-field recognition during the game.
A free photo shoot with Victor E. mascot at the location of their choice
About Sunflower Bank
Sunflower Bank is a regional community bank with 68 banking locations in five states and mortgage capabilities in more than 40 states. The bank provides a full range of relationship-focused services to meet personal, business, and wealth management financial objectives in the communities they serve. Sunflower Bank takes great pride in staying true to its mission, "Bringing out the best in the lives we touch … Creating Possibility."
For more information on the Tiger Gear on Friday program and to learn how your organization can become a TGOF Community Partner, go to fhsu.edu/tgof.