FHSU announces new members to Alumni Association Board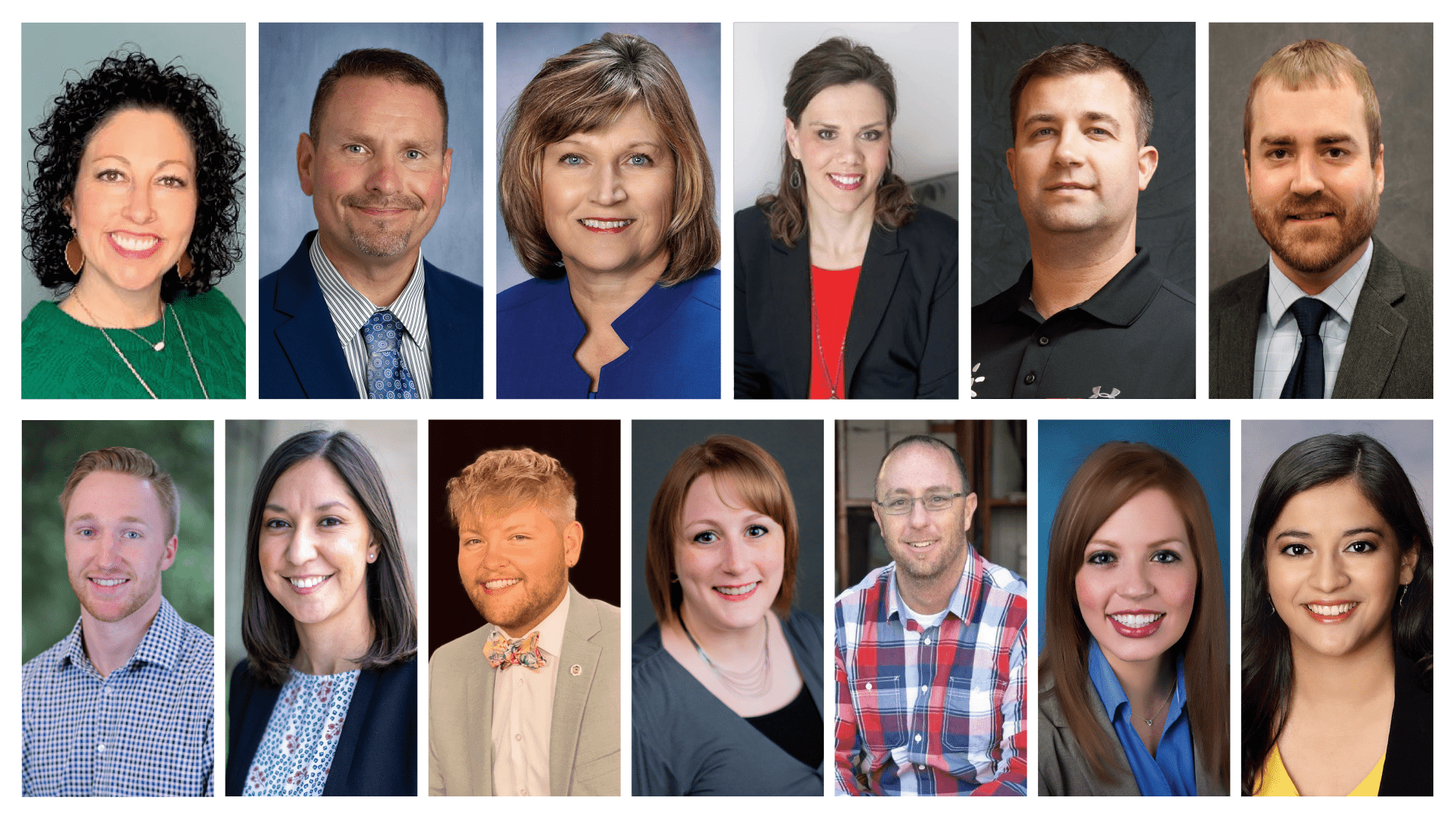 07/20/22
By FHSU Alumni Association
HAYS, Kan. – The Fort Hays State University Alumni Association is pleased to share the addition of 13 new members to its Alumni Association Board.
New members include Ashley Adorante, Overland Park; Clint Albers, Olathe; Dr. Christie Brungardt, Council Grove; Jenna Dempewolf, Gorham; Shane DeWald, Olathe; Josh Dreher, Hays; Baron Green, Hays; Alma Hidalgo-Blankinship, Wichita; Bryson Homman, St. Joseph, Mo.; Dr. Kaley Klaus, Hays; Brian Moore, Hays; Regan Reif, Great Bend; and Haydee Zamora, Hays.
Ashley Adorante, FHSU 2001 alumna of Overland Park, serves as outreach coordinator for The University of Kansas Cancer Center. In 2020, Adorante received FHSU's Nita Landrum Award.
Clint Albers, 1999 and 2001 graduate, is the assistant superintendent of high school education for USD 233 in Olathe. At Fort Hays State, Albers competed on the football team as an offensive lineman.
Dr. Christie Brungardt, 2001 alum, is enjoying retirement with her husband, Curt, in Council Grove. Brungardt was a professor of leadership studies at Fort Hays State University, co-founder of Jana's Campaign, and recipient of FHSU's 2019 Distinguished Service Award.
Jenna Dempewolf, Gorham, earned dual degrees from FHSU in 2012 and works as a financial advisor with Werth Wealth Management LLC of Hays. During her time at FHSU, Dempewolf served as a senator with the Student Government Association.
Shane DeWald, 2001 graduate, of Olathe, serves as the executive director for the Blue Valley Recreation Commission. He is a former pole vaulter with the FHSU track and field team.
Josh Dreher, graduate of 2009, Hays, serves as senior vice president of commercial lending at the Bank of Hays. In 2021, he was the recipient of FHSU's Nita Landrum Award.
Baron Green, 2019 alum, Hays, is a staff accountant for Adams Brown, LLC. He is a member of the Hays Young Professionals.
Alma Hidalgo-Blankinship, alum of 2013 and 2015, Wichita, is a scholarship program manager at the Rudd Foundation. Previously, Hidalgo-Blankinship served as an admissions counselor at Fort Hays State.
Bryson Homman, a 2021 graduate, is an interior designer for Goldberg Group Architects in St. Joseph, Mo. As an FHSU student, he was active in Sigma Chi fraternity, was an admissions student ambassador, and was crowned homecoming king in 2019.
Kaley Klaus, alum of 2012 and 2015, Hays, is an assistant professor of leadership studies and an international coordinator at FHSU. She is a Hays native.
Brian Moore, a 1999 graduate, Hays, is a residential project manager for Roofmasters. He is a former pitcher for the FHSU baseball team.
Regan Reif, 2013 alum, Great Bend, serves as a strategic marketing manager for The University of Kansas Health System. She is the 2021 recipient of FHSU's Young Alumni Award.
Haydee Zamora, alum of 2018 and 2020, Hays, is the multi-cultural admissions counselor at FHSU and a former homecoming queen.
"I'm very excited about the future of our work with these volunteers," said Carolyn Tatro, Fort Hays State Alumni Association alumni engagement strategist. "We have an enthusiastic group of individuals who are passionate about FHSU and advancing the mission of Tiger Nation. Each individual brings a wealth of new perspectives with their unique backgrounds and experiences, and I'm truly looking forward to working with them."
These 13 new additions will join existing Alumni Association Board members Elizabeth Gerber '99, '01, '03, Scott City; Dean Lavielle '71, '93, Newton; Brooke Oleen Tieperman '01, '01, Denver, Colo.; Jimmy Brough '12, '13, Topeka; Tara Risewick '04, Norton; Ryan Ruda '97, '99, Holcomb; Tomi Schwandt '07, Hays; and Derrick Tice '96, St. Francis. Michael Slattery '73, '77, '89, Hays, board chair, will be succeeded by board chair-elect, Chelsey Ladd '08, '08, Hays.
Established in 1916, the Fort Hays State University Alumni Association serves more than 70,000 FHSU graduates who live throughout the United States and 77 countries abroad.
Alumni Association Board nominations are accepted as positions become available. For more information on FHSU's Alumni Association, visit https://www.fhsualumni.com, email alumni@fhsu.edu, or call 785-628-4430.