Faculty awards presented at fall convocation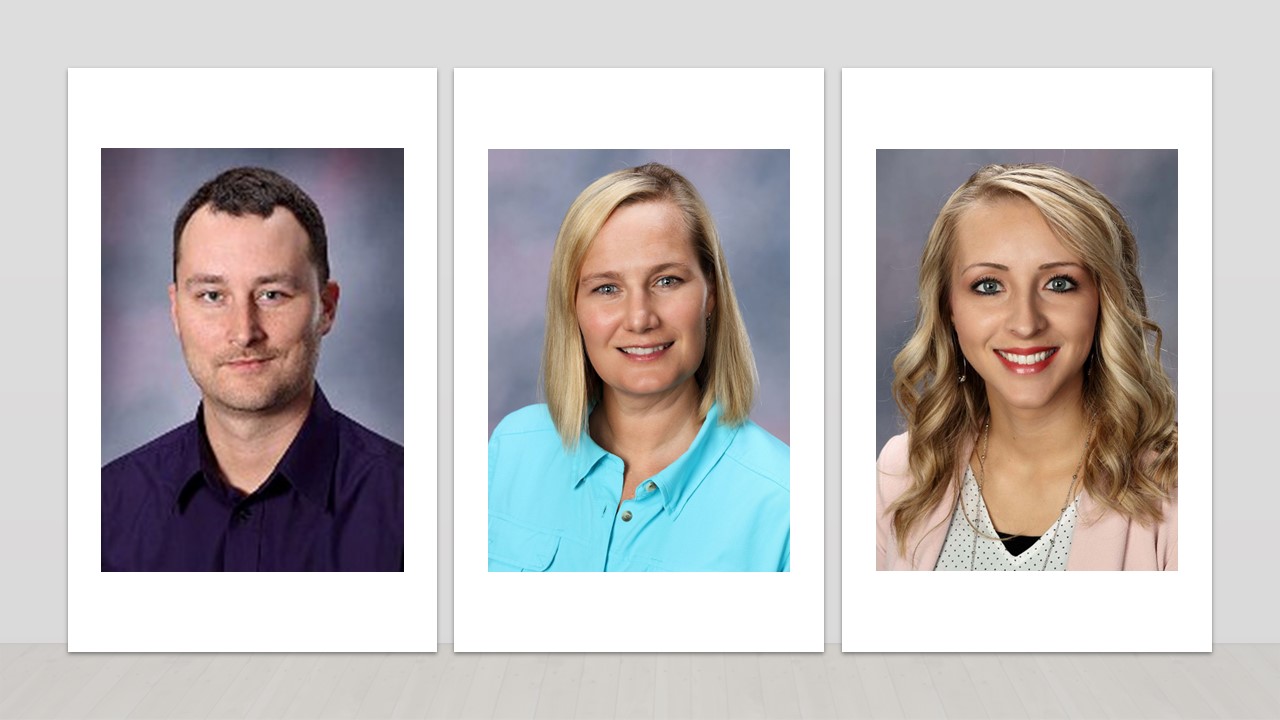 08/17/22
By FHSU University Communications
HAYS, Kan. –The Faculty Member of the Year award was presented to Dr. C.D. Clark, associate professor of physics. Commerce Bank provided a $1,000 stipend for Dr. Clark in recognition of this honor. Dr. Clark has provided exemplary service to the department, college, and university by serving on the university promotion, general education, and commencement committees. He has researched, developed, and shared techniques for effectively delivering a high-quality educational experience for FHSU online learners.
The faculty member of the year is selected from the past year's recipients of faculty awards for teaching, research and scholarly activity, and service.
The 2021-2022 awards for scholarly activity went to Dr. Gordon Carlson, associate professor of informatics, and Dr. Daniel McClure, assistant professor of history. Outstanding service awards went to Dr. Donnette Noble, Omer G. Voss distinguished associate professor of leadership studies and director of civic learning and engagement, and Dr. C.D. Clark, associate professor in the department of physics. In the area of outstanding teaching, Ms. Linda McHenry, instructor of English, and Dr. Brooke Moore, associate professor of advanced education programs, were recognized.
John Heinrichs Outstanding Research Mentor
Dr. Jeanne Sumrall, instructor, department of geosciences and KAMS, was named the John Heinrichs Outstanding Research Mentor. The award is named after our esteemed former colleague, Dr. John Heinrichs, who was active in all areas of research.
This award recognizes faculty members for their commitment, time, and energy in promoting undergraduate research. All current faculty and unclassified staff members at levels comparable to academic faculty are eligible. The awardee's home department is provided $500 of budget funding to benefit the recipient.
Dr. Sumrall has shown outstanding support to her students in mentoring them through the undergraduate research process. Her commitment to her students' growth and learning is evidenced through their letters of support for her nomination. One student wrote: "Not only does Dr. Sumrall care immensely about promoting undergraduate projects for her students, but she also follows through as she engages with us and encourages a lifetime love of research. The commitment, time, and energy that Dr. Sumrall has dedicated for this have changed the life of not just me, but also the lives of countless others."
President's Distinguished Scholar Award
Dr. April Terry, associate professor of criminal justice, was announced as the 2022 President's Distinguished Scholar.
Dr. Terry's research includes gender and crime, juvenile corrections, gender-based violence, and rural criminology. She has published two book chapters, 20 peer-reviewed journal articles, five technical reports, and various other types of publications. Dr. Terry's resume includes 48 presentations for undergraduate and graduate students. She serves on many department and college committees as well as a variety of community projects and initiatives.
Dr. Terry will receive a $1,500 check at the President's Distinguished Scholar program later in the academic year.
The President's Distinguished Scholar Award was first conferred in 1989. The evaluation of each candidate for this honor is based on an analysis of their performance in research and creative activities, service, and instruction categories. Acceptable levels of performance must be demonstrated in service and instruction, with the primary focus of this award on research and creative activities.