FHSU Foundation welcomes new Board of Trustees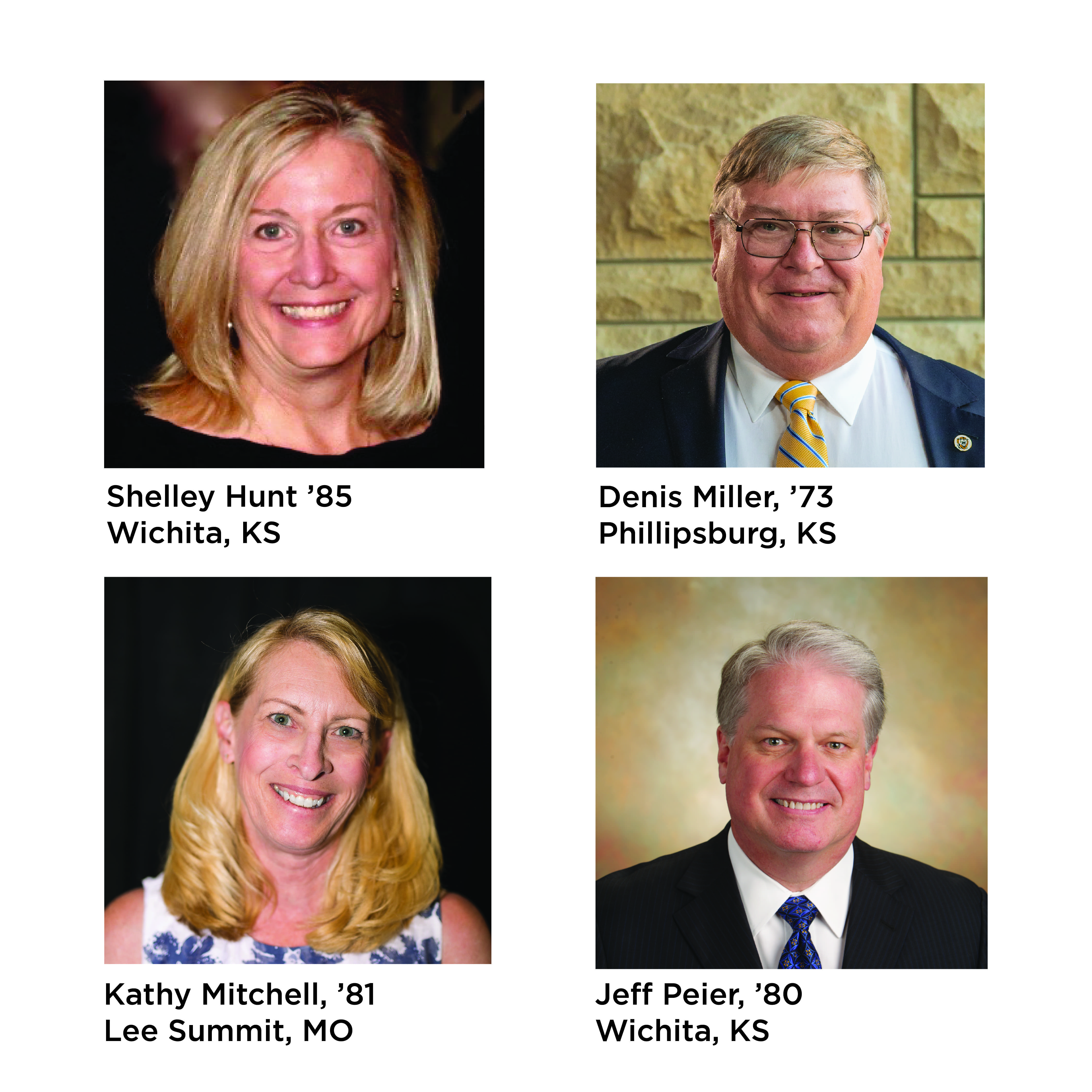 8/25/22
By: FHSU Foundation
HAYS, Kan. – The Fort Hays State University Foundation recently appointed four new members to its Board of Trustees: Shelley Hunt, Denis Miller, Kathy Mitchell, and Jeff Peier.
Shelley Hunt
Shelley Hunt, senior director of risk optimization for Koch Industries Inc. in Wichita, joins the board with many years of experience and philanthropic service. Hunt, a 1985 Fort Hays State alumna, and 1995 Wichita State University graduate has served Koch Industries or its subsidiaries for more than 35 years. Among her numerous areas of expertise in accounting, management, and leadership, her main emphasis is risk assessment.
Hunt is involved in a variety of community and professional organizations, including Risk and Insurance Management Society, St. Thomas Aquinas Catholic Church, Girl Scouts of Kansas Heartland, and Delta Zeta sorority, and is a former FHSU Alumni Board president. In 2002, Hunt was named one of Wichita Business Journal's "40 under 40" and was a recipient of the Girl Scout Kansas Heartland Volunteer Service Award. She is a WaKeeney native and daughter of FHSU alumni Myron and Edna Deines.
Denis Miller
Denis Miller, a 1973 FHSU accounting alumnus, resides in Phillipsburg and offers years of accounting expertise. He worked in a variety of roles in the Wichita area before starting his own practice from his family home in 1984.
In 1990, the practice expanded and merged with Vick and Mapes CPAs in Norton. The firm, now known as Mapes & Miller CPAs, has six offices throughout Phillipsburg, Norton, Stockton, Quinter, WaKeeney, and Hill City, with five partners and 35 employees. Of its five partners, four are FHSU graduates. Miller has been involved with several FHSU Foundation boards and committees over the years and is excited to serve the board of trustees while supporting his alma mater.
Kathy Mitchell
Kathy Mitchell, 1981 Fort Hays State alumna, brings years of accounting experience with her to the board. Mitchell worked as a CPA/partner for Brungardt Hower Ward Elliott & Pfeifer, L.C. from 1981-2017 and currently serves as chief operating officer for Smoky Hill Capital, Inc. in Russell.
In addition to being a certified public accountant, Mitchell has served as a board member for the Kansas Board of Accountancy and as a past president for both the Kansas Society of CPAs and the Western Kansas Council on Estate Planning and Giving. She was recognized in 2010 with the American Institute of Certified Public Accountants (AICPA)/Kansas Society of Certified Public Accountants (KSCPA) Women to Watch award.
Jeff Peier
Jeff Peier, a 1980 FHSU finance and economics alumnus, is an attorney/managing partner for Klenda Austerman LLC in Wichita. Peier graduated magna cum laude from Fort Hays State, was an FHSU Torch Award recipient, and a Student Government Association president and vice president.
From FHSU, Peier furthered his education at the KU School of Law, where he received his Juris Doctorate degree. He has remained involved with FHSU by serving as a member and as president of the Alumni Association Board, has been hands-on with FHSU planning programs and booster activities, and is a Wooster Society member. In 2014, Peier received FHSU's Alumni Achievement Award.
Trustee Annual Board Meeting
"I'm thankful for the dedication our alumni continue to show FHSU and their readiness to serve our university and the community. The experience brought by these new board members really demonstrates the talent our graduates have and the impact they have on their communities and those they serve," said Jason Williby, FHSU Foundation president, and CEO.
FHSU Foundation Board of Trustees recently gathered in Hays to attend their annual business meeting on campus and the annual Tiger Auction fundraiser for Fort Hays State Athletics. With a full schedule of events on Friday, members started the day touring the newly renovated Rarick Hall and listened to a presentation by College of Education Dean Dr. Paul Adams.
The trustees then headed to Forsyth Library for a presentation about the upcoming renovations slated to begin in the next few years. After sharing lunch with FHSU Senior Leadership, trustees wrapped up the day by touring the Robbins Banking Institute, hearing from students about how they have been impacted by the generosity and philanthropy of FHSU donors.
On Saturday, trustees attended their annual business meeting and later shared a fun evening attending FHSU's 13th Annual Tiger Auction and Dinner.
"These meetings offer our trustees an inside view of what's happening at Fort Hays State and an opportunity to see the changes that have only amplified the beauty of our historic campus," Williby said.
The Foundation serves as the fundraising arm of Fort Hays State University. It raises and manages funds entrusted to it for the benefit of various needs in support of the university and works closely with FHSU to support its initiatives.
To learn more about the Fort Hays State Foundation, or to see its complete list of trustees, visit https://foundation.fhsu.edu/board-of-trustees or contact the Foundation office at 785-628-5620 or by email at foundation@fhsu.edu.